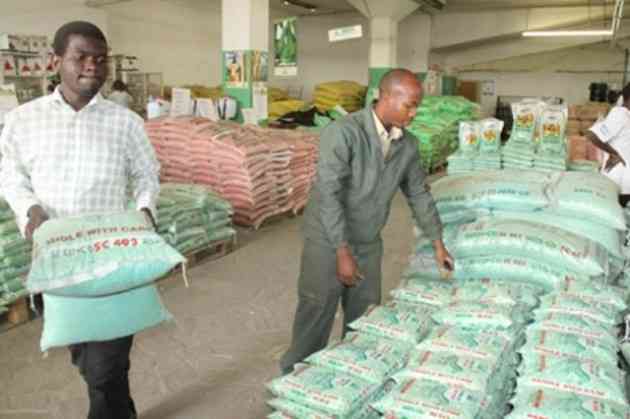 BY TAURAI MANGUDHLA
ZIMBABWE'S largest agriculture input support scheme, the National Enhanced Agricultural Productivity Scheme (also known as command agriculture) is facing serious delays in disbursing inputs due to stringent requirements by programme funders, CBZ Holdings.
The programme was introduced in the 2015/16 agricultural season and was funded to the tune of US$500 million by Sakunda Holdings. However, between 2015 and 2018, the programme was funded to the tune of US$3 billion outside the country's national budget.
Information gathered by NewsDay reveals that scores of youths farmers are yet to receive inputs under the programme after their applications were either rejected or delivery is being delayed.
This has prompted some applicants to seek the intervention of President Emmerson Mnangagwa's Office, alleging that CBZ was sabotaging the government programme.
Youths, who spoke to NewsDay on condition of anonymity said, unlike before, they were struggling to get inputs under the government scheme.
"For those who joined command years back, CBZ is demanding proof that your previous loan is paid up, proof of residence, Agritex contracts, two passport photographs, a copy of the applicant's national identity card and a land offer letter.
"For new farmers who want to join, they need security in the form of title deeds. So far, most of the people with contracts don't have all the requirements in place," said one of the disgruntled farmers.
"Last season, people got inputs in October and by this time distribution of inputs had not been concluded," another farmer said.
Responding to questions from NewsDay, CBZ, however, said farmers were signing up.
"As CBZ Agroyield, we are currently signing up famers for the 2022/23 summer cropping season and we are calling on farmers to approach our offices for application. We continue to encourage farmers to pay up their outstanding balances to ensure the continued running of the programme," CBZ group spokesperson Matilda Nyathi said.
Nyathi's response comes as insiders at CBZ said the bank was plugging loopholes to curb abuse of the facility. The command programme once came under the spotlight for lack of accountability with former Zanu PF Cabinet minister Jonathan Moyo accusing fellow party members of looting.
"People were used to borrowing without any intent to repay, now it's happening properly as it should because it's a bank loan which must be secured and repaid," a CBZ senior staffer said.
Efforts to get a comment from Agriculture minister Anxious Masuka and ministry secretary John Basera were fruitless since Tuesday last week.
Follow us on Twitter@NewsDayZimbabwe
Related Topics