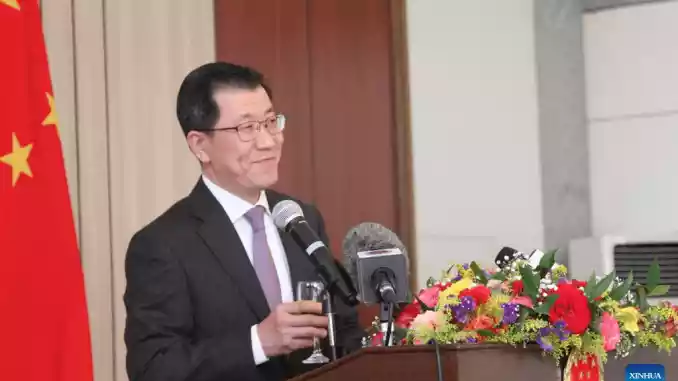 TRADE between Zimbabwe and China went up by 29,9% to US$1,7 billion between January and September this year.
The statistics were revealed by Chinese ambassador to Zimbabwe Guo Shaochun during a discussion with local editors on China-Zimbabwe bilateral co-operation in Harare yesterday.
In the January to September trading period, Zimbabwe exported goods worth US$943 million to China while imports from that country were US$800 million.
"With the concerted efforts of the governments and enterprises, the trade between China and Zimbabwe has kept growing," Shaochun said.
"In January-September 2022, China-Zimbabwe trade went up 29,9% to US$1,743 billion, of which Zimbabwe exported US$943 million to China and imported US$800 million from China. China's expanding imports contributed to a trade surplus of US$143 million for Zimbabwe. In view of the global economic disruption caused by the COVID-19 pandemic, this is a great achievement which is significant to maintain Zimbabwe's economic vitality.
"We focus on development. Chinese investment mainly flows to infrastructure and productive sectors. The China-financed or invested in projects in Zimbabwe mostly cover electricity, airports and communication facilities, the areas most in need of development."
China is Zimbabwe's second largest trading partner after South Africa, with government describing the Eastern country as an "all-weather-friend".
The Kariba South Hydro Power Station Expansion, Hwange Thermal Power Station Expansion, Victoria Falls International Airport upgrading, expansion and upgrading of the Robert Gabriel Mugabe International Airport and NetOne broadband construction, are some of the projects being supported by China's concessional loans among other investments.
"We adhere to recipient-driven approaches and the principles of openness and transparency," Shaochun said.
"Chinese investment in Zimbabwe always stays committed to the principle of equal consultation, complies with business rules and respects the independent choices of the Zimbabwean government and Zimbabwean people.
"Chinese investment in Zimbabwe is always in the open. It's always easy to find out where the funds are used and what benefits are generated. This is the best transparency.
"Our co-operation will always stay open and inclusive. China stays open to trilateral and multilateral co-operation with the international society to promote the economic development of Zimbabwe, especially in improving Zimbabwe's infrastructure and people's livelihoods."
China Tsingshan Corporation's Dinson Iron and Steel Company is one of the major investments in Zimbabwe.
Other companies have invested in the local mining sector and other ventures such as agriculture.
Related Topics