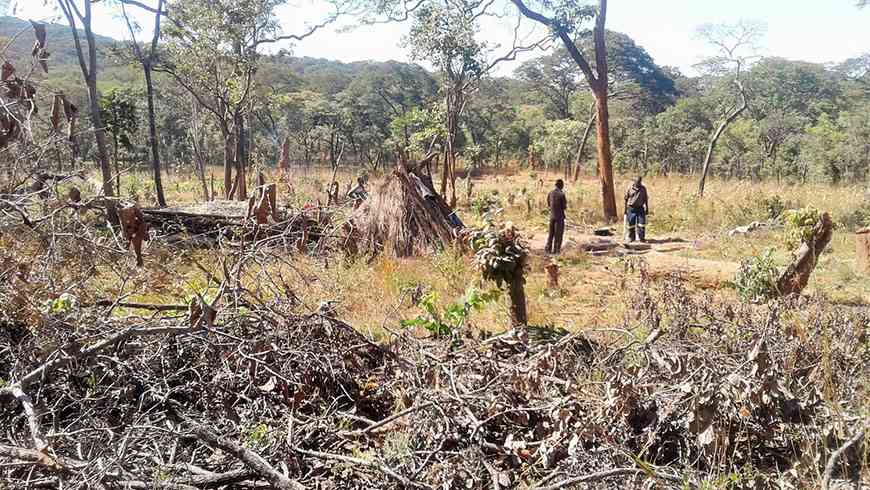 TOBACCO merchants and miners have been implored to respect the environment and preserve it for future generations.
Participants who attended the National Environment Plan meeting held in Hurungwe on Wednesday identified tobacco merchants and miners as "serious threats" to the environment.
There are at least 20 tobacco merchants operating in the district and have been accused of fuelling the cutting down of trees for curing the crop.
Ironically, none of the tobacco merchants and miners attended the meeting.
Carbon Green Africa (CGA) officer Albert Sande noted with concern how some chemicals used by tobacco farmers were affecting aqua life.
''The use of harmful chemicals on tobacco seedbeds is affecting both environment and aqua life for future generations. We must have policies guiding which chemicals must be used with no effect on the environment. Let us ban farmers from having seedbeds along wetlands,'' Sande said.
Chief Abel Mbasera Chundu called for other tourism players to help with resource mobilisation on the implementation of environmental preservation programmes.
''Tourism operators in Hurungwe must be part of resource mobilisation. The government must chip in through devolution funds that target specific programs on how the action plan can be conducted,'' Chief Chundu said.
Hurungwe district development coordinator Andrew Tizora called on government departments, community-based organisations, traditional leaders and communities as equal partners for the National Environmental Action Plan to be a success.
''We need everyone's input as Hurungwe district so that our contributions are factored into a national plan. Hurungwe is a critical player on environmental issues nationally that affects the global approach to the environment,'' Tizora said.
EMA district officer Zvinodaishe Rugata appealed for input from all stakeholders in the crafting of a National Environmental Action Plan.
''We need to work closely and make our submissions on time,'' Rugata said.
The 72-page draft plan covering 2022-32, seeks to coordinate environmental planning at national, provincial, district and community levels as provided in terms of sections 87 and 95 of the Environmental Management Act.
Follow us on Twitter @NewsDayZimbabwe
Related Topics