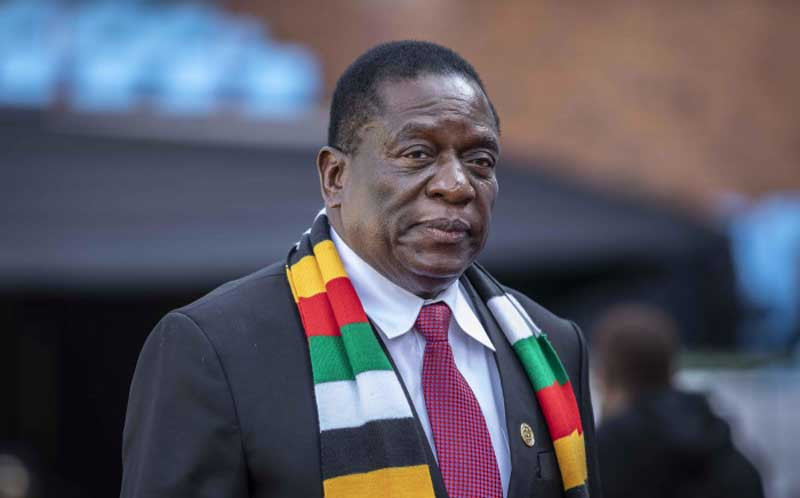 PRESIDENT Emmerson Mnangagwa has drawn fire after visiting Rwanda's Kigali Genocide Memorial site when his government has done little to address Gukurahundi atrocities at home.
Mnangagwa was in Rwanda to attend the Africa Green Revolution Forum (AGRF) 2022, and on Wednesday visited the Kigali Genocide Memorial site where portraits of victims of the genocide are displayed.
He laid flowers in respect of the victims, and issued a memorial statement saying this was the sad and dark experience of the country.
"I pray that this sad and dark period of the history of this country should never be allowed to happen again, not only in this country, but on our continent Africa and the human race," Mnangagwa said.
But critics said Mnangagwa was shedding crocodile tears and accused him of failing to facilitate a similar process to allow closure and healing over the 1980's mass killings in Matabeleland.
Ibhetshu likaZulu co-ordinator Mbuso Fuzwayo said it was ironic that Mnangagwa visited the Rwandese genocide memorial yet government has been quick to block the holding of Gukurahundi memorial services.
Memorial plaques erected by the pressure group at mass graves where Gukurahundi victims are buried have been vandalised by suspected State security agents.
"We hope and trust that it was a learning process for Mnangagwa and his government to do the same and not brush aside the Gukurahundi genocide perpetrated by the government he was part of and that he continues to lead," Fuzwayo said.
"He should walk the talk and deal with the Gukurahundi genocide decisively. The pain he expressed in Rwanda is the pain that is daily experienced by survivors of the Gukurahundi genocide back home."
Mthwakazi Republic Party (MRP) president Mqondisi Moyo accused Mnangagwa of being a hypocrite.
"Actually it was at this place that he was supposed to confess and acknowledge that Rwanda faced a similar predicament to what Matabeleland and Midlands faced in that period," Moyo said.
"He is hypocrite. Surprisingly, he has never visited Bhalagwe mass graves, shallow graves, Tsholotsho, Lupane, Matobo and all places that experienced Gukurahundi. I am not sure whether he had gone (to the KGM) innocently or he was just a mere tourist."
Former Ntabazinduna Chief Nhlanhlayamangwe Felix Ndiweni, speaking from Kigali, said he hoped Zimbabwe would resolve the Gukurahundi genocide in the way Rwanda did.
"One cannot sanitise Gukurahundi by going to another site of genocide in another part of Africa," Ndiweni said.
"The message should reach home to the Zanu PF government that this matter cannot be sanitised. This is a judicial matter that will go before the courts."
The Rwandan government used both conventional domestic courts and community-based Gacaca courts to deliver justice after the 1994 genocide.
In the late 1990s and early 2000s, thousands of people were arrested, and many were charged and tried under the Gacaca system for the genocide that killed an estimated 800 000 Tutsis and moderate Hutus.
Perpetrators are still being hunted down to date.
Justice, Legal and Parliamentary Affairs minister Ziyambi Ziyambi recently said it was not proper for Gukurahundi to be called genocide, adding that it was resolved through the unity accord.
Ndiweni added: "You cannot put public relations into that, which is clearly what Zanu PF is trying to do.
"They are trying to utilise public relations to sanitise the darkest part of our history in Zimbabwe, by taking the very perpetrators to go to another country and to shade crocodile tears.
"We reject that, we reject it unreservedly. To us it is an affront to those victims in our part of the world that we should be seeing such things taking place."
Mnangagwa has tasked chiefs to deal with Gukurahundi.
However, a year from the end of his five-year term, there has been little movement in addressing Gukurahundi.
South Africa-based educationist Nkosilathi Ncube said government should take a leaf from Rwanda on how that country addressed its dark past.
"He should also visit those places where Ndebele people are buried. He should apologise to the families of those who lost their relatives," Ncube said.
"He should initiate compensation for the victims. He should promote healing in his country and learn from Rwanda how they achieved their peace."
Human rights activists Effie Ncube said Mnangagwa was being opportunistic and shedding crocodile tears.
"It is, therefore, laughable that the President went to a genocide memorial in Rwanda which commemorates victims there while back home his government is denying victims and survivors of the Gukurahundi genocide the right to mourn and memorialise those who were killed, raped, tortured, forcibly disappeared, or otherwise violated. The best way to mourn Rwandan genocide victims is to address the Gukurahundi genocide on the basis of truth and justice through a credible process that meets international standards and norms," Ncube said.
Follow Silas on Twitter @silasnkala
Related Topics