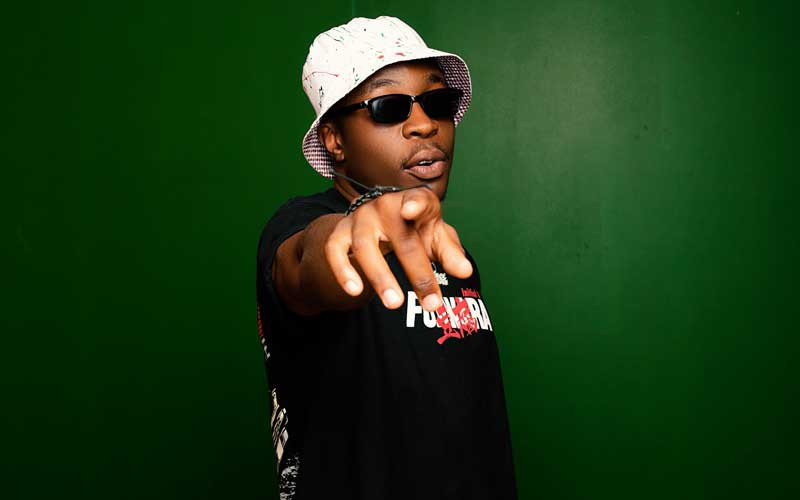 IN the music industry worldwide artistes are known to have stage names which are usually associated with their craft.
For 24-year-old local rapper Holy Ten, his actions on the showbiz scene have, however, been perceived not to be so "holy", contrary to his moniker.
Holy Ten appears to be attracting more enemies than friends by dissing fellow musicians.
Holy Ten, also known as Mujaya, has not only clashed with artistes in the hip-hop genre like Volts JT, Ti Gonzi and Saintfloew, he has also had altercations with musicians from other genres such as dancehall where he has had brushes with chanter Enzo Ishall.
In the latest development, Ninja president Winky D has been at the receiving end of Holy Ten's "unholy" acts after the controversial young artiste described him as "a snake longer than his dreadlocks".
Interestingly, Holy Ten is featured on a duet Ibotso off Winky D's latest album Eureka Eureka that preaches tolerance.
In an act that shocked many music followers, a few hours after the song was released, Holy Ten torched a storm when he took to Twitter to announce that he was regretting having a collaboration with Winky D on the song that is being perceived as having political connotations.
Since then, Holy Ten has continued to throw brick bats at Winky D claiming he was tricked by the Gafa to record a political song.
The rapper's behaviour has been condemned by music followers who accuse him of doing the exact opposite of what the word holy stands for.
According to the dictionary, the word holy means exalted or worthy of complete devotion as one perfect in goodness and righteousness. The dictionary also defines holy as a word which describes a person having a divine quality.
Based on these simple definitions, music fans are questioning the meaning of "holy" in Holy Ten.
As he set tongue wagging on different social media platforms, after the Winky D diss, some music enthusiasts said Holy Ten's "unholy" behaviour of dissing fellow artistes through songs and outrageous comments in interviews would affect his career in the competitive music industry.
Getting into the limelight, Holy Ten was known as the leader of the youths and the speaker of truth.
It is undeniable that the girl-child message he used to preach in his early days, complemented by his deep unique baritone voice on a hip-hop beat, attracted a lot of support from fans.
As music lovers welcomed him with both hands and showered him with praises, it seems this got into the talented college dropout's head and he ended up failing to handle fame.
Fame, as witnessed through many local artistes whose careers dismally flopped after being exposed to celebrity life, is one factor that contributes to the downfall of many stars.
After Holy Ten started getting noticed by big music promoters and scooping awards back-to-back, the singer became controversial, as evidenced by his endless beefs with fellow artistes.
In a video clip of the Episode podcast that has gone viral on different social media platforms, Holy Ten refers to Winky D as "Winky G", describes him as a "snake" and further claims that he misled him into recording a political song.
"The man that we are talking about is a snake longer than his dreadlocks… I would have never done a song with Winky G, I am not stupid, I did law," Holy Ten said.
Fans said Holy Ten should consider getting a social media manager to avoid further damage to his career and brand.
Calls are getting louder to unfollow Holy Ten on different social media platforms and also boycott his music.
Award-winning journalist Hopewell Chin'ono was among the people who proffered free advice to Mujaya on the matter.
"My brother Holly, stop hating. Winky D has been doing this music thing for decades, so you might learn something from engaging with him without dissing him. Winky D is bigger, that is why everyone was happy to see him give you an opportunity to duet! Show some respect!" he said on Twitter.
Beefs in the music industry are, however, common and many artistes seem to use them to gain relevance and public's attention.
In the sungura genre, a purported beef between Sungura ace Alick Macheso and the late Tongai Moyo dominated the showbiz corridors for some time.
In comedy circles, comediennes Madam Boss and Mai Titi have on several occasions washed their dirty linen on social media.
In dancehall, the late chanter and provincial hero Soul Jah Love had issues with Seh Calaz.
Many of these controversies, however, help to spice up the arts industry.
Related Topics