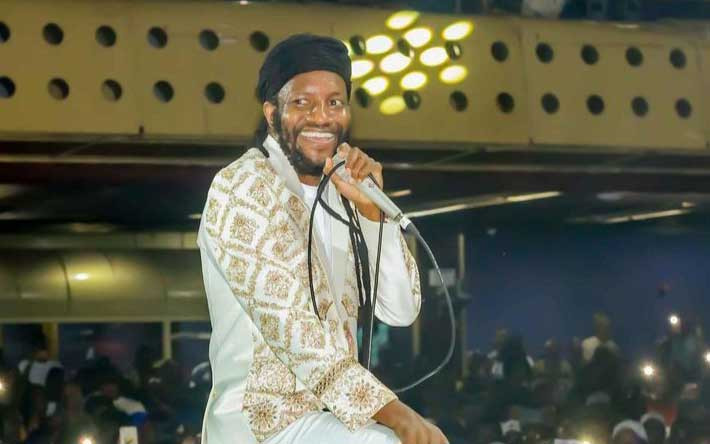 AT a time when most music followers had dismissed Winky D for failing to recognise and work together with other artistes, the dreadlocked artiste proved his naysayers wrong on December 31, when he shared the stage with as many fellow local artistes during his album, Eureka launch at the Harare International Conference.
Winky D has been known as a private and secretive artiste who rarely jumps on collaborations, especially with younger artistes. It has always been a dream come true for other local artistes to work with him.
Fortunately, Tocky Vibes, SaintFloew, Holy 10, Herman, Nutty O, Killer T and Enzo Ishal managed to attract the Gaffa President. The album launch dubbed Stop Intolerance proved to all and sundry who Winky D really is.
The message of intolerance aptly fitted Winky D's decision to feature other artistes in his latest offering. It sent through his own message of tolerance and proving naysayers that he recognises talent from other artistes and upcoming music genres.
In November 2022, a picture of Winky D and the various artistes featured on his new album Eureka Eureka went viral across social media platforms. As many had wished to have a song from the group in that picture, the wish was definitely fulfilled when fans witnessed Winky D sharing the stage with his fellow male artistes.
The line-up for his album launch was made up of all those hit makers that had been previously seen on the viral picture. Blessing thrilled the crowd with his hit Peter Pan, Nutty O entertained the merrymakers into 2023 before the stage was thoroughly mopped to welcome the man of the night. As always, Winky D delivered a stellar performance which he opened with his old time hit, Green like Mi Garden. Much to the fans' surprise, Winky D's performance was pregnant with collaborations from artistes who were on the line-up for the show.
One striking performance was his collaboration with Enzo Ishal on a song titled Mbinga. To show his gratitude to Winky D, Enzo Ishal strolled up the stage and knelt before Winky D. The moment sent a thrill across the whole auditorium, before the two executed their song which many have been saying is a track directed to socialite and self-proclaimed prophet Passion Java.
Two days after the album launch, there have only been three tracks off the album released for streaming on YouTube. Ibotso, Dzimba Dzemabwe and High Grades featuring Holy 10, Shingai and Herman, respectively.
The delay in releasing the full album after the successful launch is slowly angering many who have been thirsty for Winky D's music since he last dropped Njema in 2019. Thankfully, the Gaffa President seems to have a loyal and supportive fan base which has been defending the delay across social media platforms.
Related Topics