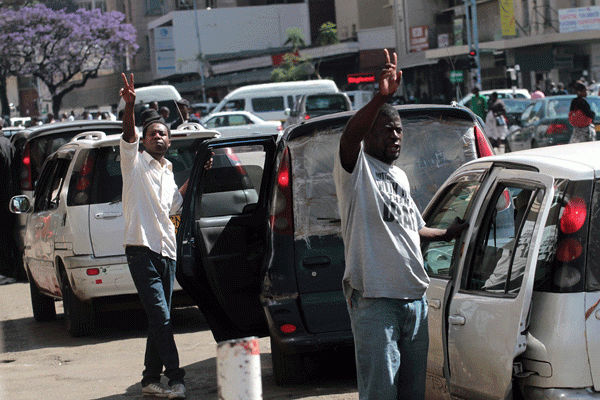 POLICE have launched a campaign to tame Zimbabwe's now deadly traffic jungle which, according to the Zimbabwe National Statistics Agency, has in this year's first quarter alone officially claimed 474 lives and inflicted 2 386 injuries in 12 588 accidents.
These figures are not only horrendous, but should make anyone, especially those responsible for ensuring that sanity prevails on our roads, lose sleep.
On their part, the police and other government agencies are targeting illegal transport operators, commonly referred to as mushikashika, who have apparently been identified as the major culprits behind the spike in chaos on our roads which has resulted in more record traffic accidents.
It is well and good that at least the police are going the extra mile, but midway into the police's reported two-week blitz, the mushikashika scourge appears to be stubbornly refusing to go away. And this is for a very good reason, which we believe is the crux of the matter.
The mushikashika operators did not simply sprout out of the blue, but they are a consequence of a very sick economy which has forced many to hustle in whatever way possible to make ends meet.
Zimbabwe's economy is driving many into devising desperate means to survive, and one of those means is operating a mushikashika. It, therefore, means that even if the police launch a year-long blitz on the illegal transporters, the problem will not go away; it will simply mutate and recur.
The blitz can simply be summed up as treating a symptom and not the cause. An example is often given that while it is important to treat a running nose, the running nose will continue recurring if what is causing it is not dealt with.
The mushikashika phenomenon is a symptom of the country's deep-seated unemployment crisis fanned by a perennially harsh economic environment in which graduates are selling airtime for survival.
It is an open secret that gainful employment in Zimbabwe is scarce and most of the vehicles plying our roads as mushikashika are owned by people employed somewhere and many of them are civil servants who are merely trying to supplement their meagre salaries.
Albeit illegal, the mushikashika operators are now a source of employment for many who should be roaming our streets who are now employed as drivers, with or without licences.
We, therefore, believe that revival of the Zimbabwean economy is the only lasting solution to nipping in the bud such nagging problems as mushikashika, otherwise we will forever be barking up the wrong tree and wasting national resources by trying to drive them off our roads.
In fact, police raids on the mushikashika only serve to create fertile ground for the proliferation of corruption because the illegal operators are on a survival mission and will do whatever it takes to remain on the road, which includes bribing police officers who will only be too glad to accept bribes since they too are earning peanuts.
The illegal transport operators are engaged in cat and mouse games with the police, meaning that they are here to stay if the Zimbabwe's economy does not optimally perform.
Related Topics