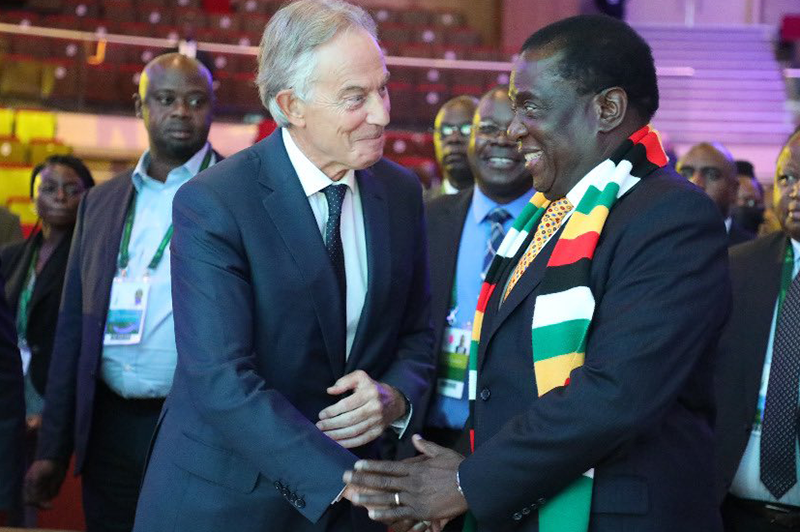 CELEBRATIONS over a mere handshake between President Emmerson Mnangagwa and former British Prime Minister Tony Blair this week will do nothing to solve the protracted diplomatic tiff between London and Harare.
Their meeting in Rwanda has been portrayed as the beginning of better times ahead, but the truth is that Blair is no longer the British Prime Minister that he was when sanctions were imposed on Zimbabwe in 2000.
Secondly, the British, for all their handicaps, have been steadfast in what they want before they could lift the travel and trade embargo imposed on their former colony.
They want human rights abuses to end.
They want electoral reforms to be addressed and they want general plunder and corruption to be nipped in the bud to create equal opportunities for all Zimbabweans.
We believe that these are not issues that will be addressed by a mere handshake.
Clearly, they are issues that can only be resolved by Zimbabwe's leaders working round the clock to show the world that they have reformed, or that they are ready to reform.
The sad thing though is that the Zanu PF administration does not look like they are ready to do the right thing.
The heavy-handedness with which they have clamped down on citizens and pro-democracy forces in recent months demonstrates just how the regime remains callous and deeply entrenched in anti-human rights mode.
It is determined to trash democracy at all costs, and by any means just to retain political power.
Surely, this is not how people who are ready to embrace change behave.
One only needs to look at the resurgence in corruption cases to see the thinking among the ruling elite.
They are prepared to cream off everything promptly before their time is over.
If this is what that handshake represented, then the re-engagement talk is just empty rhetoric.
Following the late former Zanu PF leader Robert Mugabe's ouster in 2017, the British government initially warmed up to Mnangagwa's promise of wide-reaching reforms, and promised to pour in millions of pounds in both aid and investment.
It even set up a US$100 million facility for the country's private sector in 2018, which was the first loan to the country from the UK in almost two decades, but later withdrew the gesture over escalating human rights abuses in the country.
To make its position clear, the British government last year added four of Mnangagwa's henchmen to the sanctions list. And when the Commonwealth States met in Rwanda this year, they remained mum on Zimbabwe's application for readmission to the community of nations. Why?
It would appear that the President, on advice from his enablers, squandered all the goodwill he enjoyed at first. And so, in the eyes of the British and the world, he prevaricates much to their disappointment.
Food for thought!
Related Topics