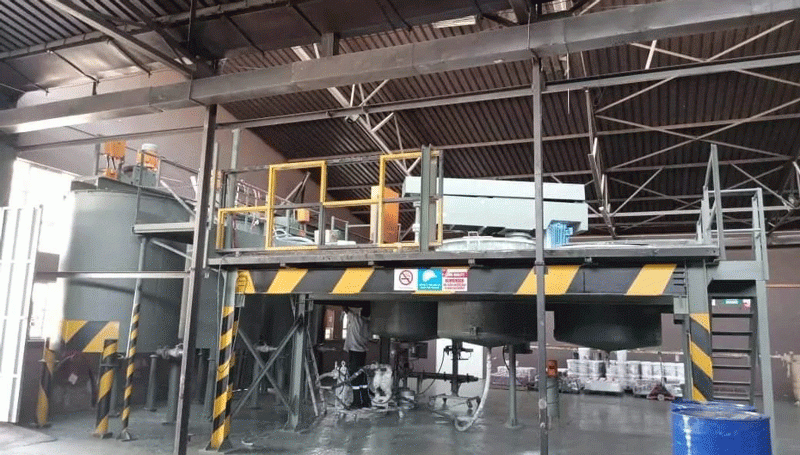 A LOCAL paint manufacturer, Nash Paints, says the commission of a new state-of- the- art Decorative Paint Manufacturing Plant worth US$1.1 million sets them on the revival from the impact of the COVID-19 pandemic.
The plant commissioned on Wednesday in Graniteside was bought as a complete unit from Plascom Botswana after they closed off business in April this year and installation was completed by July.
This decorative manufacturing plant boosts a capacity of 18 000 liters production per day from the previous 2000 liters with a complementary semi-automated packaging unit.
The company's executive chairman Tinashe Mutarisi, in a speech read on his behalf, said the new plant will improve production capacity and better efficiency in their operations.
"After the I paint, I Win Promotion launched in October last year, the demand for decorative paint grew exponentially by an average of 50% month on month until the plant ran out of capacity by February 2022 due to the excellent quality of the paint. That is the decision to increase production capacity by commissioning this decorative paint manufacturing plant," Mutarisi explained.
"In the month of July alone decorative paint production volumes grew by 127% , so I am slating to a production of 35% for the new plant. We project the exponential growth trajectory to continue month on month to an optimum plant capacitilisation of an average of 80% by December 2022."
Mutarisi noted that the increased plant manufacturing capacity has helped significantly in cutting production cost for the business due to economies of scale and improved efficiency. The benefit on price cuts, he said, will be extended to customers.
"The new plant has improved the quality of the paint as well as the order to catch cycles to ensure improved and efficient service delivery to our Nash paint customers they will continue to enjoy," he said.
"Increased plant capacity has also allowed the business to launch a new product, the 3 in 1 primer sealer undercoat after identifying a gap in the market for a multi layered economical, but high-performance masonry surfaces priming product that can adequately provide priming and sealing requirements especially for new buildings as well as those buildings in wetlands."
Mutarisi added that the 3 in 1 primer sealer undercoat is fast drying, excellent sealing, water-based primer that has good spread ability and superior adhesion.
Mutarisi said Nash paints was committed to championing development of the country and building strong brands at the same time creating employment for various communities from which the business operates.
"As Nash Paints are continuously finding innovative ways and means to meet and exceed customer expectations. This new plant and products are one of the many initiatives that we will undertake to ensure community needs are met and that lives are continuously improved," he revealed
"This will be done through availing affordable high-quality products. Our strength is in working with the communities and designing the tailor-made services that suit their demands in painting solutions."
Follow us on Twitter @NewsDayZimbabwe
Related Topics