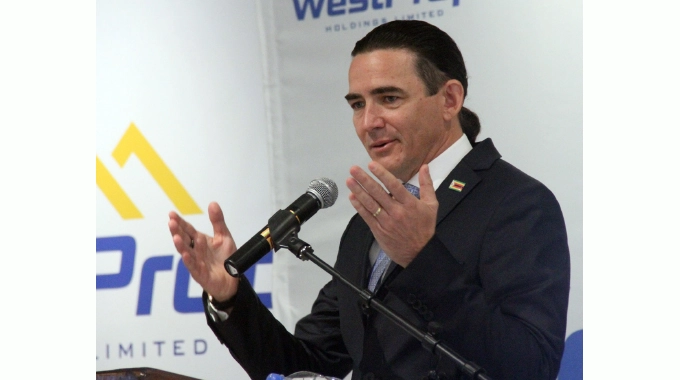 ONE of Zimbabwe's biggest property developers, WestProp Holdings Limited is projecting annual sales of its housing units to rise to 1 300 in the next five years, from 500 currently.
WestProp's projections came as it unveiled plans to list on the foreign currency-indexed Victoria Falls Stock Exchange (VFEX) next month.
"We have turned a page and opened a new chapter in the book of our future," chief executive officer Kenneth Sharpe said Monday.
"We have successfully migrated from being a private company to a publicly listed company on the Victoria Falls Stock Exchange. It is with this in mind that I confirm WestProp Holdings Ltd is now a public company and encourage members of the public, pension funds and investors to invest by buying shares and take up a stake in the company and join us in our journey of a billion bricks," Sharpe noted.
He said it was not a coincidence that the firm had targeted to lay down one billion bricks.
"If you look at our projected construction for the projects we have designed, it will take one billion bricks and US$5 billion to complete them. Every day, we are putting bricks into the ground working towards the vision where we know that within the next 27 years, we will have laid one billion bricks," Sharpe said.
"We have made great progress over the past few years with limited resources and as such, I can confirm as of last Monday we had laid 5 298 975 bricks and have 55 626 972 as committed bricks from our existing sales," the WestProp boss noted.
Over the next four years, the firm expects revenue to grow to nearly US$80 million, from current projections of US$40,39 million expected this year.
In the year ended December 31, 2022 total assets had grown to US$75,94 million for the developer, from
a 2021 comparative of US$67,32 million.
"As we have now gone public, the board is convinced the time is now for individuals to be part of a
bigger family to start investing in their long-term future and especially encourage the youth to start
participating," WestProp's incoming chairman, Michael Louis said.
Related Topics