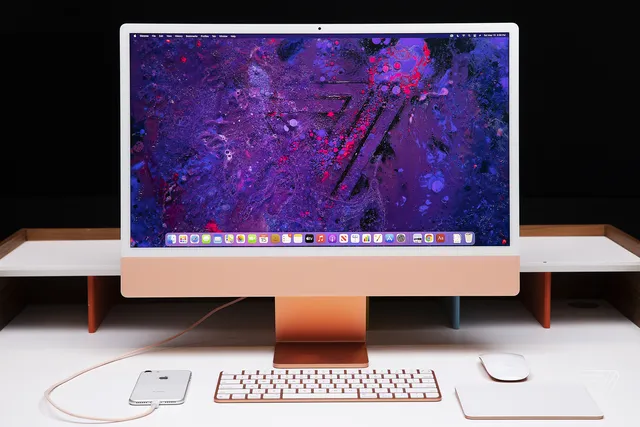 Apple's readying a new iMac that could launch as early as the second half of this year, according to a report from Bloomberg's Mark Gurman. While the new iMac will reportedly feature the same 24-inch display size as the previous model, it's expected to come with a more powerful M3 chip made with a 3nm process.
The new iMac isn't expected to enter mass production until at least three months, Gurman notes, but could still start shipping in the latter half of this year in the same colorways as its predecessor, including blue, silver, pink, and orange. Gurman says the new iMac is at "an advanced stage of development" and that Apple's currently "conducting production tests of the machine." This tracks with previous rumors from Gurman, which also hinted at a 2023 iMac launch.
Other details disclosed by Gurman indicate that some of the iMac's internal components might get "relocated and redesigned," and that the production process for mounting the iMac's stand to the display is "different." The iMac is overdue for an upgrade. Apple hasn't refreshed its lineup in two years, with the 2021 model being the first to come with the company's in-house silicon, along with a larger display size and an array of new colors.
In addition to a new iMac, Gurman says Apple's also getting ready to launch the new 15-inch MacBook Air, an upgraded 13-inch MacBook Air, and a Mac Pro equipped with an M2 Ultra chip. Gurman speculates that it might make sense for Apple to include an M3 chip in the 13-inch MacBook Air as well, given that the company just released an M2-equipped one last year, while reserving the M2 chip for the larger 15-inch model.
It's shaping up to be a busy year for Apple. The company's expected to showcase its new M3 chip at its Worldwide Developers Conference in June, where it could also take the wraps off of its highly-anticipated mixed-reality headset.
Related Topics