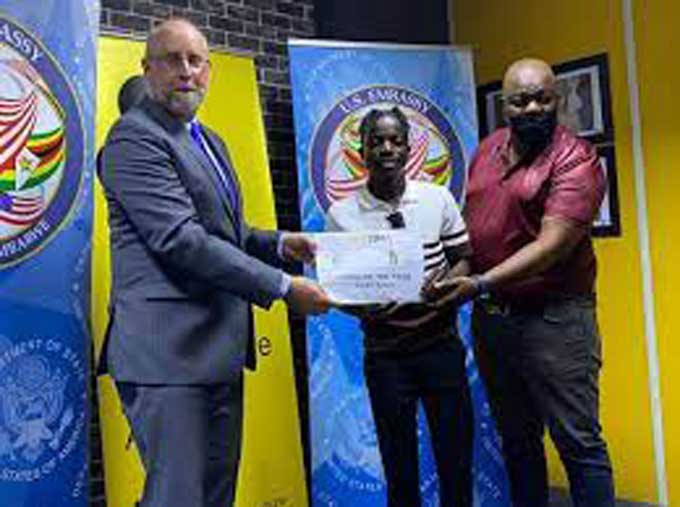 By Sindiso Dube
International dancehall chanter Nutty O was on Wednesday night handed over US$1 500 prize money by the United States embassy in Zimbabwe for bagging the song of the year award at the Zimbabwe Music Awards (Zima).
The artist dominated the year 2021 with his offering Mustard Seed which saw him winning three accolades — song of the year for Handipere Power, best male and best album at the Zima awards.
The prize money was presented by Thomas Hastings, charge d' affairs at the United States embassy, who sponsored the award.
Hastings said the US embassy wants to strengthen collaborations with the creative sector.
"We are honoured to sponsor the song of the year in 2022, as a symbol of our greater efforts to strengthen collaborations with the creative and cultural industries in Zimbabwe. President Biden has tasked embassies around the world to ensure our efforts bolster an inclusive economy. Part of that commitment includes sustainable growth of the arts industry in Zimbabwe. Our range of cultural exchange programmes serve to strengthen people engagement between Zimbabweans and Americans," he said.
Nutty O appreciated the award and the prize money handed over by the embassy.
"This is a special moment, when I was  creating the music little did I know that I would end up with this hence you know receiving a cash prize and also coming from the US embassy it's also special.
"Thanks to the US embassy, it shows support and how determined you're to support not just musicians like you mentioned," said Nutty O.
"The goal is bigger, it's broad, it goes way deep so I'm honoured to be here and I thank the US embassy and the ambassador and everybody who is here," he said.
In commemorating World Intellectual Property day, Hastings revealed that the US embassy will host in May an Intellectual property workshops in Harare and Bulawayo where and American artist, Barraque Monfils – Evangelista will share his experience protecting his intellectual property and to facilitate the workshops with local musicians. Barraque will also perform in Harare and Bulawayo.
Follow Sindiso on Twitter @Sindora_ZW
Related Topics