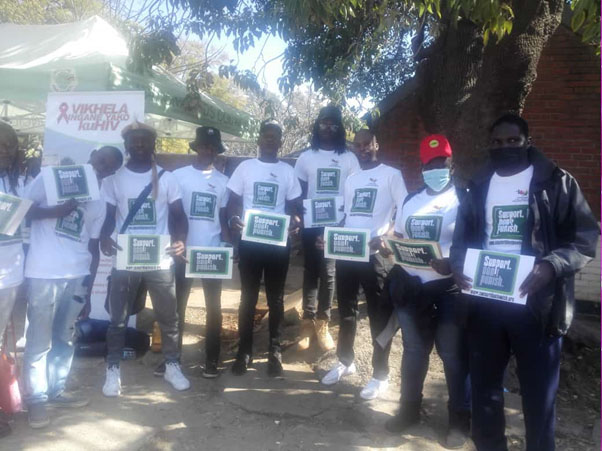 BY NOBUHLE MAPLANKA Government is serious about tackling drug use in the country hence the involvement of all, including people who use and inject drugs, a senior government official has said.
Provincial medical director for Bulawayo Metropolitan Maphios Siamuchembu made these remarks on Friday during the commemorations of the International Day against Drug Abuse and Illicit Trafficking at Stanley Square in Makokoba.
The commemorations, which were facilitated by the Zimbabwe Civil Liberties and Drug Network (ZCLDN), coincided with the Global Day of Action's Support! Don't Punish campaign which was running under the local theme Drug use in Zimbabwe, a search for a sustainable drug policy.
Hundreds of people drawn from across the city including community leaders, government officials, health workers, police, civic organisation groups, students as well as people who use and inject drugs attended the event, which was punctuated by entertainment from local groups.
"As a government, when it comes to combating the Zimbabwean and Global drug problem, our collective efforts are key and necessary," Siamuchembu said.
"We have often claimed we need to do more and do better to tackle the drug problem which undermines human health and development.
"Indeed, we must not only be seen to be doing more but must also strengthen our cooperation in addressing the drug problem  with measures that do not cause more harm than the drugs themselves.
"We need to employ evidence-based policies that are grounded in human rights, public health, development, human security, and social inclusion."
Siamuchembu said President Emmerson Mnangagwa appointed an inter-ministerial committee to ensure that the Zimbabwe National Drug Master Plan (ZNDMP) is fully implemented.
The aim of the ZNDMP was to solve and mitigate the challenges that are faced by drug use in Zimbabwe following the African Union Plan of Action 2021-2023.
Siamuchembu said the inter-ministerial committee, which a diverse grouping, is currently implementing the blueprint.
He said a holistic approach is needed to fight the scourge.
"We can only concur with those who have stated that the world drug problem is a complex one, with multiple negative effects to many societies," he said.
"Yes, a complex problem does not offer easy solutions. In this regard, we must address the Zimbabwean drug problem in a comprehensive and balanced manner, finding a pragmatic balance between supply and demand strategies.
"We must also uphold the principle of 'common and shared responsibility' and put the welfare of our people, especially the most vulnerable, including women, youth, and children, at the centre of all our interventions.
"We must also consider different national realities and circumstances, which demand tailored responses, in line with the three international drug control conventions and other relevant provisions of international law."
Siamuchembu said it was necessary for states in their obligations under international law, to regularly review their drug policies to ensure that these are comprehensive and focus on the well-being of the individual in order to address national challenges and assess the impact and effectiveness of drug policies.
"The Zimbabwe National Drug Master Plan is one such strategy the government has put in place to curtail drug use challenges in Zimbabwe," he said.
"However, there is urgent need to develop or adopt policies and programmes with holistic balance and multidisciplinary approach to prevent drug use and drug dependence as well as promote health, prevention, early detection of use and addiction, treatment and rehabilitation and social reintegration by persons affected by drug use and dependence. We hope in the near future, these harm reduction interventions shall be in our clinics.
"The objective of this is to reduce the impact of public health and reduce stigmatisation, marginalisation and discrimination as well as promote education for tolerance in society by allotting sufficient resources in drugs treatment and harm reduction programmes."
Makokoba MP Jacob Sithole said idleness and lack of discipline were causing youths to indulge in drugs.
"These youths have nothing to do, they have nowhere to go during their spare time," he said.
"It is important that we look at this challenge and the causes.
"A study by the Health ministry revealed that young people take drugs because of lack of employment, peer pressure and lack of discipline."
Sithole said they are working in their constituency to curb drug use by engaging youth through various sporting activities.
An official from Ingutsheni Central Hospital, a mental health referral Institution, concurred that drug use was on the rise distilling social life of many youths.
He said 75% of admissions are due to drug and substance use with youths as young as 14 being admitted.
The official said of the admitted patients, 90% were males while females constitute 10%.
According to data from the mental health centre, the commonly used drugs being treated for are marijuana, Bron Cleer and Crystal meth.
Makokoba residents Association representative Promise Nqwabababa bemoaned the lack of proper rehabilitation centres in the country.
"There are no proper rehabilitation centres in the country and those that would need rehabilitation service are referred to Ingutsheni, which is a mental health centre," Promise Nqwabababa said.
"These people need proper detoxification and counselling, because they don't have mental health problems."
ZCLDN projects executive director Wilson Box said he was impressed by the commemorations and the reception by the people of Bulawayo.
"We met a lot of people who wanted to get information and understand the drug situation in Zimbabwe," Box said.
"Bulawayo has a lot of artistic talent and we believe there is need to tap into that talent and use it in drug initiatives so that we help curb the use of drugs in the city."
Box promised to work and do more programmes for people who use drugs in Bulawayo.
Related Topics