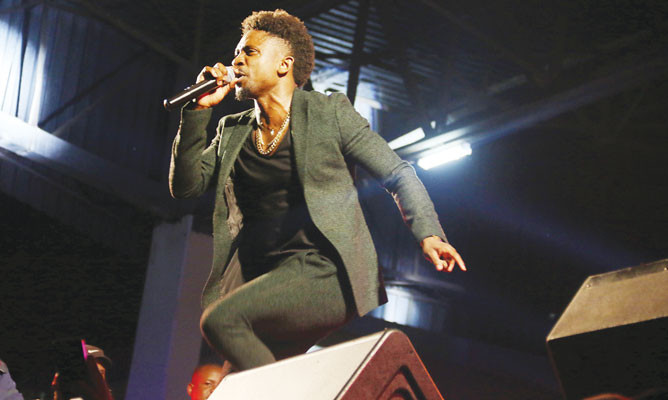 WITH social media having become the new way of life and interactions, people can send and receive feedback about anything that would be of concern in real time.
Of late, the most recurring social concern among Zimbabwean artistes has been about how local music promoters are constantly bringing in international artistes to headline local concerts.
Last year, Zimbabwe witnessed some top international music superstars coming to Harare, among them were Grammy award-winning Nigerian singer Burna Boy, courtesy of Hidden Culture, American hip-hop singer Rick Ross, brought by Better Brands Petroleum, Roar Entertainment and BancABC among others.
There was Chris Martin, who came for the launch of Freeman's David and Goliath album powered by Red Rose Entertainment and NashTV.
Five months in the new year, the country was graced by regional and global stars in the mould of South African Makhadzi, Congolese rhumba artiste Koffi Olomide, Afro-pop duo Mafikizolo and Nigerian gospel singer Minister GUC.
Nigerian top gospel singer Ada Ogochukwu Ehi was in the country last weekend and headlined a gospel concert at the Harare International Conference Centre (HICC) and another gospel musician from the west African country, Nathaniel Bassey will perform at the Celebration Centre's Action Conference next week.
Although the coming in of international musicians is expected to put the country on the music limelight, many believe the move overshadows local musicians.
When Rick Ross performed at the HICC, local artistes felt they had been given a wooden spoon at the expense of the American star.
"The amount of disrespect that was rendered yesterday to local artistes was appalling, I have never seen that," Nutty O complained after the show.
There have been reports of local music promoters shunning their own, giving preferential treatment to foreigners.
As such, Standard Style spoke to some local promoters and arts critics over the issue.
Chuckie Ayisha popularly known as Chucknosis, who is famed for the Fiesta-Fiesta, a local music gig that features mostly South African musicians and DJs, said there was need for local artistes to perfect their art when it comes to stage presence.
"Most Zimbabwean musical artistes do not have a stage presence and there is need for them to perfect their act on stage presence, even the dress 'wow' factor is just not there," he said.
"When promoters are looking for international artistes to bring into the country, we look for someone who is capable of 'wowing' the crowd, someone who does things that are eye-catching.
"If our artistes want to get gigs be it locally or outside the country, they should work on that.
"We like to work with artistes who bring crowds and it is not about support from local people, but it is about the artistes, are they worth it?
"Very few local artistes have managed to achieve that and they are getting well-paying gigs and respect from the industry."
Chucknosis said in as much as they want to promote locals, they also want to make money.
Arts journalist and critic Plot Mhako said the content quality of local music was not measuring up to what is being produced on the regional or global level.
"The music being produced largely in Zimbabwe is mostly for local consumption, looking at the sonics, packaging, lyrical compositions, vocal arrangements and overall quality of production; it is not measuring up to what is being produced on regional and continental levels," said Mhako.
"Because the music is made to only appeal to locals, this is why for the past 15 years or more we have seen Zimbabweans going to UK even 10 times in a year, but none of them is performing for foreigners as they are largely performing for locals in the diaspora.
"This also happens in South-Africa where the music does not appeal to anyone who is not Zimbabwean.
"For this music to then create the value that the artiste will then want to be paid for when they are doing shows here is actually difficult because a promoter will see that they can bring in a DJ from South Africa who would have made just one hit song and make them perform for 45 minutes getting paid about US$5 000 because when they put up the local artiste they cannot charge as much money which will allow them to recover their costs."
Mhako urged local artistes to package and market their art for consumers.
"Our artistes seem very complacent," he said.
"They travel to other countries, but do not even try and make efforts to reach out to the media there or network because the only way our music can get value is when it begins to be appreciated beyond borders."
Businessman and arts promoter Tich "Ndochi" Mharadze, who recently hosted Koffi Olomide and Mafikizolo at The Odyssey in Kadoma, said local artistes should not cry foul when promoters bring in international musicians, rather they should take it as a learning opportunity.
"Local artistes such as Jah Prayzah, [Alick] Macheso and Winky D do more than 30 shows a year, but we bring in these international artistes once in a while and when they come our own artistes share the stage with them and it is an opportunity for them to learn as well on how these global artistes manage to make it so big," said Mharadze.
"I think even the government should pay the promoter who brings in these international artistes as it gives our local artistes an opportunity to network and learn.
"Instead of crying, our Zimbabwean musicians should stampede to play at these concerts that will be headlined by international artistes so as to get new followers, which is a benefit to them.
"If a local artiste is to share the stage with Koffi, he will get a new crowd of Congolese living in Zimbabwe following him because they would have discovered him while coming to see Koffi performing."
Mharadze said local artistes were not marketing themselves and encouraged them to step up their game.
"There is a need for our local artistes to market themselves, because of good performance and marketing Jah Prayzah was called to do a performance in Rwanda and he was paid good money, I know this because I was part of that process," he said.
"No one will call for an artiste they do not know and sharing stages with these global artistes is part of that marketing strategy."
Related Topics