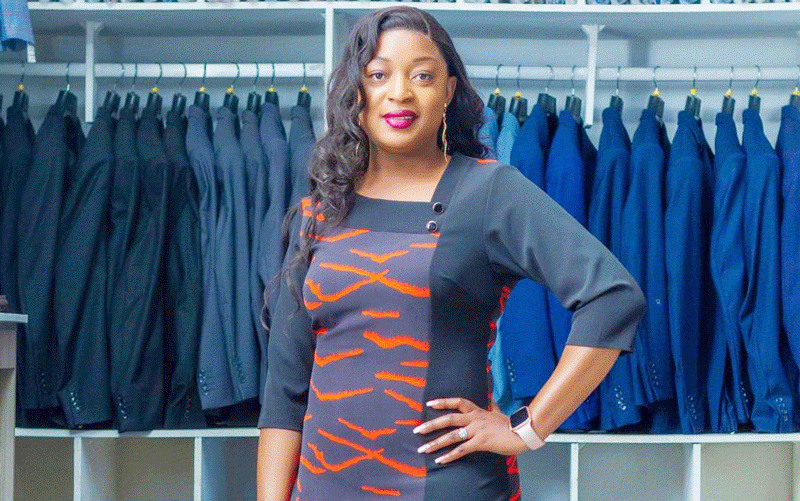 Passion is her greatest motivation but Sihle Mashinge, the MD and founder of Pearls Premium Clothing believes it is the pricing, quality and uniqueness of her fashion product range that has made her brand one of the most sought after. The company that specialises in formal wear for both men and women is also introducing eveningwear and event dresses to match the demands of the razzmatazz fashion industry.
Established in 2017, the fashion brand has become a darling of many who flock the CBD branch in Harare while some place online orders for direct deliveries. Even more encouraging is the fact that the leading fashion house will be opening its Avondale branch to the public on April 1.
Mashinge said she was excited about Pearls Premium Clothing's future and is happy to excel in an industry that is now under threat from some fly by-night pretenders commonly known as "runners".
"Nothing beats quality and true to the assertion that cheap is expensive; we have come up with a model that allows our growing clientele to enjoy quality products without straining their pockets," Mashinge said.
"We do not compromise on quality but we do not overstretch our pricing either. We are open to multiplicity but we will always embody the values of professionalism and genuine products.
"We have introduced a new fashion revolution that is taking the nation by storm as evidenced by the growing number of our branches.
"We want convenience for our clients which is why we have the CBD branch at a central position as well as the soon-to-be-opened Avondale branch for the convenience of those in outlying areas."
The passionate fashionista said she is happy to be living her dream and finds joy in helping people achieve their dreams through dressing for success.
"I am a born fashionista who finds joy in dressing nice and looking the part," she said.
"My love for fashion started at a tender age and I have grown to become not only the founder and MD of my fashion house, but I also double as the model where need be.
"My greatest motivation is the passion for fashion coupled with a desire to dress people for success.
"Not everyone has full knowledge of how fashion works and that is where we come in as Pearls Premium Clothing.
"We give full consultation on what fashion works for which event and the results are always a preferred winning formula."
The fast-rising entrepreneur said she is humbled by her clientele which ranges from company executives and corporate leaders, fashionistas and socialites, church leaders, opinion leaders, the young and vibrant, influencers to the generally fashion savvy populace.
"Pearls Fashion House is home to all that love quality yet affordable apparel," she said.
"Our model is not a get-rich-today-and-die-tomorrow one.
"We are here for the long haul and for that reason we price our products right to ensure lasting brand loyalty.
"We also offer grooming and etiquette that makes us a unique player complete with all the extras you need to get ahead and stay ahead.
"You have to look good if you are to attract the best and we are proud to say we dress some of the big names in Zimbabwe as well as those that want to keep a low profile but with a sharp fashion sense."
A devout family woman, Mashinge said she is grateful to family and friends, the general populace as well as her loving husband for the continued support.
"I am not self-made; all that I have is thanks to the support of family and friends, the beautiful people of Zimbabwe as well as my loving husband who keeps pushing me to go the extra mile," she said.
"We want to be the fashion brand of choice in Zimbabwe and we are grateful for the unparalleled loyalty that we are enjoying from our clients.
"For that reason, we will continue giving the best service especially as we continue opening more branches to bring quality closer to their doorsteps."
She said their prices were tailor-made for the market.
"We sell high-end clothes at affordable rates because the goal is not to rip-off our clients but promote a feel good experience with quality yet affordable products," she said.
"We are here to stay and our doors remain open to all that love the fine things in life without blowing their budgets," she said.
As winter approaches, the Pearls Premium Clothing boss said she would be unveiling many specials for the market and those that love quality affordable wear must be on the lookout.
"We have lined up a number of promotions starting with winter through to summer and we promise our current and prospective clients something extra this year," she said.
"They must brace for a top-tier fashion revolution. We want to create a Pearls Premium Clothing family of loyal clients through these amazing promotions. It's our small way of saying thank you for the invaluable support. Without you we wouldn't have come this far."
Related Topics