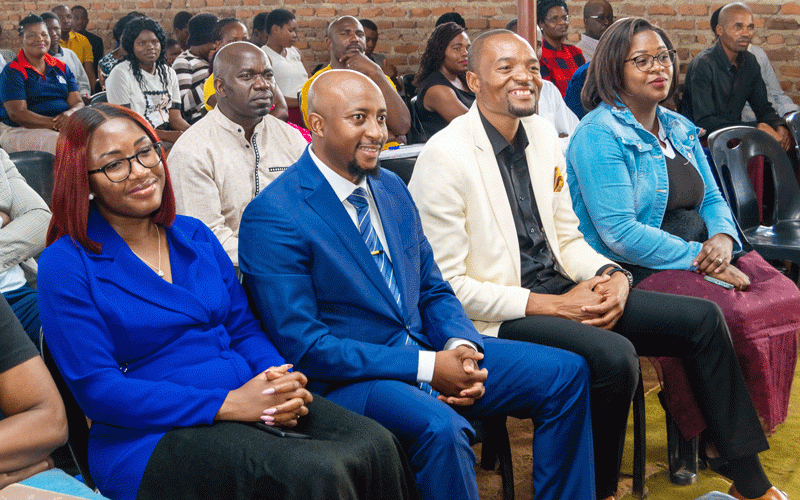 As youths continue to battle various life challenges brought about by the generally challenging economic environment in Zimbabwe, the Apostolic Faith Mission (AFM) of Zimbabwe is deliberately investing in youth empowerment to ensure that young people are enlightened and inspired to lead purpose-driven lives.
Speaking on the sidelines of a recent youth empowerment seminar at the church's Mt Zion Assembly in Knowe, Norton; the church's Harare West provincial youth leader Pastor Ngonidzashe Chimbwanda said the initiative is designed to foster moral, business, spiritual as well as life empowerment and they are deliberately focussing on young people towards wholesome progression.
"As pastors we are spiritual men but we realise there are many areas of empowerment and these include moral, business, spiritual as well as life empowerment so that our young people are able to fit in today's world.
The church is going for a wholesome gospel that allows our young people to progress in life. We are undertaking business empowerment so that our youth can learn the skills of the trade and be better equipped to survive in this economy. We are therefore engaging inspirational entrepreneurs who can help the young people identify and unleash their potential," he said.
One of the speakers, Kamili Investments CEO Mandela Katsande who spoke on empowerment encouraged the young people to rise above their circumstances and work towards a desired future highlighting that if one pursues their purpose, the Grace of God has no barrier.
"My empowerment presentation is not a creation of my own figment, but a blow by blow account of my life and how through hard work, dedication and commitment to my dream and God I was able to build my business," he said.
"It was not easy but through hard work and relentless pursuit of purpose I managed to achieve my goals.
"Kamili has become the respected brand that has interests in customs clearance and freight forwarding, fuel, commercial truck tyres and food all thanks to hard work."
The award-winning businessman also challenged the young people to tap into the various business opportunities available and not whine about their challenges and circumstances.
Sino Truck Zimbabwe sales and marketing manager Tinashe Zitsenga said they were happy to be partnering the church in its youth empowerment drive and have unveiled various flexible opportunities for young people through their brand.
"We have launched a zero deposit truck acquisition opportunity for young people that have contracts with clients so that as they get paid for the work done with the trucks, they in turn can service their account on the acquired trucks.
"We also salute the church for taking the empowerment gospel seriously because young people continue facing many challenges but as a people-centred brand we will continue unveiling such favourable facilities for their benefit."
Safety N Us Director Lucia Mutsvedu who presented on drug and substance abuse as well as cyber usage also called on the young people to lead responsible lives so that they don't become slaves of drug abuse and misleading content on the internet.
"Even as Christian youth you are prone to substance abuse and being misled by ungodly content from the internet but I want to challenge you to make the most of your youthful days.
"Make sure you are in control of your future and at all times aspire to be productive. The future is yours and you can better prepare for it by leading a responsible life today. Don'ts succumb to peer pressure and always learn from those that have walked the journey before you," she said.
Pastor Chimbwanda said they were happy to be addressing issues affecting young people and will be rolling out similar seminars around Zimbabwe.
"It's important for the church to address issues that are affecting our community and members on a daily basis," he said.
"We are going to be replicating this programme.
"After the Norton one, we are moving to Harare on March 25.
"The seminars are open to all youth including non-members.
"Youth is the backbone of the community, church and the nation and they must rise up.
"We are here to help them so that their future is not destroyed."
Related Topics