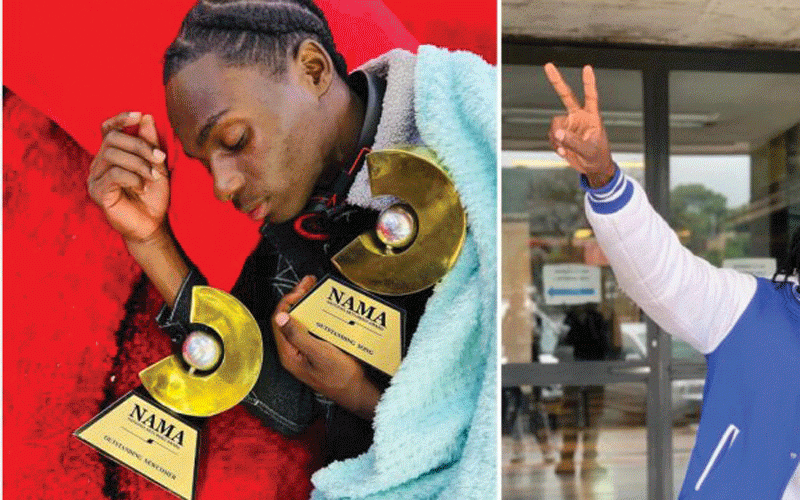 Gone are the days when we used to associate Zimbabwe National Arts Merit Award (Nama) with names of stars such as Oliver Mtukudzi, Jah Prayzah, Winky D, Alick Macheso and Janet Manyowa in the music award category.
These guys are still big in their own, right but the organisation of this award ceremony has now changed face.
This year, familiar names such as those I have mentioned above, were conspicuous by their absence.
There were ten Nama 2023 categories, but due to limited space in this column, I will speak about the Music category only.
The show was well-organised. There was evidence that a lot of work went into the rehearsal for this ceremony judging from how everything seemed near perfect. The sound quality was superb.
The backing band which was placed at the back of the stage was exceptional. Even when some artistes came onto the stage using backing tracks, the sound was well co-ordinated.
Whoever was in charge of the P.A. system was technologically advanced.
I've spoken to a few live engineers in the past. Some are great, but more often I come across a very cavalier attitude "that's good enough" and attention to detail and subtlety is lacking in the general attitude. This time everything was in order.
Given the amount of publicity this event was given through social media, radio and television, by ten o'clock I had expected to see a house full at the HICC but unfortunately, most of the seats upstairs remained unoccupied.
A lot of energy coursed through the 21st Nama ceremony themed "Ünlocking Dreams" which felt like riding an emotional roller coaster. There were highs — in the performances — which created a level of excitement that seemed almost foreign to the ceremony. But there were also the lows especially among the nominees who did not make it to the stage.
In keeping with the expected excitement, the evening began with an infectiously joyous performance.
I missed the pre-show performances by Feli Nandi and Mwenje Mathole but saw the rest of the performances by Hope Masike, Holy Ten (who sang Handivhunduke), Andrea The Vocalist, Saint Floew. Leo Magozz of Fire Emoji, Voltz J.T., Ex-Q, Freeman, and a few others whom I failed to recognise.
Although the auditorium erupted with deafening applauses and ululations for some of these artistes, I was completely at sea when some of them appeared on stage.
Either I am out of touch with the artistes who emerged during the Covid-19 period or I have just not been able to follow new artistes. To me it was like travelling to Mutare and finding no mountains.
However, the question to ask is What is it that makes the Nama awards ceremony tick?
The answer is simple. The ceremony makes the artistes feel that their work is valued. It shows approval and gratitude for each person's good job, and it makes people aware that good work will be rewarded.
It shows others, such as young up-and-coming artistes and the general public that you're aware of outstanding accomplishments.
Recognition motivates others to strive for excellence and we all benefit from it.
Recognition motivates people. For instance, if a secretary in an office receives an award for an outstanding performance, other secretaries will strive to do better also, so that they too can be recognised.
Being rewarded for doing well is one of the biggest incentives anyone can receive.
An awards ceremony or activity is a chance for celebration and reflection. People will get a break and a party, getting their minds away from everyday work, allowing them to see the bigger picture.
At the same time, they will have the chance to discuss the importance of their work and the achievement of the person being awarded.
Gathering and sharing experiences is a very powerful means of encouragement.
Decades of egregious snubs and exasperating exclusions have chipped away at the Nama Awards reputation — so much so that the honour's relevancy is relitigated annually. More questions come into play:. Are the Ns important? And if so, to whom? Were the chosen winners the best? Was the adjudication fair?
These questions haunt every season as the discourse circles the familiar talking points. On one side: The awards symbolise validation from peers and industry leaders.
However, the Nama 2023 ceremony seemed to have gone without hitches and I am positive that the National Arts Council director, Nicholas Moyo is very pleased with his achievement at this function which was also graced by the minister of Youth, Sport, Arts and Recreation Honourable Kirsty L. Coventry, deputy minister, Tino Machakaire, Dr Thokozile Chitepo the permanent secretary, the neurosurgeon, Dr Nozipo Maraire, other dignitaries and high ranking officials
There were several MCs who shepherded us through the evening. These included Gemma Griffiths, Chief Koti, Napoleon Nyanhi, and Charlene Mangweni-Furusa.
It was a night of memorable moments. What was an awards event turned out to be a fashion show. The women, in particular, were dressed to kill.
One of the nominees in the film and television category who was sitting next to me and expecting to win kept fidgeting and shouting excitedly. He was immaculately dressed in what I thought was a new suit.
He kept doing up his tie and asked me if it was in the right place, but when it came to the announcement: "The winners are…" , his name did not come up. He was obviously disappointed and he left the auditorium immediately.
The winners — all dressed in their finest and seemingly adhering to the theme "Ünlocking Dreams" received their gongs in several music categories. These were:
Outstanding male musician – Freeman HKD
Outstanding Album – David & Goliath by Freeman HKD
Outstanding song – Fire Emoji – Leo Magozz official
Outstanding female musician – Dorcas Moyo
Outstanding new comer – Leo Maggoz
Outstanding artist in the diaspora – Tafara Nyatsanza
Promoter of the year – Exmo squad
I must confess that I had never heard of some of these artistes. I am only beginning to listen to their music now. It was also the first time I have heard of Exmo Squad as music promoter of the year who beat Chipaz Promotions and 2Kings.
It is like when I told colleagues that former British Prime minister Tony Blair, was once the lead singer of the Ugly Rumours Band, they were all in disbelief until they googled this information.
Although there is truth to the unifying power of music, the award ceremony left some musicians who felt that they deserved to win, disgruntled. "Music is medicine." I am sure they got healed the next day.
When I spoke to one of the organisers about the criteria used for the selection of winners, he simply said: "Nama needs radical change and this is it."
I also spoke to Elvas Mari, the former director of the National Arts Council and he seemed completely divorced from the current goings on. Instead he spoke about his businesses in Harare and Kadoma.
At the end of the awards ceremony and on the way out, superfans convened to talk about how Nama 2023 went and their relationship with the artistes. The earnest stories struck an odd tone compared to the rest of the evening. They felt less like conversation and more like stiff, hackneyed grievances. One of them who had proclaimed that being nominated is as good as a win was quickly elbowed out of the conversation by an irate fan who came out fire blazing and screamed: "Ä nomination is not a win, my friend, and they should not blind us by pretending that our favourite artistes have won simply by being nominated. Tell me, which of the artistes tonight can beat Winky D?"
Although it was hard to shake the awkwardness of this segment, there were other moments that promoted a more grounded optimism. The production not only established a convivial mood, it also marked a hopeful change in the ceremony's routines. Indeed, it is the changing face of Nama.
Feedback: [email protected]
Related Topics