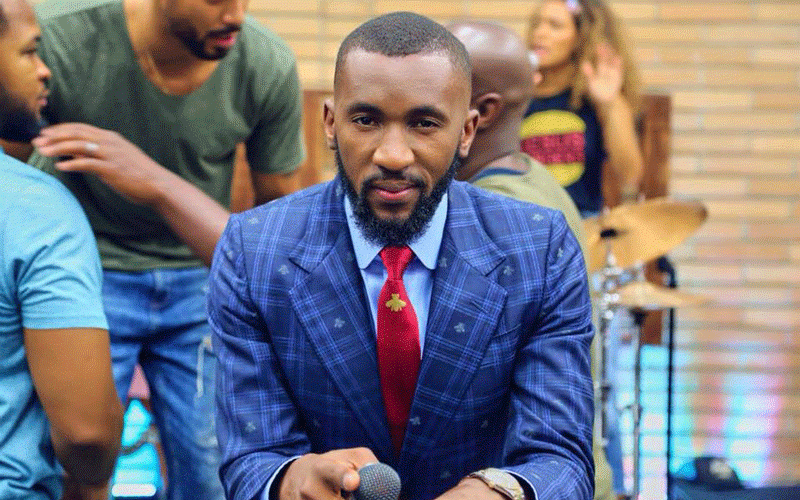 CONTROVERSIAL man of cloth and President Emmerson Mnangagwa's ally Passion Java is embroiled in a pregnancy and abortion scandal with his alleged 26-year-old mistress Yolanda Makaya.
Makaya is sister to Hillary, who was at one stage linked to Java. Hillary is also former President Robert Mugabe's son Robert Jnr's ex-girlfriend.
In a video making rounds on social media, Yolanda accused Java of impregnating her and attempting to force her to have an abortion.
Yolanda claims she had to flee the country as Java has been allegedly sending "men" to get rid of the eight-month pregnancy.
"I am making this video as a final attempt to ask for help I am currently eight months pregnant and the person I am pregnant for is a prophet named Passion Java," said Yolanda.
"I met Passion early last year and one thing led to another. We ended up being in a full-blown relationship."
Yolanda acknowledges her wrongdoing by dating a married man. Java is married to an Ethiopian woman named Lily Tsegaye after he divorced his first wife Yasmin in late 2015 with whom he had a son Uebert Java, named after his spiritual father Uebert Angel.
"I just do not feel that the repercussions that I am facing are warranted at all, my life is in danger," Yolanda said.
"I have had to flee my country because things got so bad that I was being followed and there was even a kidnap attempt.
"His main objective is to kill our baby even at this late stage.
"He said he will not stop at anything until our baby is dead."
Late last month Yolanda posted that Java had paid the media and bloggers not to talk about the issue and now through her video she expresses how fearful she is.
"I am filled with paranoia and anxiety," Yolanda said.
"I live in a constant state of fear because I always have to be on the move.
"Things have been so bad that I have almost been drugged so that I can go into early labour.
"I tried to speak out about my situation back home a few weeks ago, but I was silenced because this man does have a lot of influence when it comes to the media back home.
"He has used his powers to terrorise and harass those who have helped and those who have tried to help me.
"What is even crazier is that when I spoke out about my story countless girls approached me and shared their similar ordeals about him basically getting into a relationship with them, getting them pregnant and then forcing them to have abortions (allegedly)."
Yolanda added that all she was fighting for is for her baby to have a chance of life.
"I believe this man is a predator and he uses his title as a man of God to prey on vulnerable girls and put them in these situations where they have to have forced abortions," she said.
"All I am fighting for is for our baby to have a chance of life; I believe our child has a right to live."
In January after Hillary announced her engagement to a man whose identity was not revealed, the elder sister Yolanda took to social media and claimed that the same man who impregnated her is the one who was engaged to her sister.
"How, as a married man of God can you ask a girl to marry you and get her sister pregnant?" she posted.
Efforts to get a comment from Java were fruitless as messages sent to his close friend and manager identified as Boss Lashan were not responded to till the time of going to print.
In March 2022, the self-proclaimed prophet was reported to have had a secret affair with Leshaan Da Gama and forced her to terminate her pregnancy, claims Java could neither deny nor confirm.
In a video Da Gama attached a series of her chats with Java and pictures of them visiting an obstetrician.
In one of the messages, Java begs Da Gama to terminate the pregnancy as it would have a negative bearing on his "ministry" work.
"I wish you could understand the position that I will be in if you don't remove the pregnancy," the message reads.
An unbothered Java went on to quote Bible scriptures in response to the allegations through a skit on his social media.
"Vakomana vemubhaibheri vainakirwa. David aichaya, akaroora mukadzi wemunhu kuti anakirwe, muface uyu aisanzwisisa, Jacob akashanda 14 years kushandira vakadzi two kuti anakirwe, Solomon akaroora vakadzi 1 000 kuti anakirwe. Iwe woti Passion usanakirwe" he said.
Java has been using music to cement Mnangagwa's rule through his Passion Java Records, home to Roki.
Java recently brought in Nigerian star D'Banj to Zimbabwe to meet Mnangagwa.
In December last year the Nigerian musician was arrested in his homeland over allegations of fraud.
He was arrested after millions of dollars meant to help unemployed youths to start businesses reportedly went missing.
The N-Power initiative was launched in 2016 by President Muhammadu Buhari, but many youths have complained about not receiving their grants.
The anti-corruption agency in Nigeria said 10 other people as well as D'Banj are being investigated.
"The investigation will be all encompassing and also be extended to other collaborators of the fraud and the banks where the beneficiaries' accounts are domiciled," a statement read.
Related Topics