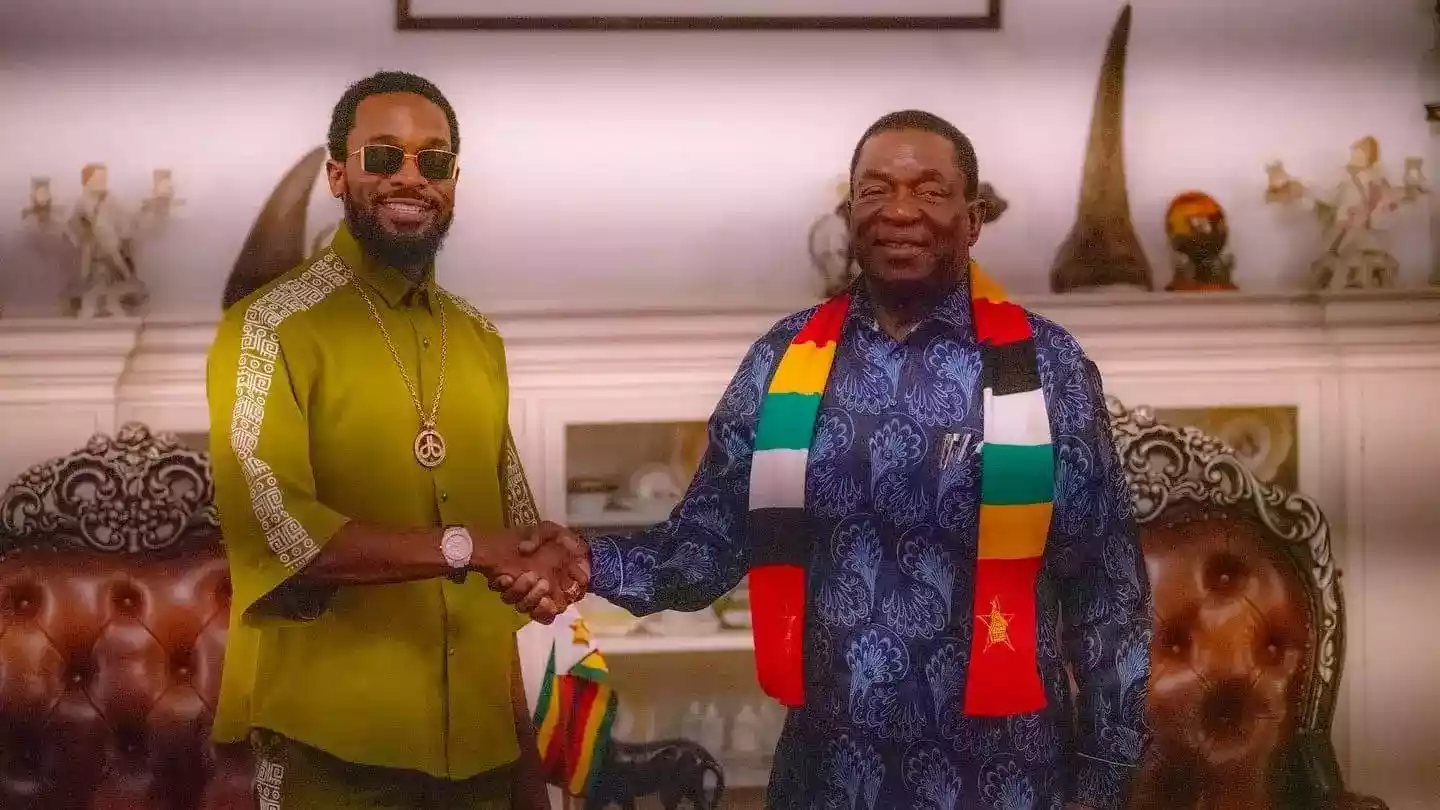 NIGERIAN music star D'Banj who is still being investigated over fraudulent activities visited Zimbabwe where he met President Emerson Mnangagwa at the State House during the week.
D'Banj's visit was facilitated by Mnangagwa's ally the controversial church leader 'Prophet' Passion Java who in the past brought in other stars that have heaped praises for Mnangagwa in what political analysts have described as a political campaign tactic.
The Nigerian was met at the Robert Mugabe International airport by Passion Java, Zanu PF activist Mike Chimombe and socialite and businesswoman Zodwa Mkandla.
The Zanu PF mood was set by the party-coloured ambiance and Mnangagwa's scarfe hanging on necks of the musician, Java, Chimombe and Mkandla.
Upon arrival, the Nigerian flanked by Chimombe and Java, chanted slogans endorsing Mnangagwa. Later on addressing the media, the Nigerian said he was adopting the moniker ED Junior during his time in Zimbabwe.
The musician was taken for a visit to State House, a phenomenon which has become common with artistes who visit the country. They are made to endorse Mnangagwa's rule — recent ones to do that were Koffie Olomide who went on to chant 'ED number one' in a song and DJ Tira who met Mnangagwa and claimed Zimbabwe was now his second home.
In December last year the musician was arrested in his homeland over allegations of fraud.
He was arrested after millions of dollars meant to help unemployed youths start businesses, reportedly went missing.
In a tweet, the Independent Corrupt Practices and other Related Offences Commission (ICPC) confirmed the arrest of the musician over alleged fraudulent activities associated with the N-Power Programme, a government scheme set up to address youth unemployment and empowerment.
The N-Power initiative was launched in 2016 by President Muhammadu Buhari but many beneficiaries have complained about not receiving their grants.
According to reports, more than two million Nigerians aged between 18 and 35 have benefited from the N-Power scheme since it was launched.
Nigeria's anti-corruption agencies said in a statement in December that "billions of naira" had been diverted. At least $629m was distributed in 2019 to beneficiaries who started small businesses, the authorities said.
D'banj, a self-acclaimed brand ambassador for the scheme, turned himself in, according to police.
The anti-corruption agency said 10 other people as well as D'banj are being investigated.
"The investigation will be all-encompassing and also be extended to other collaborators of the fraud and the banks where the beneficiaries' accounts are domiciled," a statement read.
The ministry of Humanitarian Affairs, which oversees N-Power, said it had no official engagement with the artiste and that his claims to be an ambassador for the scheme were misleading.
The Oliver Twist hit maker was arrested and detained for three days by the Nigerian anti-corruption agency. D'Banj is reported to be in Zimbabwe to collaborate with Roki who has collaborated with Koffie Olomide before.
Related Topics