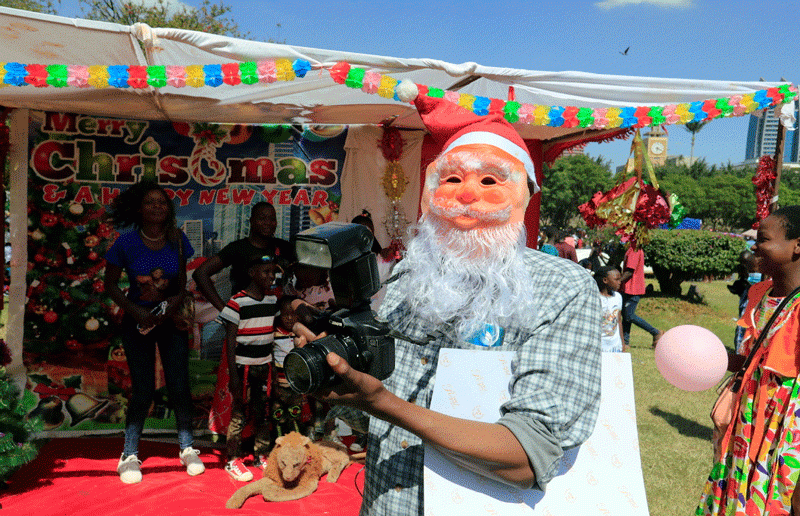 THE festive season today reaches its pinnacle as millions of people the world over celebrate Christmas Day in various styles with most hotels and lodges reportedly fully booked while a number of activities are also on offer to both local and foreign tourists.
A similar scenerio is also prevalent in Zimbabwe where the majority of citizens start this festivity day with a fellowship "voyage" to various churches and most children and adults putting their new and best clothes for such a special occasion.
In some households, an articial fir tree is usually placed in the sitting or dining room where decorative colourful ornaments are hung while gifts are usually placed under the same tree where a family 'Santa' distributes to various beneficiaries.
Fathers offer gifts to their children and spouses consisting of new clothes among other related memorabilia. The same also happens to Cupid fellows who are among the largest patterns in terms of leisure resorts occupancy.
To those of Christian background, an early morning church service is usually held and children dress in their best clothes while others feast on this particular special day with meat in the form of goat, ox, chicken, bread, jam, tea, sugar among others being extraordinarily in abundance.
Yours Truly is considering having this type of festivity in rural areas where those coming from the so called urban areas were treated with pious and royalty.
However, a lot has been written in the past on how individuals spend their festive holidays in Zimbabwe. Today Yours Truly is going to take you around the world on how some countries celebrate this special day whose origins is subject to perennial debate.
Before delving into the above mentioned details, it is rather prudent and imperative to also highlight some countries which do not believe in having Christmas Day as a public holiday.
Some of the countries include Afghanistan, Algeria, Bhutan, North Korea, Libya, Mauritania, Sahrawi Arab Democratic Republic, Saudi Arabia, Somalia, Tajikistan, Tunisia, Turkmenistan, Uzbekistan, and Yemen that do not recognise this particular day as a public holiday, according to information on the internet.
In France, this particular event is a public holiday and decorations fill every space in households and public spaces over the festive season with traditional advent wreaths being a feature for various families where a candle is lit each week throughout December.
Christmas Day is spent opening presents, celebrating and spending valuable time with loved ones as well as feasting on a late lunch consisting of goose or capon, truffles and mashed potato.
However, this day is not a public holiday in Japan, but is somehow still considered to be huge celebration with festivities starting during November and an interesting feature is that this event is somehow celebrated by families with children or couples.
Kids will wake up to presents next to their bed and couples spend the day just like Valentine's Day — embarking on dates, having dinner and exchanging small gifts together.
In Kenya, one frequently hears "Krismas njema", which literally means "Merry Christmas" and Kenyans love good festive period where they usually celebrate the season with variety of meats referred as nyama choma. It is a Swahili word for roast meat. Food that would have been cooked is shared with neighbours, friends and family. The meat is usually served with rice and chapati bread.
In Egypt, the Coptic Orthodox Christians are the only Egyptians who celebrate Christmas and follow Coptic calendar where festive day is remembered on January 7.
Christmas celebrations begin on January 6 for orthodox Christians which is Christmas Eve where a church service marks beginning of festivities that normally begins at 10 pm and scheduled to end around midnight.
The main meal is after church service, with a banquet of dishes containing predominantly chicken, beef, eggs and foods not eaten during the Advent fast.
An interesting tradition in Ghana is honouring of the legend of Anna, who is said to have assisted in the birth of Christ in Bethlehem and rescued him from a Judean king whose nefarious plans came to nought.
The story of Anna is told every Christmas, and it is a tradition to honour all midwives during the Christmas season.
It is Yours Truly's fervent hope that on this particular day, enjoyment and admiration will be jealously guarded to live for another day while keeping an eye on the overall budget as January disease beckons.
Wishing you the proverbial Merry Christmas.
Krismas njema.
Till we meet again in the next column.
l Comments always welcome on: [email protected] or Twitter@DubeBurzil
Related Topics