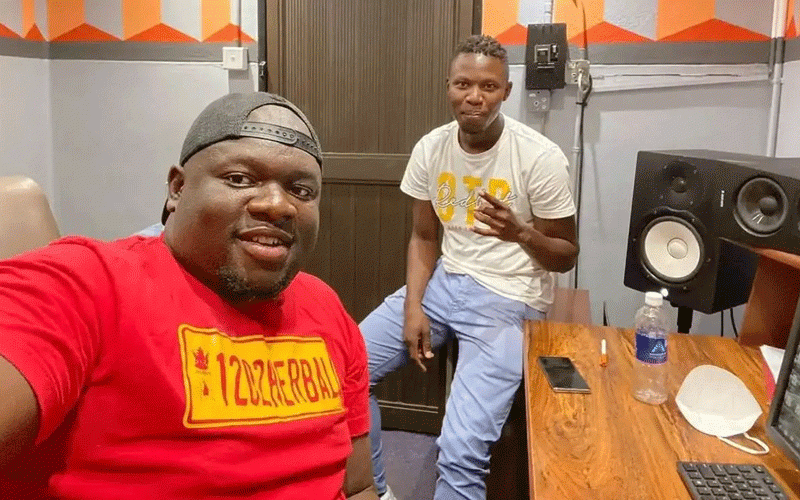 CHILLSPOT Records, the country's biggest, most influential Zimdancehall record label could have been a local version of America's Bad Boys Records with proper management, well-oiled production, and opulence with less drama as has been the case this year.
That its two producers, Levels and Fantan are not in jail is a miracle which they should be celebrating daily if their shenanigans are anything to go by. The two have been hogging the limelight, many a time for wrong reasons totally detached from their only job, music.
Credited with successfully creating a rendition of the popular Jamaican dancehall, Levels and Fantan are superstars not just in Mbare where they were born and bred, their followership across the country is just behind Winky D's and definitely more personal.
It is that fact that makes their behaviour in 2022 more disappointing, millions of young people look up to them. They view in awe the superstars these two have created and see role models.
Having quit his job at Innscor, Fantan convinced Levels to turn part of the Matapi flat in Mbare where he stayed in into a working space that would catapult them to stardom, it created Soul Jah Love, Killer T, Tocky Vibes and "Boss Yala" Seh Calaz.
Gender-Based Violence (GBV), sex tapes, assault, alleged rape, and last year's unsanctioned mega-party in the overpopulated Mbare are what they have been known for much recently, much more than the good vibes they used to serve.
Levels, born Tafadzwa Kadzimwe, is currently embroiled in a nasty breakup with fellow musician Ashley "Shashl" Moyo which has seen images of him showing off his manhood making their way onto social media.
The images, which are said to have leaked last week, were closely followed by a series of sex tapes that show him and Shashl engaged in unprotected sex.
Levels claimed the nudes leaked after he lost his mobile phone at a popular night spot.
She disputed Levels' claim, however, arguing he had deliberately shared the images and videos as revenge porn after she decided to end their relationship.
Shashl is daughter to former Health minister Obadiah Moyo who lost his post in Cabinet over shadowy Covid-19 deals running into millions of US dollars.
Music critic Fred Zindi said the genre was always associated with society's vices.
"There were many stories of sex scandals within the genre. It started with Templeman who was alleged to have had sex with an underage girl. Several other Zimdancehall artistes have been accused of the same including the peddling of drugs and violence as seen in the feud between Soul Jah Love and Seh Calaz," said Zindi.
"Now news of Chillspot bosses Fantan and Levels being in trouble for allegedly committing GBV and sex crimes, respectively, has spread like wildfire and this brings into question the future of both Chillspot and Zimdancehall as a whole. Will corporate sponsors of dancehall be interested in dealing with artistes whose image has been dented like this?"
In 2018 dancehall chanter Templeman spent weeks in remand prison after allegedly kidnapping a 16-year-old and continuously having sexual intercourse with her, exposing her to alcohol and drugs, according to court papers.
Shashl is now alleging Levels raped her. A report has already been filed at Borrowdale Police Station weeks after an assault case was opened against him at Rhodesville police station.
The vivacious dancehall artiste is reportedly now involved in a relationship with Fally Ipupa, who also has a baby with Nelia Kadungure.
"We cannot rely on social media speculation, we are still waiting to hear from the police.
"We will comply with the police once we have been approached," said Levels' legal representative, in response to the docket doing rounds on social media.
A week before nudes and the sex-tape leaked Levels had appeared in court for allegedly assaulting his mechanic.
It is alleged that on January 30, this year, the complainant Freedom Boka was given US$900 by Levels to purchase some car spare parts for him from South Africa.
On February 14, Levels went to Boka's house and demanded a refund as he was no longer interested in the parts he had bought.
It is the state's case that Levels turned violent and assaulted Boka with fists on his head prompting him to file a police report at Rhodesville Police Station.
Levels was then arrested. He was remanded to December 8, for judgement as he pleaded not guilty to the offence.
In May this year, it is on record that Fantan, born Arnold Kamudyariwa was arrested by police after allegedly assaulting his wife Gamuchirai Nemukuyu and locking her up in their home.
He proceeded to damage kitchen utensils she had wanted to use to start a canteen at Stodart Hall, Mbare.
His marriage later collapsed and in no time Nemukuyu was accusing him of abandoning his children. Months later, Fantan was reported to have married his 'small house' Vimbai Muponda.
Nemukuyu then threatened suicide, bemoaning mental strain, after the Chillspot boss was reported to have changed ownership of their Chitungwiza home followed by spirited attempts to get her out of their Houghton Park home.
The two, Fantan and Levels are not new to arrests as they were in 2021 sentenced to six months in prison alongside Tinashe Chanachimwe, popularly known as Boss Dhama, for organising an unsanctioned super Covid-19 spreader musical concert on New Year's Eve, in breach of government regulations.
They were later freed on $10,000 RTGS bail after a High Court judge consented to the bail appeal.
They were released on condition that they report every fortnight to a given police station and reside at a given address until the matter was finalised.
Follow Sindiso on Twitter @Sindora_ZW
Related Topics