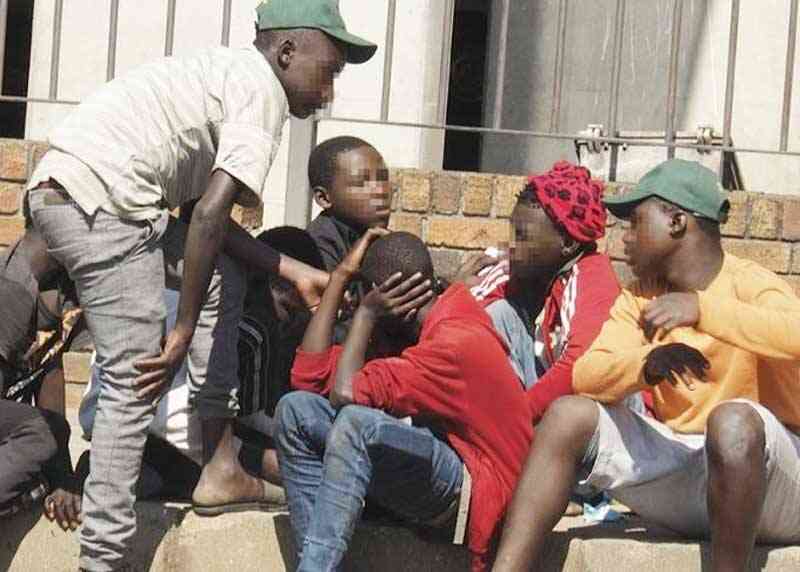 It's around 7:30pm. Nine commercial sex workers stand spaced in front of iron sheets put to barricade an area set for reconstruction at corner Nelson Mandela and Mbuya Nehanda Road in Harare.
One of the girls had just arrived and taken off her high waist jeans to remain with an alluring miniskirt.
Meanwhile, far from the Central Business District, there is a street kid dressed in ragged and dirty clothes who is approaching the corner Josiah Chinamano and Mazowe Street with a sack pretending as if he picks recyclable waste.
He then shouts, "Hey my sister ndokumbirawo mutero (Hey my sister can you pay operating license)," talking to one lady who was standing amongst her fellow sex workers.
"Mukati hamuna mari kudhara ikoko maiziya (If you say you don't have money, that I will not tolerate )."
Out of fear the young lady gave the street kid the US$5 she had.
Moments later a group of street kids also known as zvigunduru arrived and also demanded money from sex workers.
Working at traditional sites at the outskirts of Harare CBD has become difficult for some commercial workers and as a result they have occupied part of the Mbuya Nehanda Street named after the revered spirit medium Mbuya Nehanda and othet streets.
A sex worker, Emily (not real name), told Standard Style as she waited to be attended by a doctor at an Opportunistic Clinic at Parirenyatwa that the street kids had become a menace.
"We are now giving them money out of fear. The situation is now worse. I feel it's safer to be arrested by the police than being terrorised by street kids. The police usually ask for a bribe or we pay a fine. That was very safe and we could make money," she said.
"Anyone, who comes demands money for guka or musombodhiya. Some move in packs. If you don't give them, they say that you can't operate. Right now we are now getting around US$25 and if they don't threaten us we get US$80 on weekends."
The 28-year-old lady said it's now close to eight months since this started and there are now more than 10 groups of street kids that give them restless times.
"They also work with known thieves who are the gang leaders. One group is headed by a thief known as Don (around 38) who stays at Girl Court along Samora Avenue and 8th Street. He moves street by street targeting beautiful girls and also tells us to steal from clients,"
Don was reportedly arrested a week ago for allegedly beating his girlfriend.
Some named groups are one led by Kadiki who stays at Montagu Shops, Solen, 45, Mupunga, Gaza and Prosper.
One sex worker identified as Mai Kiki who around (40) allegedly works in cahoots with the street kids.
The newcomers and those aged between 45 and 50 are the major victims. They are also raped.
Emily with two years' experience in the industry blamed the selling of drugs for their continued attack.
"All this is happening because of drugs. There is a place called PaChihera at Corner Fife Avenue and Harare Street. It's a 24-hour drug centre. There are also people who sell Guka 24 hours," she said.
Others' choice to get to the CBD was not really the end of their woes. Another challenge is the base to host their clients at.
Madeline said they use a base at NetOne building, a space entered through a black gate near United Methodist Dental and Medical Clinic along Mandela and others use the Big Apple Night Club which is however expensive to book.
"We go to NetOne, but this time the base is not yet open. They charge us a dollar so if one negotiates that amount I will be left with nothing," she said.
"I am afraid of going there this evening because the day before yesterday a boss of the security officers got us arrested. But there is an alternative, the black gate,"
That particular time the gate was locked and she said: "Nhasi zvakatooma."
The sex workers continue to suffer many forms of harassment not only from street kids but at times from law enforcement agencies who regard it as a criminal.
Sex Investment Movement programs coordinator Tinashe Mukandidze said: "Sex workers are abused on a daily basis."
Recent population estimates suggest there are approximately 45 000 female sex workers in Zimbabwe, equivalent to 1,35%% of the adult female population. Half of these women live in the cities of Harare and Bulawayo.
The Zimbabwe Sex Workers Alliance director Brighton Kata said his organisation never heard such reports.
Related Topics