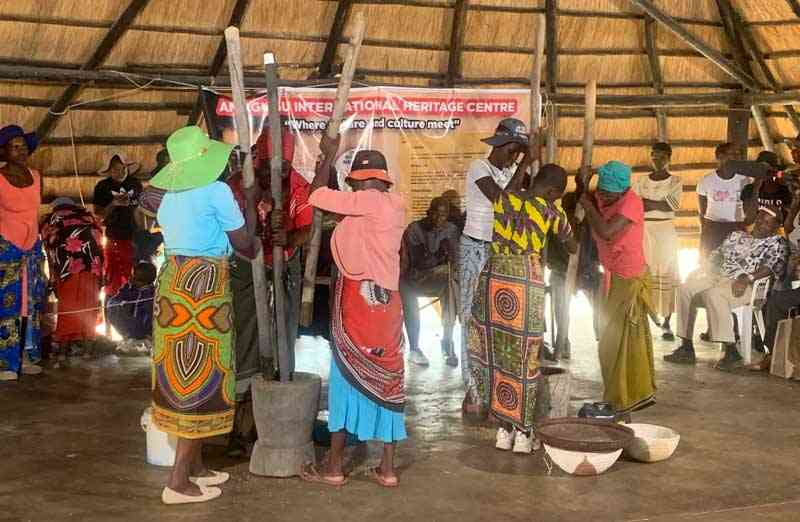 Renowned historian and founder of Amagugu International Heritage Centre, Pathisa Nyathi says the recently held Amagugu iNkelo Cultural Expo went beyond all expectations despite limitations in financial support.
Amagugu iNkelo Cultural Expo aims at reviving the Ndebele culture while at the same time letting culture bring food on the table.
The two-day expo, which gathered momentum on the final day, saw members of the community in Matobo district displaying various artistic renditions in open air cultural events as well as indoor competitive cultural activities.
Open air cultural events included Thatha Nqola (scotchcart) where participants displayed their decorated carts and span of donkeys or oxen as well as Thatha Bhayisikili (decorated bicycles) where participants showcased festooned bicycles.
There was a Gqula Inkelo (Amarula kernel cracking) competition where the participants contested in cracking the kernels with nuts coming out unbroken.
Indoor competitive cultural activities included Kalimathe ibhiza leTsholotsho where women competed using grinding stones and pestle and mortar, Bhudaza painting of faces, Thatha Bhasikiti, the best decorated ilala baskets/ this activity came under the slogan, "Go small, Go beautiful and sell big!", Thatha calabash among others.
Finished and unfinished products were also exhibited to show the different stages. For example under beer brewing, the general public was shown all the stages from imithombo up until the final drinking stage.
Beside the displays, people were entertained through traditional dance, drum beat and singing Iwosana (Njelele shrine songs) Amabhiza (Woso), poetry among others.
The audience got edutainment and where shown how the forefathers celebrated the new season. People also had an amazing braai on the rocks sundowner.
"First show beyond Covid-19 started with a bang despite funding challenges," said Nyathi.
"This over stretched us and what we are going to do is go back and do a post mortem and say what other stand alone festivals can build from it.
"We have no money, the potential is there, there's no doubt about it.
"If we get funding we can have a standalone performances. You saw how active these people are. Everything that you saw here was self funded.
"The only other person who came in and funded a few prizes was the local MP Edgar Moyo; he then ended giving them some more."
He said they did not bring external groups largely because there was no funding.
"We involved only one ward this time, ward 17," Nyathi said.
"The attendance was good and they were new ideas some of which the people have never heard before."
Amagugu Heritage Trust programmes manager, Allington Ndlovu said the expo turned out to be an engagement platform for people coming different backgrounds.
"To Amagugu as the organisation, it's a great milestone mind you beyond being some tourist attraction for visitors who enjoy consuming cultural tourism," Ndlovu said.
"Amagugu is more of an educational centre so our coverage will grow and we looking forward to widen our clientele base, to widen our existing networks within the creative industry.
"The expo was inspired by the availability of untapped talent among the artisans from Matobo.
"There was a realisation that beyond painting their homes these communities are not only talented, but they are also knowledgeable in various cultural domains that can benefit the urbanites who are not so exposed to deep tangible and intangible cultural content."
Related Topics