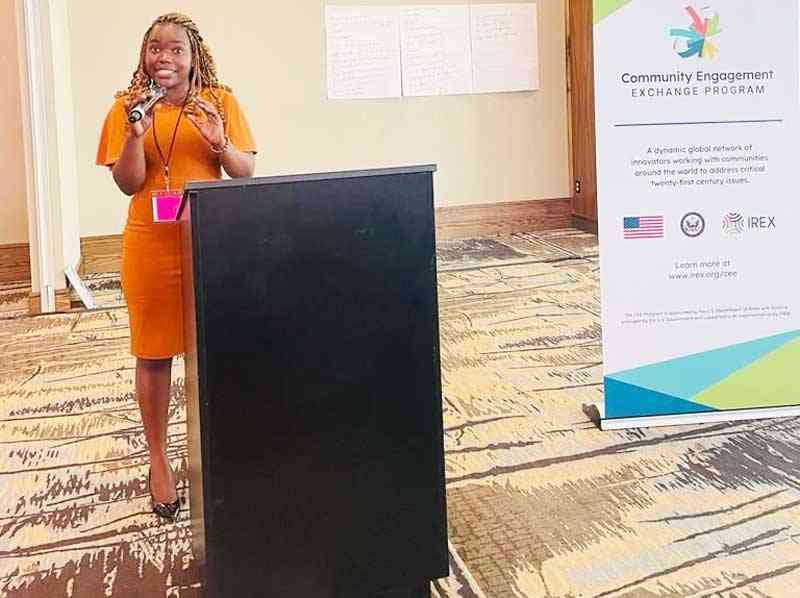 Emerging gender activist Ruvimbo Chivere is ecstatic after securing a spot in the inaugural Community Engagement Exchange (CEE) Program, a prestigious transformational leadership development initiative based in the United States.
Chivere is one of the two Zimbabweans who were selected from over 4400 global applicants who submitted from 89 countries across the world.
Speaking to the Standard Style, the 25-year old who has already relocated to the US where she will be until December, said she counts the opportunity as a blessing that will advance her career and local efforts.
"I feel greatly honoured and humbled as this is a huge achievement for me. Fulfilling the program requirements on all stages of the selection process was not an easy thing as I did all that at the peak of the Covid-19 pandemic. Hence, I count this as one of my special blessings from God," said Chivere.
"Career wise, it's really a great milestone. I never dreamt of working in the US at this age of course. I therefore see it as a professional growth opportunity to advance my career and my passion for girls and women empowerment."
At home, Chivere's work has seen her volunteer with a number of civil society organisations and is the current vice-chairperson for Women's Coalition of Zimbabwe Harare Chapter where she has been an active member since 2018.
While in the US, she will be working with National Organisation of Sisters of Colour Ending Sexual Assault, a women's empowerment agency, where she expects to learn and contribute positively.
"My future goal is to deliberately grow in advancing women's rights and contribute to the achievement of Sustainable Development Goal 5 that speaks to gender equality and women empowerment," she says.
The CEE programme is a US Department of State initiative that is supported in its implementation by IREX. It encompasses a dynamic global network of innovators working with communities to address critical 21st Century issues.
"CEE equips dedicated visionaries with the expertise, skills, and resources to develop multisector approaches and build healthy and engaged communities in over 100 countries," reads a description on the IREX website.
Related Topics