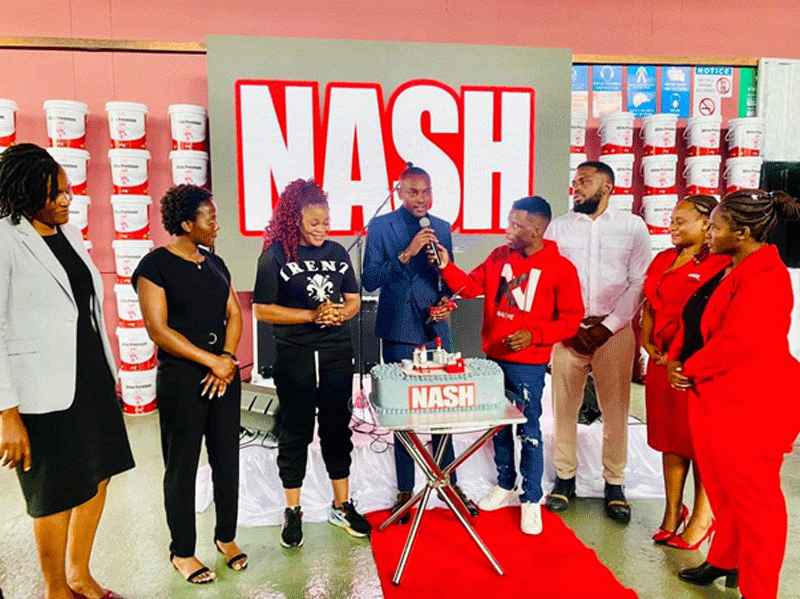 Entrepreneur and philanthropist Tinashe Mutarisi continues to flex his business muscle with a mazing innovations and massive investments into his multi-million dollar empire.
The businessman, who sits on boards of various institutions among them financial and industry regulatory players, has demonstrated his acumen with milestones despite the prevailing economic conditions.
Mutarisi, who rose from humble beginnings to become a respected business player, on Wednesday launched a US$1,1 million decorative paint manufacturing plant bought from Plascom Botswana.
Speaking on the sidelines of the launch, Mutarisi said his hunger for success in pursuit of excellence has carried him this far.
"I have an undying quest for excellence and growth and I don't give up in the face of challenges," he said.
"Growing up life wasn't easy but I am happy that my business interests continue to scale new highs.
"This new plant is an expansion of an already existing plant, which we launched years back at a US$3 million market value.
"This new project is a testimony to our drive and commitment to excellence and we hope to continue giving the best paint products and services on the market."
Nash Paints started operations in 2006 and has continued to grow in leaps and bounds, producing high quality industrial, decorative, wood and automotive paints.
"We started operations as a retailer of paints products at number 17 839 Tilco Road, Chikwanha shopping centre in Chitungwiza before growing into the celebrated empire that we have become with a nationwide network of branches as well as presence in Zambia and Botswana," Mutarisi said.
"We are grateful for the continued support and confidence from the market and we hope to continue as a market leader and brand of choice in Zimbabwe and beyond."
Mutarisi said the new plant has spelt good times for his business with production levels surging particularly given the ongoing housing for all drive by both private and public sector players.
"The plant was bought in April 2022, and installation was completed on July 1," he said.
"In July decorative paint production volumes grew by 127% translating to a production capacity of 35% for the new plant.
"With the government through NDS1 projecting a growth of 17% within the construction industry with support from the private sector, we project the exponential growth trajectory to continue month on month to an optimum plant capacity utilisation of an average of 80% by December 2022.
"The new plant has improved the quality of the paint as well as the order to cash cycle to ensure improved and efficient service delivery to our dear Nash Paints Customers.
"In addition to that, the plant has also helped in significantly cutting production cost for the business due to economies of scale and improved efficiency, a benefit we have extended to our Nash Paints customer through price cuts that they will continue to enjoy.
The award-winning businessman said he was encouraged by the growth levels and is looking to conquer the region and beyond.
"As a wholly indigenous and fast growing business entity, we believe Africa is our home and platform and we have plans to grow further into the region and beyond as we continue bringing superior paint technology to the market," Mutarisi said.
"Our quest is to become not only a regional but global brand that inspires hope and effectively contributes to a stronger national, regional and global economy.
"It's a world of possibilities and we continue exploring ways through which we can be of value by providing lasting solutions to the industry."
Over the years, Nash Paints has also invested in plausible community social investment (CSI) and community social responsibility (CSR) that have made a big difference in the community.
"Nash Paints is the people's champion paint company and we relate to the everyday challenges of the communities that we serve," he said.
"As a brand that cares; we have over the years invested in corporate social responsibility and corporate social investment projects that bring lasting solutions to our beneficiary communities.
"Some of our community initiatives are emergency related so that we deal with the present pressing needs of our communities while some are developmental so that they provide lasting solutions.
"Our thrust is to provide home-grown solutions to everyday challenges as compared to piecemeal interventions that do not amount to much.
"Nash Paints supports Winds of Grace Orphanage, pays school and university fees for a number of students, run projects where we paint the home of a deserving individual or organisation as well as providing employment for over 300 people."
One of Nash Paints' CSI projects is the the NashTV project that heralded previously unidentified talent at the same time indirectly dealing with such vices like drug and substance use that has become a menace among youths.
"NashTV also provided good entertainment value particularly at a time the nation was grappling with the effects of Covid-19 during the national lockdown period," Mutarisi said.
"In one way or the other, Nash Paints also supports the creative sector through brand partnerships and endorsement deals that have helped put our local talents on the spotlight through aiding their corporate value."
Nash Paints has received numerous awards that have continued to inspire excellence even in difficult times.
"We believe excellence is in our DNA and we always aspire to give the best and become the best," he said.
"Such due recognition attests to our quest for excellence and we are grateful to our clients and all the industry stakeholders for the support that has taken us this far.
"Its early days and we believe we will continue aiming higher."
Meanwhile, the celebrated businessman also scored a first after he gifted his long time buddy and Nash Paints sales executive Gullum "Boss Gully" Bhatti with a US$120 000 Strathaven house in appreciation of his loyalty and commitment to the Nash Paints brand.
Related Topics