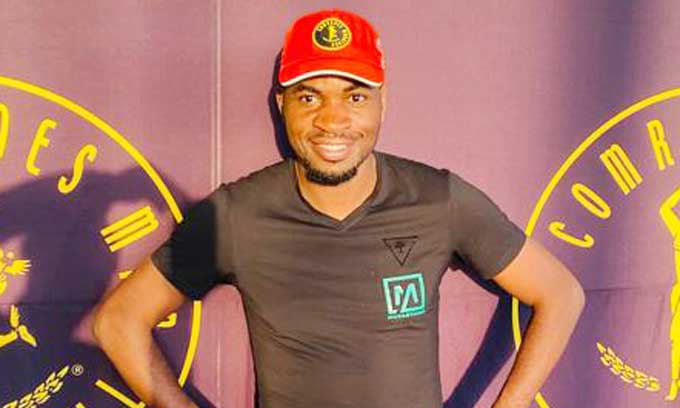 By Takemore Mazuruse Corporate executive, arts promoter, passionate athlete and community builder Kudzai "Greatkhalister" Pasipanodya Makusha of Musabvunda brand today participates at his debut Comrades ultra-marathon in South Africa.
The Comrades Marathon Ultimate human race will cover a distance of 90km from Pietermaritzburg to Durban and Pasipanodya will compete with an array of athletes from the region.
"This is my first ever Comrades Marathon expedition and I can't wait to rub shoulders with the continent's best," Pasipanodya said.
"I am representing my rural people in Bikita, Masvingo and the entire nation of Zimbabwe and I promise to do them proud."
The Greatkhalister as the top athlete and corporate executive is widely known in fitness circles said his participation in the marathon is to give a message of hope and inspire relentless pursuit of purpose in this curve ball called life.
"My wish is to inspire hope and relentless pursuit of purpose. The marathon is a 90km expedition from Pietermaritzburg to Durban," he said.
"Taking part in this massive run is to demonstrate my desire to achieve and promote excellence and productivity like we encourage our members at Musabvunda brand and business network."
The Bikita-born achiever has continued to excel in various facets of life and on September 10 to 11, hosts the inaugural Musabvunda fitness event and music festival at RBZ Sports Club in Mabelreign, Harare with participants drawn from various groups and partner organisations.
Musicians Baba Harare, Sungura godfather Nicholas Zakaria and Apama will be performing at this event.
"Team Musabvunda was part of the recent Econet Victoria Falls Marathon and we are happy to be hosting our inaugural Musabvunda fitness event and music festival at RBZ Sports Club in Harare on September 10 to 11," Pasipanodya said.
"This follows successful hosting of previous Musabvunda events. The 2022 event is different in that it is both a music festival and fitness event."
Musabvunda is also a recognised producer and distributor of gym and sportswear as it seeks to promote fitness and healthy lifestyle.
Related Topics