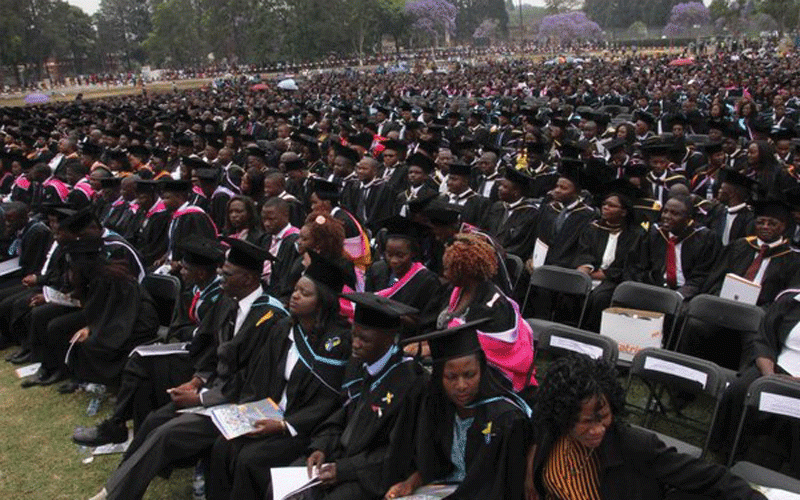 Despite the high unemployment rate in Zimbabwe, many individuals continue to pursue education.
Last week, I watched thousands of university students including the newly enrolled queuing at different banks in Harare to pay their tuition fees.
Banks such as CBZ, ZB, FBC and CABS were littered with university students paying tuition fees.
People still have hopes for a better and new Zimbabwe where economic goods or political power are vested in people based on ability and talent, rather than wealth or social class.
There are still hopes for a system which is based on performance, as measured through examination, or demonstrated achievement, hence Zimbabweans will never stop furthering their studies.
It's sad that after graduating with first degrees, students are jumping to masters' classes without working experience.
According to the Global Stats Counter, Zimbabwe is the eighth-most educated country in Africa.
With a population of 14,862,924, Zimbabwe has a literacy rate of 86.50%.
Zimbabwe's education system consists of seven years of primary and six years of secondary schooling before students can enter university in the country or abroad.
Education is seen as a means of upward social and economic mobility.
Zimbabweans recognise that obtaining a higher education can enhance their knowledge, skills, and qualifications, increasing their chances of finding employment or starting their own businesses in the future.
It is often regarded as an investment in human capital, which can lead to long-term benefits.
Even with the limited job prospects in the country, individuals believe that acquiring education and skills will make them more employable and competitive when opportunities arise. Should I say the future is bright?
Most people believe it is the norm that education provides an opportunity for personal growth, self-discovery, and intellectual development.
In Zimbabwean society, there is often considerable pressure from families and communities to pursue education.
Education is highly valued and considered a source of prestige and pride.
Many individuals feel a sense of duty to fulfill these expectations and meet societal norms.
Some people value education not just for its potential economic benefits, but also for its ability to broaden horizons, cultivate critical thinking, and expand their perspectives on various subjects.
Many educated Zimbabweans have high hopes to work abroad.
Some individuals seek education as a pathway to explore opportunities beyond Zimbabwe's borders.
They recognise that acquiring qualifications and skills can increase their chances of finding employment or pursuing further studies outside the country.
However, the pain of paying tuition fees in a country with a high unemployment rate can be significant and challenging for individuals and their families.
It is a given that most of the graduates churned out by the universities will be on the streets to hustle while others will remain at home and wait for responses to their job applications.
About 2,3 million young people between the ages of 15 and 34 are unemployed, according to data from the Zimbabwe National Statistics Agency (Zimstat).
Struggling Zimbabwean youths will continue to trek to developed countries, and nurse aid certificates have become one of the greatest passports to travel to the United Kingdom or the United States.
In his first public speech after returning from exile as the country's new leader in 2017, President Emmerson Mnangagwa pledged a "new, emerging democracy".
He also promised to create approximately five million jobs after taking overpower from the late Robert Mugabe.
However, people are yet to see five million jobs.
Adopting a comprehensive approach to the employment problem will allow the Zimbabwean government to better generate jobs and skill-training programmes for university graduates, particularly youth from rural areas where most agricultural and manufacturing activities take place.
Despite the challenges, many Zimbabweans remain hopeful that the country's economic situation will improve over time.
They believe that by obtaining an education, they will be better prepared to contribute to the country's development when opportunities arise.
While the high unemployment rate undoubtedly presents obstacles, the desire for personal growth, economic prospects, and cultural expectations remains significant motivators for Zimbabweans to continue pursuing education.
It demonstrates their resilience and determination to improve their lives and contribute positively to their society, despite the challenging circumstances.
*Evans Mathanda is a journalist and development practitioner, who writes in his capacity. For feedback email: [email protected] or call 0719770038 and Twitter @EvansMathanda19
Related Topics