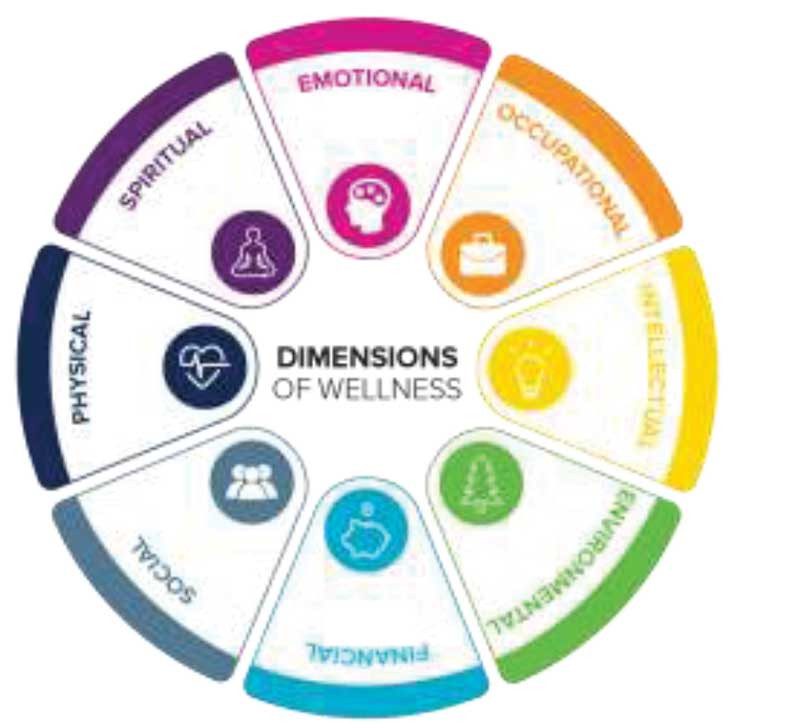 "Survival of the fittest" is an old English adage often used to describe the importance of resilience whenever the going gets tough in life.
I am convinced that this adage best describes life in the 21st century.
One thing that the Covid-19 pandemic taught the world is that wellness is not a luxury, but a necessity.
The concept of wellbeing has become a priority in recent years for many people around the globe.
This was not the case barely five to 10 years ago where wellness practices were considered a luxury and "waste of money and resources".
There has been a huge shift in the level of awareness and attention given to wellness, particularly because of the devastating impact of the pandemic on mental health.
The lockdown measures implemented by many countries around the globe gave rise to sharp increases in reported cases of anxiety and depression.
According to the World Health Organisation, the Covid-19 pandemic triggered a 25% increase in prevalence of anxiety and depression worldwide.
As a result, the wellbeing sectors became popular overnight as people looked for measures to counteract the negative impacts that the devastating pandemic and lockdown restrictions had brought to their lives.
Consequently, the sudden increase in the popularity of healthy lifestyles resulted in significant growth in the sectors that provided solutions for mental health challenges namely the physical fitness sector, nutrition and weight loss sector, the organic foods industry, the beauty spa industry and the psychological services sectors.
According to www.forbes.com, the healthy eating, nutrition and weight loss sector is the second largest in the industry and accounts for about 22% of revenue in the United States.
On the workplace side, companies began to incorporate wellness onto their budgets and strategies for the benefit of their employees following the operational risk threats posed by the pandemic.
Wellness was, therefore, revalued as a result of the disruptions that hit the nations of the world.
What is wellness?
The Global Wellness Institute defines wellness as the active pursuit of activities, choices and lifestyles that lead to a state of holistic health. The World Health Organisation describes wellness as "the state of complete physical, mental, and social wellbeing, and not merely the absence of disease or infirmity."
In other terms, wellness can be regarded as a process of searching for the appropriate "tools" that make you a healthier and happier human being (www.globalwellnessday.org).
From these definitions we can derive the following;
Wellness is not a destination or an achievement, it is an active ongoing process where people make choices and decisions that support their wellness goals. It is a way of life, a call for continuous improvement and self-preservation throughout one's journey of life.
Wellness is a choice, it is not something that just happens to someone or that evades someone. It is a decision to choose a lifestyle that leads to optimum health or one that diminishes it.
Wellness is not limited to ailments or rather the lack thereof, it is about holistic health. It does not cover just one aspect of health, but it is multi-dimensional covering but not limited to physical, intellectual, emotional, financial, social, spiritual, occupational and environmental wellbeing. Each dimension carries equal weight in the pursuit of overall wellness but importance or preference may differ to people pursuing different wellness goals.
Let's look at five of these dimensions namely; physical, social, emotional, occupational and environmental wellness.
Physical wellness
Physical wellness can be understood as doing what you can to help strengthen and care for your body.
This includes sleeping enough, eating a balanced diet, drinking sufficient water, receiving medical, psychological and spiritual care when in need, avoiding alcohol and other toxic or harmful substances.
Physical fitness mainly through exercise is one of the biggest contributors to physical wellness.
It has many benefits including, weight management, good heart health, good digestion, improved blood circulation, strong bones and muscles, prevention of many ailments and diseases, improved energy to do daily activities and according to the Centre for Disease Control, physical activity is believed to increase chances of a long life.
Physical fitness can be attained through increasing physical activity in everyday life such as going to the gym, running, walking, cycling, taking the steps, gardening and house chores.
Social wellness
Human beings are social animals because human beings cannot live alone or in isolation.
They need each other to fulfil their human needs and desires. I like the way Boston University defines it, they say, "Social wellbeing is building and maintaining healthy relationships and having meaningful interactions with those around you.
It is having a sense of belonging while valuing diversity.
It involves open communication, boundary setting, and mutual respect regardless of our differences".
In other words, human beings thrive and survive when connected to each other.
They need other humans' energy and presence (physical or virtual) and support.
Social wellness can be achieved through creating time to bond with family, friends, workmates, business colleagues, and the communities around.
Knowing that you are not alone but are supported by people around you has tremendous physical, mental and emotion healing benefits.
Emotional wellness
Emotional wellness is directly linked to mental wellness in that emotions are mainly a result of chemical reactions that take place in the brain either as a result of signals received by the brain through the five senses or through thought processes that take place in the brain.
Good mental health habits often lead to emotional stability and wellness. A person suffering from anxiety or depression or bipolar or PTSD cannot enjoy emotional wellness, however, a mentally stable and resilient person is likely going to experience emotional wellness.
One way of achieving emotional wellness is through building emotional intelligence.
Helpguide.org defines emotional intelligence as "the ability to understand, use, and manage your own emotions in positive ways to relieve stress, communicate effectively, empathise with others, overcome challenges and defuse conflict".
Emotions are key to managing stress and overcoming life challenges and so it is worth anyone's while to learn how to build emotional wellness.
Occupational wellness
This is where your work-life balance issues come in. It is having that ability or that skill to strike a balance between work and leisure or life.
The ability to build strong supportive relationship in the place of work has an immense contribution to one's ability to manage work related pressure and demands.
People who have little or no support or recognition or fair rewards at work or in business are likely to spend hours trying to finish tasks or catch up with outstanding work and this increases the risk of developing both physical and mental health challenges.
Occupational wellness also emphasizes the importance of satisfaction, enrichment and meaning through work.
One way of attaining occupational wellness is to do work or purse business interests that match your personal values as this can become a source of inspiration and motivation even if the working environment is touch.
Environmental wellness
Environmental wellness refers to living in a caring and healthy environment that supports one's well-being.
Environmental wellness is not something that you just walk into and benefit from but something that you contribute to building and sustaining.
As an individual who is a member of a particular environment, you pursue ways of learning about your environment and how you can contribute to the wellness of your living environment.
One can contribute to environmental wellness through respect of the environment and simple habits such as cleaning the environment, disposing trash in the correct places, planting trees, using biodegradable containers, turning off lights and computers at night, using water conservatively to name a few.
Wellness is, therefore, a competence that every parent, teacher, pastor, leader and authority need to invest in and promote as it is the 21st century most critical survival tool.
Jessie Mhaka is a self-development coach focusing on mental health and mind fitness. She is the executive director of BeMindFit, an author and speaker.
These weekly articles are coordinated by Lovemore Kadenge, an independent consultant, managing consultant of Zawale Consultants (Private) Limited, past president of the Zimbabwe Economics Society and past president of the Chartered governance & Accountancy Institute in Zimbabwe (CGI Zimbabwe). – [email protected] or mobile no. +263 772 382 852.
Related Topics