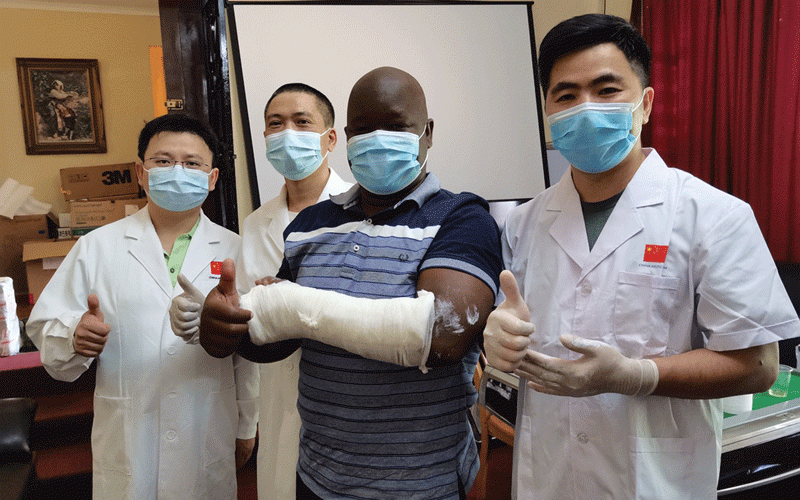 LUO Wen, a Chinese medical doctor who has been in Zimbabwe as part of a team of medical experts from the Asian country that provides services to communities, says the mission has been a life-changing experience for him.
Luo just completed 14 months of dedicated service to Zimbabwe where he often summoned his 13 years medical practice to solve some complex conditions and also shared his knowledge on some handy surgical technics with local doctors.
The 37-year-old gastrointestinal surgeon is part of a 10-member delegation of Chinese medical specialists who were deployed at Parirenyatwa Hospital in Harare, during the country's Covid-19 strain.
Zimbabwe is Luo's first ever international deployment since taking up the profession in his native Chinese city of Changde years back.
A fluent English speaker, Luo shared some of the most touching moments doing service in one of his host country's most troubled sectors.
One case involved a 50-year-old he took into the government hospital's general surgery after repeated hematemesis, which had seen her pass black stool for three days.
"Her vital signs were unstable and her life looked so much in danger," Luo recalled.
"Together with a fellow doctor within the department, we quickly performed an emergency gastroscopy on the patient.
"We found a large amount of brown liquid and blood clots in the stomach cavity.
"After repeated irrigation and broken aspiration, the gastric mucosa could be clearly seen.
"Finally, we found a 1cm flaky ulcer on the side of the minor curvature of the stomach body, and a naked blood vessel in the middle of the ulcer, which caused the patient's repeated hematemesis and black stool."
Together with fellow doctors within the delegation, Luo also conducted free clinics in different parts of the country.
He also recalled a case in Mashonaland West in which he assisted a patient who sprained an ankle following an accidental slip during a bath.
"The patient was suffering from 'distal fracture of the left radius'," he said.
"I immediately conducted manual reduction of the broken end of the fracture and plaster fixation.
"The follow-up treatment and functional exercise were also guided.
"The patient's pain was relieved and he was so grateful."
Luo has also conducted trainings with Zimbabwean doctors in areas to do with laparoscopy and the NOSES Academic Exchange programme.
"I held regular training for some Zimbabwean doctors on skills to deal with laparoscopy," he said.
"These include conferences to standardise my training courses. I also sent copies of some surgical videos to them to watch and learn.
"We watched the surgery video competition together and showed our Zimbabwean counterparts the superb surgical skills, exquisite video clips and wonderful video commentary of Chinese general surgeons.
"Zimbabwean colleagues who had never performed the surgery before were impressed and expressed interest to learn more about it."
He added, "In October last year, I cooperated with Xiangya Hospital of Central South University, Surgical Society of Zimbabwe, Parirenyatwa Group of Hospitals, Healthpoint Hospital, UpperEast Hospital, Trauma Center and Avenues Clinic.
"Mr. Wazara, general secretary of the Zimbabwe Surgical Society, and Mr. Peter, president of Healthpoint attended and addressed the general assembly.
"I talked to the NOSES specialist in detail about the advantages and the development of this surgery."
Related Topics