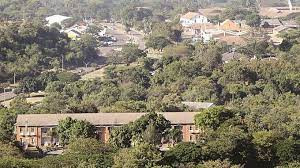 Nestled behind a picturesque hill overlooking the serene town of Hwange, this new particular restaurant known as Four Fingers is gradually proving to be a force to reckon with in terms of the hospitality industry with plans being afoot for introducing the popular book cafe concept that seeks to popularise reading among its clientele.
While the restaurant started as an eating house that specialised in traditional foods, plans are reported to be at an advanced stage to transform this former library building into a modern day book cafe.
Yes, you read it right. Book cafe indeed.
Before delving into the nitty-gritties of Four Fingers, which is proving popular with the local epicurean, Yours Truly will try to briefly elucidate on how a book cafe concept operates and its contribution to the country's tourism industry.
To the uninitiated, a book cafe, literature cafe or book themed café is a place where individuals can read books, buy books, have drinks and hold discussions among others.
One can operate a bookshop and "spruce" it up with a coffee shop, thus providing existing customers with a reason to stay a little longer and in the process boost clientele base.
Establishment of a welcoming space with comfy couches and chairs is an added advantage in encouraging buyers to sit after a purchase, thus in the process browsing latest newspapers or periodicals in a state of relaxation.
In Harare, Zimbabwe, there was at one time some place called Book Café, which was initially situated along Fife Avenue before it relocated to Samora Machel Avenue.
The place used to draw various artistes such as the late Oliver Mtukudzi, Sulumani Chimbetu, Jah Prayzah and Mbira dze Nharira among others.
Four Fingers, which came into the fore three years ago, is on a crusade to promote the local tourism industry through provision of traditional foods for clients from all walks of life thanks to Shella Mpala whose master chef skills are second to none.
The menu features among others, a selection of various fish acquired from adjacent mighty Zambezi River such as Kariba breams, tiger fish and bottle fish, among others that are cooked or smoked to one's specifications.
Just like any other travelling and touring scribe, duty requires the proverbial product 'sampling' and Yours Truly's escapade to Four Fingers was not an exception as he also followed the sampling rule book.
As to what Yours Truly ordered is neither here nor there, but the bottom line is that the service provided by one Lucia Moyo was top-notch and purely Hwangerian.
Upon entering this popular eating place, one is greeted with a couple of reading books nicely stacked against the wall as part of efforts to promote a reading culture among local customers. And it has proven to be enticing to individuals such as Yours Truly who belongs to that old school of reading novels such as those byJames Hardley Chase with a gung-ho attitude.
An array of methodically arranged teak table and chairs could be what Kelvin Lunga, the restaurateur could have proverbially ordered as they are ideal for a book cafe concept and what was missing were a few couches to complete the whole process.
During a brief interview with Yours Truly's, "Kelaya" as he is popularly known in tourism circles, intimated that plans were afoot to gradually introduce the book cafe concept in the mould of the then Book Cafe in Harare which was a popular arts and entertainment centre.
While the coal-mining and tourism district is endowed with a number of arts groups, they are yet to prove their worth within their locality, but have somehow grabbed the limelight on the national scene.
What comes into mind are local-based groups such as Pezhuba Pachena, the reigning Chibuku Neshamwari Matabeleland North provincial champions and Shantani, Vulindlela Drama Group, among others.
It seems the proverbial ball has already started rolling as evidenced by having Rachel Rashyn, first runner up of Star Bright national competition showcasing her acoustic skills every Sunday evening at this particular eating-out place.
Yours Truly envisages a situation where the likes of Sandra Ndebele, Jays Marabini, Ndolwane Sounds and Jah Prayzah, among other top entertainers might also grace the venerated place.
It could be a matter of time.
Till we meet again in the next column.
Comments always welcome on: [email protected] or Twitter@DubeBurzil
Related Topics