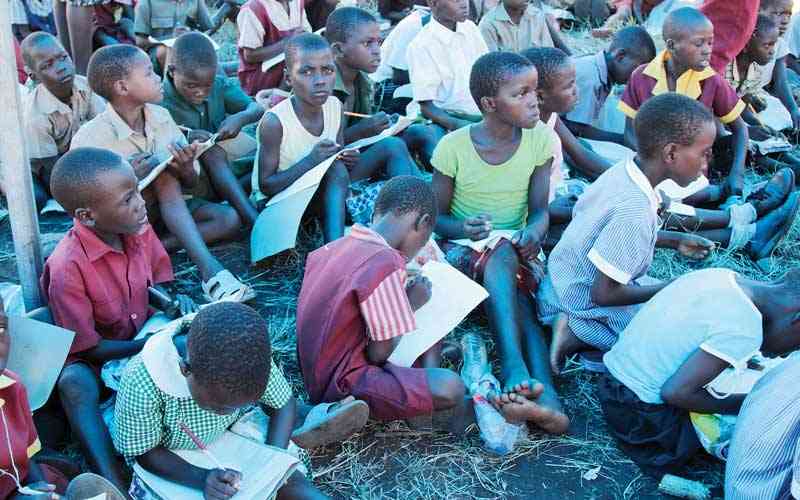 Further to my article last week supporting expanding education to boost job creation, I will look specifically at what can be done to make this affordable to the country as a whole.
One of the positive experiences of the first 20 years of independence was the willingness of everyone, from government, parents and communities, local authorities and donors to work together.
The result was success. Each entity working on its own fails. We need each other.
Today government thinks it should do everything on its own.
This is impossible. It would have to raise taxes without increasing employment and the gross domestic product: this is bound to be unpopular, bringing about national instability.
Centralisation of authority and power is understandable.
If a small group of people, whether cabinet and ruling elite, can make all decisions and do everything, it should be more efficient.
It is not surprising that the decision-making group has become smaller and smaller, rumoured to be as small as four according to unsubstantiated press reports.
However, the challenge in running a country, even a middle-sized one like Zimbabwe, is a big task and cannot be done by such a small group, however, brilliant and well-meaning it may be.
Everyone in the country thinks having huge rallies and meetings are the solution. All parties and groups love these large meetings.
However, such large rallies naturally lead to a lot of talking and little activity.
We are supposed to do the activity on our own afterwards, but this is difficult, and virtually impossible for most of us, as we don't have the funding and systems to do all the things that are needed to be successful.
Government has a key role to play in running the country.
This includes maintaining public services such as education, health and a clean water supply, all of which are still relatively good, but we all admit they used to be better.
Luckily they are still functional. Government also influences moral values, what we think is important for the country as a whole.
Rumours, substantiated or not, of corruption, lead to junior officers and ordinary people also becoming corrupt.
We have witnessed this is small and big ways: we imitate our leaders.
Government leads the economy: since the Economic Structural Adjustment Programme (Esap) government has failed to do this, as the Esap ideology was the economy would control itself: yes but only to the advantage of those who have the money to control the economy.
Esap definitely does not benefit the middle class and poor.
Government controls the quantity of money, as it has the power to print money and to increase it through debt increase.
We have seen the economy improve since the government stopped printing money for about two months this year, but economists are predicting that they will soon start printing again.
Influencing the level of employment is a key role of government.
Finally, government influences how much is invested into the country, beginning by how much it (government) itself invests.
Presently it invests a lot, mainly into salaries. It does not invest a lot into infrastructure and equipment.
The investment framework is done by government, usually by controlling salaries to say half of income.
So how can Zimbabwe improve, particularly in terms of economic growth and job creation?
Can it increase its income through increased taxation? We are told by well-known economists "Yes", but only by a very small margin.
It is presently taking about 16% of GDP and could very well take about 20% in taxes.
Is government expenditure wise and boosting economic growth?
The answer is "No": Government is spending too much on salaries.
Recently the ministry of Primary and Secondary Education spent as much as 90% of its funds on salaries alone, unable to fund administration and text books.
Yet the 550 000 state employees are clearly under-paid and can't afford food and school fees.
Let's work out the solutions together. We all have a role to play
We need to begin with our own incomes: do we spend all of it on immediate expenditure, whilst neglecting school fees?
School fees are so high that teachers cannot afford to pay fees for their own children, yet they are amongst the highest paid in the country, despite their meagre wage.
Can school fees be made affordable: "Yes", the sound regulations are there that parents can agree to pay what they can afford, then approved by the ministry, but these regulations are not adhered to.
Can all of us ensure that the government does not continue to spend most of its income on civil service salaries (90% of it?) but invests in affordable infrastructure and economic expansion.
This is the responsibility of all of us, and we should keep in touch to see that it is done properly.
One of the inherited problems is that what was done in the past is being repeated.
Before independence government did all it could for the European population, including funding all its teachers and civil servants, but Europeans only comprised 4% of the population.
Now that we try to support 100% of the population in education, health and a clean water supply (whilst neglecting economic growth and other equally important areas) we definitely cannot do the same as the Rhodesian government before Independence.
How can we approach these challenges?
Some parents and communities have found solutions, although these solutions are only possible for a few.
We should look at these successful solutions, and see if they can be expanded to more people.
One solution is to allow parents and communities to pay more, such as the US$1 a day "illegally" imposed by some desperate teachers. Allegedly only about 20% of parents pay this extra money, an additional US$25 per month.
Can all parents and communities afford this?
I have met with groups of out-of-school teenagers who told me that what they needed most was further education and training. I asked them if they could pay anything.
They said they could find about US$20 a month by doing vending and other odd jobs.
If 20 of them were to gang up together they could easily organise some training for themselves.
Trainers and training organisations are there.
In addition, savings and on-going programmes attract other funds from churches, diaspora and donors.
Educational institutions can adjust.
As a teacher, I know that I only teach a few skills each week, and then organise different ways of getting students to practice these skills.
Overseas supervision of such practice is often done by parents.
This would enable the ministry to lessen the number of teachers on its payroll, for example by limiting the civil service jobs only to senior staff, and giving salary grants to responsible authorities – the regulatory systems for this are already in place, and is used by most mission schools.
It would be most advantageous to government and to the country as whole to pay civil servants the salaries they deserve.
Fay Chung was a secondary school teacher in the townships, lecturer in polytechnics and universities, teacher trainer in the liberation struggle. civil servant and UN civil servant and Primary and Secondary Education minister.
*These weekly articles published are coordinated by Lovemore Kadenge, an independent consultant, past president of the Zimbabwe Economics Society and past president of the Chartered Governance & Accountancy Institute in Zimbabwe.
Feedback: kadenge.zes@gmail.com and Mobile +263 772 382 852
Related Topics