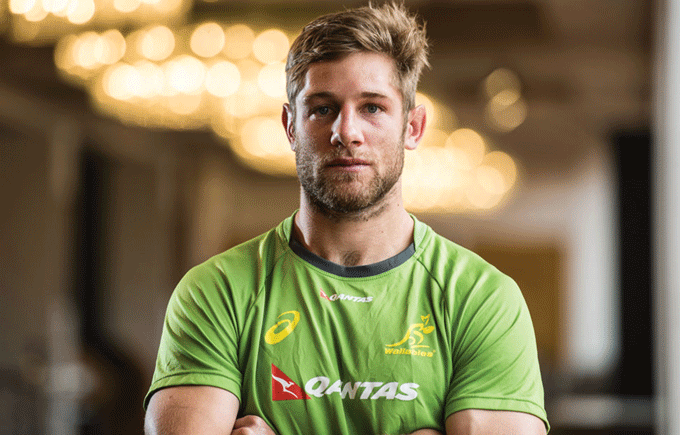 BY DANIEL NHAKANISO
SABLES head coach Brendan Dawson has launched an ambitious bid to lure highly rated Zimbabwe-born former Australia rugby international Kyle Goodwin to represent his country of birth in the 2023 Rugby World Cup qualifiers to be held in France in July.
Twenty-nine year-old Goodwin, who can play inside centre or flyhalf, has been capped once by the Wallabies after starting in international match against France at the Stade de France in 2016.
Despite having been already capped by Australia, Harare-born Goodwin now qualifies to switch back allegiance to his country of birth due to changes to the World Rugby's international eligibility rules.
Three months ago the World Rugby Council passed a proposal,  which means a player will now be able to represent another country after a stand-down period of three years, provided that their parents or grandparents were born in the nation they intend to switch their allegiances to.
This makes Godwin eligible to feature for Zimbabwe in the upcoming Rugby World Cup qualifiers. Zimbabweans are aiming to return to the World Cup for the first time since 1991.
Sables head coach Brendan Dawson, who has been working with his technical team to identify players dotted around the world who are eligible to represent for Zimbabwe confirmed that Goodwin is one of the players on their radar.
"Kyle Goodwin is a world class player and obviously if there's a chance we can have him in our team we will obviously grab it, so he is definitely one of the players who are on our radar. Unfortunately the World Rugby rule changes do not give us many options. The rule changes will benefit mostly the Pacific nations such as Samoa, Tonga and Fiji but we have a few who could be available such as Goodwin and Eli Snyman, who is at Leicester Tigers," Dawson said.
He added: "Yes he (Goodwin) has obviously completed that three-year stand-down period specified by World Rugby and I can confirm that he has shown interest to play for the Sables."
Godwin was only eight when his parents, Royle and Jane, decided to leave Zimbabwe in 2000 at the height of Zimbabwe's fast-track land reform programme.
He rose through the Australian schools and junior rugby ranks to earn his first cap for the Super Rugby side Western Force at the age of 19.
Godwin's impressive performances also resulted in him achieving senior international recognition with Australia when he was capped against France in November 2016.
Prior to that, he had also represented Australia at Under-20 level in 2012 at the World Rugby U-20 Championship in South Africa and the Australian schoolboys in 2009.
The now 29-year-old, who also played for the ACT Brumbies side in 2018-19 in addition to another stint at Irish side Connacht was recently named captain of the Western Force side ahead of their Super Rugby campaign, which kicked off last month.
If Goodwin successfully switches international allegiance to Zimbabwe, he could team up with his Western Force teammate Ian Prior, who has previously shown interest to play for the Sables.
Prior was born in Australia, but grew up in Zimbabwe from the age of three after his parents moved to the country in 1993.
His parents were however, forced to flee the country and move back to Australia seven years later after being affected by the chaotic land redistribution programme at the turn of the millennium.
Zimbabwe is also hoping to persuade former Zimbabwe youth international lock Eli Snyman to give up his Springboks dream to help his homeland qualify for its first World Cup in 30 years.
While Snyman appears to be keen to retrace his Zimbabwe roots he might be prevented from doing so due to the impact on his contract at English Premiership side Leicester Tigers.
The same reasons could also affect other England-based players like London Irish tight-head Lovejoy Chawatama (29), Bath lock Mike Williams (30) and the Exeter Chiefs back-row pair of Don Armand (33) and Dave Ewers (31).
Related Topics