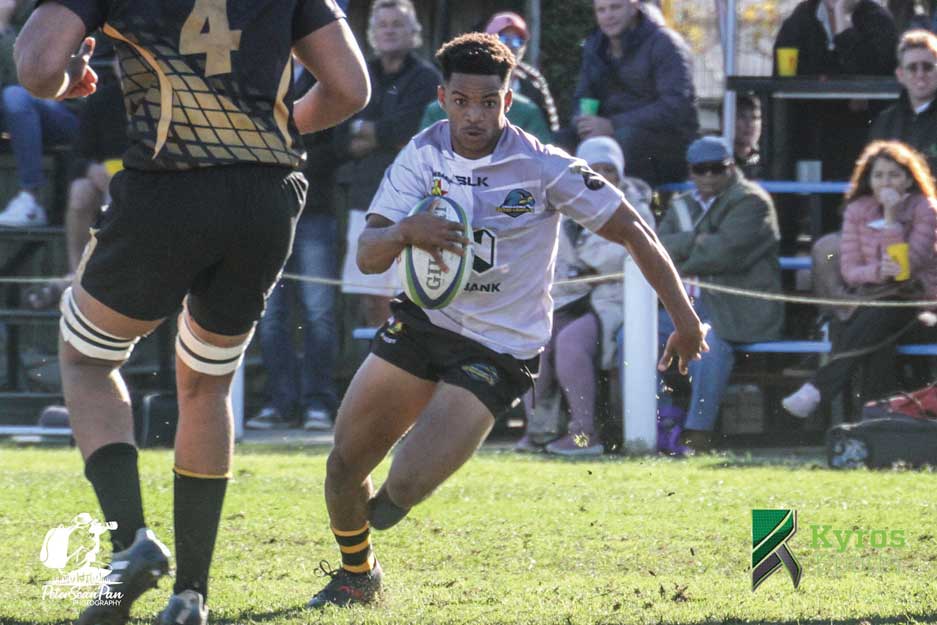 BY DANIEL NHAKANISO IN CAPE TOWN ZIMBABWE rugby teenage sensation Brendon Marume wasn't sure if he would be able to continue his fledgling rugby career after spending two years away from the sport due to the Covid-19 pandemic.
The government's suspension of all sporting activities, in an effort to contain the spread of the novel virus, robbed Marume of an opportunity to represent Lomagundi's first-team rugby side.
The gifted utility back was also unable to play for the country's age-group national teams for which he had been an integral part of from the age of 13.
It is thus remarkable that after such a lengthy period on the sidelines that Marume has been enjoying a meteoric comeback season to competitive rugby, which could culminate in helping Zimbabwe qualify for their first Rugby World Cup in over three decades.
First, the 19-year-old was among the leading performers for the Zimbabwe Under-20 rugby team as they upstaged continental rivals Namibia to win the Rugby Africa U-20 Barthes Trophy title in Kenya two months ago.
He was subsequently drafted into the Zimbabwe Goshawks squad, which was already in South Africa competing in the Currie Cup First Division and made an instant impact by scoring a last-gasp match-winning try on his debut against Boland Cavaliers last month.
"It was unfortunate that I didn't have my senior season with the Lomagundi first team obviously due to Covid-19, so this year has been my comeback in two years and managing to win the Africa Cup with the Under-20 and being called up to the senior national team has been unreal," the soft-spoken Marume said in an interview with the Sports Hub after the Goshawks training session at SACS High School here on Friday.
Within a short space of time, Marume has risen from being a rookie who had been drafted into the squad to get some first senior team experience for the future into a key player for the team.
The Harare-born rising star was on Friday night named in the Sables squad, which will on Friday leave for France for the Rugby Africa Cup 2022, which doubles as the final round of Rugby World Cup 2023 qualifying for teams on the continent
"To be honest I didn't think I'd be here and I'm very honoured and feel proud of myself for being here. Coming in from the Under-20s was obviously a big challenge, being a youngster in a team brings with it a bit of pressure but I think I managed to cope with the pressure well and the guys were very welcoming and have helped me grow. I'm trying to soak in as much as I can from the senior guys and the coaches. It will be such an honour to represent my country at senior level and hopefully make the World Cup next year."
Marume also reflected on his memorable debut in the Currie Cup First Division when he scored a match-winning try during the Zimbabwe Goshawks' 23-22 win against Boland.
"Scoring a last-minute winning try on my debut start against Boland was unreal. It's difficult to explain the feeling, those are the moments you will always enjoy and cherish but in the context of the team, I just finished the momentum the team had put out. We were coming from a good win against Kenya so we had good momentum and great positivity going into that game," he said.
Marume's remarkable rise to the top of Zimbabwean rugby has also left Sables coach Brendan Dawson in awe. The former Sables captain was full of praises for the highly-rated fullback and his national Under-20 teammates for the impact they've made since graduating to the Goshawks squad.
"We've got a few of young Under-20s that have come into the group and made an immediate impact. Brendon Marume has done exceptionally well while there's also Takudzwa Musingwini,
"Tawanda Matipano and Tavonga Ablant, who was also Player of the Tournament in the Barthes Under-20 Trophy in Kenya. They've been phenomenal for us they've grown immensely in stature size and confidence. So overall the Currie Cup First Division has been an amazing experience and a growth point for Zimbabwe rugby," Dawson beamed.
Born in Harare, Marume attended The Heritage School for the first three years of primary school before moving to Hartman House, which has a long track record of excellence in the sport at junior level.
The multi-talented Marume, who also earned provincial honours in cricket and hockey, proceeded to Lomagundi College, where he was mentored by the former Zimbabwe Under-20 coach Bob Mahari and the school's former sports director Johan Duvenage.
"A lot of people have been influential in my journey. I have to give thanks to my coaches who seem to instantly believe and that's something that I'm very grateful for they are always keeping in touch with me and checking on me. From Lomagundi there's coach Bob Mahari and Johan Duvenage, who has left. It has also been a pleasure working with coach Shaun de Souza from the Under-17s to the Under-20 team," he said.
After his phenomenal rise in rugby, Marume, who is also equally gifted in the classroom, plans to turn his attention to his studies and is currently exploring opportunities to study and play university rugby in the UK.
Related Topics