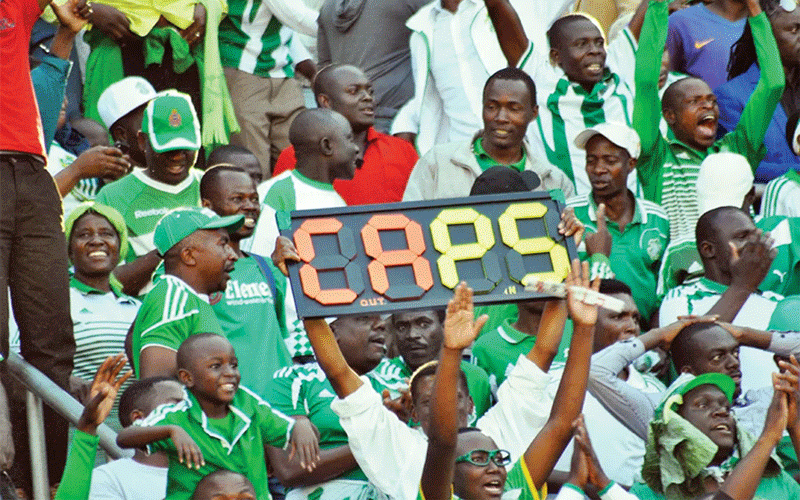 WHAT has happened to CAPS United? Once one of the three biggest football teams in the land, the Green Machine have fallen from grace to grass and are in danger of relegation this season.
The team that gave Zimbabwe some of its greatest players among them Stanley Ndunduma, Friday Phiri, Shacky Tauro, and Joel Shambo, is now facing relegation from the 18-team Premiership.
The former Zimbabwe Cup Kings are just two points away from Triangle who occupy the last relegation place and there is no guarantee on current form that they will remain in that safe position.
CAPS United have 27 points from 24 matches while Triangle have 25 points. Bottom placed Cranborne Bullets have 18 points, nine points below the Green Machine.
In fact, Makepekepe could have been in the relegation zone had they not received three points from their aborted match against Sheasham early in the season.
On that premise, the Green Machine could have been in 15th position in the 18-team assembly and very much in one of the relegation places with only 24 points.
This would have seen CAPS United equal on points with Yadah, another of the struggling Harare teams.
All sorts of theories are being drummed up as to why the team is in this position with some pointing at coach Lloyd Chitembwe and others at club owner Farai Jere.
The general belief is that Chitembwe is not good enough for this team arguing that Makepekepe has the quality in terms of players but lacks direction from the bench.
Chitembwe defends himself that he is not to blame arguing that the club leadership did not avail him money to acquire the players he had identified.
Calls to have Chitembwe sacked intensified last week after the Green Machine lost 2-0 to Dynamos, having also lost to the same opponents earlier in the season.
What is ironic in this scenario is the fact that the CAPS United bench also includes former Zifa technical director Nelson Matongorere, widely regarded as the highest qualified coach in the land.
There are others who are of the opinion that CAPS United is lacking attention from club owner, Jere who now has other interests as Member of Parliament for Murewa West.
They claim since the day Jere decided to turn political he has turned a blind eye to the needs and requirements of the Green Machine, something that Jere denies.
There are some who are accusing kit manager Tongai Mufandaedza and team manager Shakespeare Chinogwenya of interfering in the coaching duties.
A few weeks ago, a section of the team's supporters staged a demonstration demanding that Mufandaedza and Chinogwenya be dismissed from their positions.
These are just stories but the truth is that CAPS United are facing relegation and the Green Machine will have to produce something more astounding than in the past to save themselves.
Forget the notion or belief that teams will be increased in the Premiership should CAPS United finish in the relegation places.
The team's supporters should be reminded that there were other great teams like Black Aces, Rio Tinto and Zimbabwe Saints who were not saved from relegation.
Black Aces and Rio Tinto have since disappeared from the football scene while Zimbabwe Saints are playing in the lower reaches of Division Two football.
CAPS United's departure would constitute a grievous blow to Zimbabwean football as Makepekepe had built themselves into one of the biggest teams in the country.
It would also deprive world football of one of the biggest derbies in African football as their game against Dynamos is ranked alongside that of Al Ahly and Zamalek in Egypt, AFC Leopards and Gor Mahia in Kenya, Young Africans and Simba in Tanzania, Orlando Pirates and Kaiser Chiefs in South Africa, amongst others.
The truth is that should CAPS United be relegated, it would signal the end of the team as no-one including their sponsors would be willing to go with the team to division one.
It is now up to the CAPS United family to get their act together and save the team that had become a darling of many and one of the most followed football teams in the country.
The danger CAPS United are in should not be underestimated.
For your views, comments, and suggestions [email protected] or WhatsApp on 0773 266 779.
Related Topics