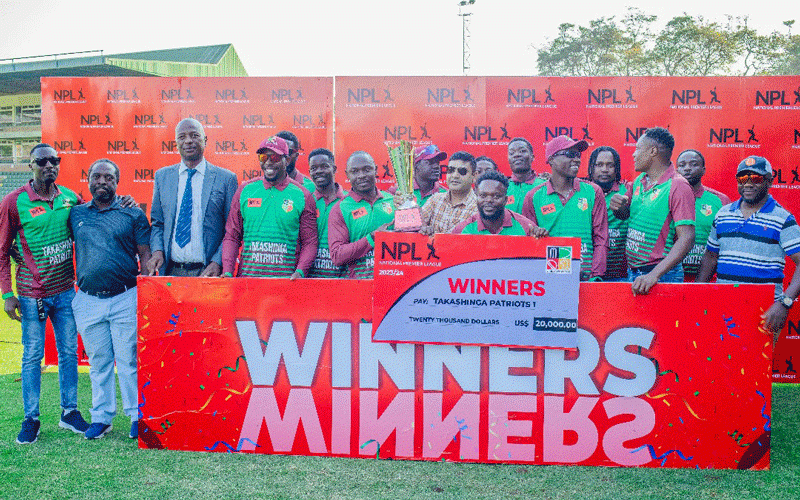 IT did not come as a surprise when Takashinga 1 Cricket Club defied odds to lift the National Premier League (NPL) title on the very last day of the competition mid-week.
Any ardent local cricket follower will attest to the fact that these are players who live, eat, sleep, walk, talk, and play cricket in its truest sense.
The eventual winners outshone defending champions; Gladiators by three wickets in a match the Chitungwiza- based side needed to win by any margin big or small to retain their trophy.
Gladiators finished in second place with Uprising third while Takashinga 2 setting for fourth.
Within the newly crowned champions was well-known veteran all-rounder and former national team captain Chamu Chibhabha, who won his first club cricket trophy in a decade. "Winning premier domestic club cricket trophy, NPL midweek with Takashinga 1 felt like a boy who just fell in love.
"I had no idea this was the first championship win for me in a long while. But me, coming back to play Club cricket for Takashinga means a lot," Chibhabha told The Sports Hub.
"This is the club that I first played for when I was a kid when I lived in Highfield. This is the club that raised me, gave me a lot of opportunities and I will forever be indebted to the club. It has done so much for me. These are the pioneers of black cricket, and it has done so much not just for me but a lot of individuals.
"It's an inspiration for the black community and I hope this legacy continues and keeps producing a lot of young black cricketers coming out of the high-density areas. I'm grateful for the club, I will always go back to the club in any way I can to help, to inspire the same way I was inspired by the club."
The former Chipembere Primary and Churchill schoolboy wants the legacy to go beyond his generation.
"We are a really big club; we take pride in what we do. The club has produced a lot of good players and it continues to produce quality players," he said.
"There's a lot going on at the club, there's so much to look forward to and "I hope that this doesn't stop with our generation. It produced players like Hamilton Masakadza, Tatenda Taibu, Stewart Matsikenyere, Elton Chigumbura, Prosper Utseya, me and a lot of other youngsters that are coming into the ranks and representing the country.
"This club has done so much for not just me, but for a lot of youngsters that are coming in and inspiring other black clubs that are starting to come up. My hope is that the legacy continues and be fruitful."
The institution, which is a brainchild of Givemore Makoni, now ZC managing director and former national team coach Steve Mangongo has gone on to host One Day Internationals.
It was selected as one of the venues for the ICC Men's Cricket World Cup Qualifier in June hosting West Indies against the USA for its first ODI.
Chibhabha averaged 36.67 with 330 runs in 10 innings in the just ended NPL competition. He scored three half centuries during the campaign, an unbeaten 67 against Westside, 62 versus Golden Bulls and 60 against Bulawayo Athletic Club.
"What's next for me, I don't know. I'm just focusing on the next cricket game that I must play and just make sure I enjoy myself," he said.
"The most important thing is as long as I feel good, my body is right and I'm fit enough, you will always see me on a cricket field."
The best batsman of the tournament accolade went to Takashinga 1's Timycem Maruma.
Maruma averaged 61.07 scoring 555 runs in 10 innings. Takaz 2, Aliakbar Hamid was the second best with 532 runs from 13 innings.
Westside's Kevin Kasuza and Tinashe Kamunhukamwe of Takashinga 1 finished in third and fourth place respectively with 523 from 12 innings and 497 runs from 11 outings.
Takashinga 1 spinner, Tapiwa Mufudza emerged bowler of the tournament with 30 wickets from 13 innings.
Related Topics