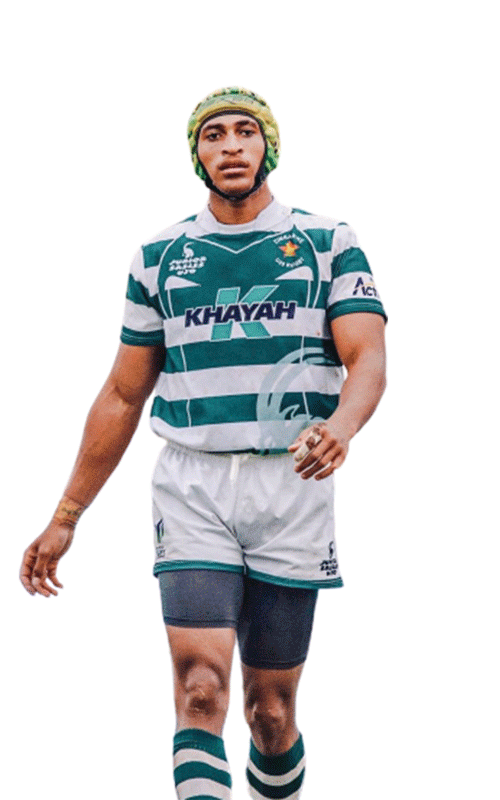 IF young sportspeople need an example of resilience and positivity amid adversity to draw upon, they need look no further than Zimbabwe rugby youth international Leopold Mutendi.
The tenacious Zvishavane-born flanker was one of Zimbabwe's top performers as they completed another memorable season on the international stage this year.
Mutendi featured prominently as the Junior Sables maintained their position as the continent's number one side, apart from South Africa, by successfully defending their Rugby Africa Barthes U20 Trophy in Kenya in April.
He was also impressive for the star studded Zimbabwean outfit as they recorded their best ever finish at the World Rugby U20 Trophy three months later.
Mutendi's path to being one of the country's brightest rugby prospects is littered with personal trials.
After showing early promise at St George's College, Mutendi's schools rugby career suffered a major setback when he transferred to Riverton Academy in Masvingo for his final two years of high school in 2020.
With schools' sport suspended around the country at the height of the Covid-19 pandemic and no rugby altogether at his new school Mutendi's fledgling rugby career was in limbo.
Very few players in Zimbabwe have managed to earn national selection without playing first team rugby for traditional schools rugby powerhouses let alone not playing the sport competitively altogether for over two years.
Mutendi, however, managed to confound expectations after being convinced by a friend to attend the Zimbabwe Under-20 selection trials.
"Actually, a close friend of mine, Munya, was the cause of this blind faith. He's the one who convinced me to get back into rugby after I finished at Riverton," Mutendi said in an interview with The Sports Hub.
"He told me about the trials for the U20 Junior Sables teams and persuaded me to try out. I was sceptical at first, but not for long. I remember watching the Junior Sables playing in the Canada series and seeing some of my friends and former teammates play reignited my dream and reminded me of how much I missed the sport," he said.
He reckons the period he endured away from competitive rugby only fuelled his undying hunger to make a name for himself once given an opportunity to showcase his talent.
"Being at Riverton meant I was already way behind everyone else who was out there playing. so I had to work extra hard and I did.
"But if you ask me, I wouldn't trade my time at that school because it made me hungry to make the team and I think that's where my only advantage was," he said.
Mutendi made a comeback with Old Georgians in the Paramount Garments Under-20 League.
His impressive performances as a dazzling flyhalf soon caught the attention of the national Under-20 team coaches, who extended an invitation for him to be part of the Under-20 High Performance (HPC) squad.
It was not all smooth sailing for the gifted rugby ace, as he faced another challenge after the Junior Sables coaches informed him that they would be changing his position in the team from fly half to flank or lock.
"I took it on the chin and made the change because I realised my best chances of making the team was as a forward and really I just wanted to play rugby for my country.
"I overcame the change through the help from the coaches and my fellow forwards, especially Tanaka Gondomukandapi who was the vice-captain and a great friend of mine.
"Coach De Souza made my life as a forward easier by explaining and putting me in a role, which was similar to that of a back line player, however still as a forward and that allowed the game to feel more natural to me again," he said.
A fierce runner with ball in hand, Mutendi was a massive threat on attack as his stepping, pace and slick hands exposed the opposition defences and created try scoring opportunities.
The 20-year-old rising star showed his finishing prowess in the Junior Sables World Rugby Under-20 Trophy opener against Scotland as he started and finished off a brilliant 90-metre team try during their 64-33 loss.
"Becoming an African champion to me was a feeling of joy I can't put to words. Representing my country at the Junior World Trophy and scoring on a stage like that was beyond my wildest dreams.
"What made the experience even better was scoring the try against Scotland. However, it wasn't the try in itself that brought the feeling, but the effects of it. I had never caused so much joy in my family, especially to my grandfather, when I scored that try. To me that was my highlight of that tournament," said Mutendi, who is the grandson of bishop Nehemiah Mutendi — the leader of the Zion Christian Church.
He attributes the team's success last year to commitment shown by all the players ahead of the international assignments.
A multi-talented sports prodigy from a young age, Mutendi also played cricket in addition to being a gifted sprinter and is a very strong swimmer.
In fact he could have easily gone on to represent the country in cricket after he was selected in the Zimbabwe Under-14 cricket team for the 2016 Cricket South Africa Under-13s Cricket Week in Cape Town while he was still at Kyle Preparatory School.
However, it was after moving to St George's College that Mutendi's rugby romance blossomed, although he could also have pursued a career in cricket after coming very close to earn a spot in the Zimbabwe Under-19 squad for the ICC Under-19 World Cup.
"Growing up I always wanted a career in sports, but I was always torn between cricket and rugby.
"I played in the first teams for both sports at St George's and managed to play for both first teams during my Form four year. So settling for either one was still difficult for me. My first opportunity to settle came in December 2020.
"There were Zim Under-19 cricket trials for the Under-19 World Cup being held. I was unsuccessful in making the 30 man squad and that just left one last option in making my dream career in sports, rugby," he said.
After getting his international breakthrough with the Junior Sables, Mutendi hopes to make the next step in his career with the ultimate goal being to represent the Sables at the World Cup.
"Now that I'm done with the Junior Sables I hope to progress further into university rugby, club rugby and to play for the Sables. Playing for the Sables and a dream for a World Cup appearance for my country is my main goal that I hope and pray for."
Related Topics