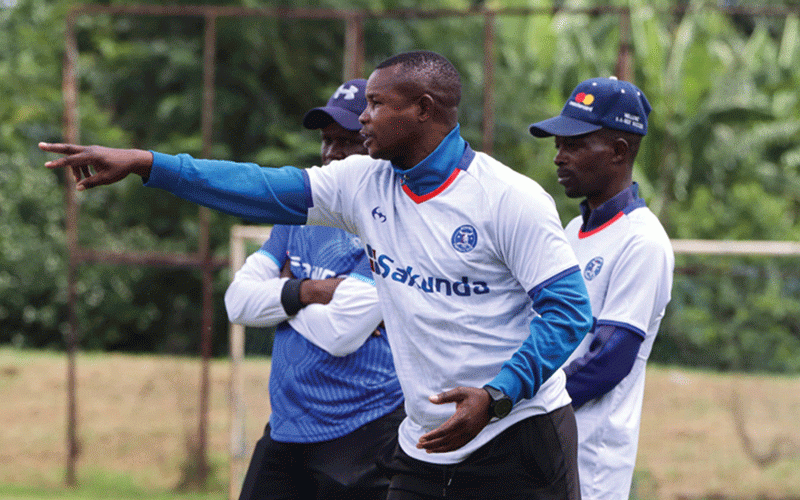 DYNAMOS........................... (0)1
SIMBA BHORA.....................(0) 0
GENESIS Mangombe began his reign as Dynamos interim coach with a victory after they edged 10-man Simba Bhora in a Chibuku Super Cup Round of 16 match played at Barbourfields Stadium on Saturday afternoon.
The build up to the match was a turbulent one for the Glamour Boys as they sacked head coach Herbert Maruwa, but Emmanuel Paga's 67th minute was enough to send the jovial crowd into a frenzy and hand Mangombe his first victory.
Genesis means the beginning and Mangombe believes that it's a start of better days for his team.
"We need to make sure that this is the beginning of winning Chibuku.
"Some are saying we haven't won Chibuku since it started, in 2014 I think. This time around we want to work hard and see where we can get to," said Mangombe.
Simba Bhora had to play the last 15 minutes one man less after substitute Vassali Kawe was given the marching orders by referee Owen Manende for retaliation.
Tonderai Ndiraya felt that it affected their momentum as they had to change their system.
"We had to reorganise our team after the red card. We were playing 3-5-2 before the red card. We introduced Talent Chawapiwa at halftime and changed to 4-3-3 and after the red card we had to change again to 4-3-2. We didn't have enough bodies in the attacking phase. Of course we did our best, but that best was not good enough," said Ndiraya.
Dynamos were quick off the blocks as Elton Chikona tested goalkeeper Simbarashe Chinani soon after kickoff
From then on the game went to a lull with both teams sizing each other as Simba seemed content with maintaining their defensive shape while Dynamos knocked the ball around.
Tanaka Shandirwa and Donald Mudadi were denied by Chinani before Elvis Moyo hit the post in the 33rd minute.
Simba Bhora had Chinani to thank for going to the break at par with Dynamos after he made a double save from Mudadi and Chikona at point blank late in the half.
The introduction of Arthur Musiyiwa, Ellie Ilunga and Paga changed the complexion of the game for DeMbare after Simba Bhora began the second half stronger.
Dynamos were duly rewarded for their attacking play when Makunike played through Paga in the 67th minute and the Ghanaian import made no mistake from close range.
Dynamos could have doubled their advantage in the 85th minute but Paga's shot from the rebound hit the crossbar.
Dynamos:
P Tafiremutsa, D Mudadi (Ilunga 60), K Moyo, E Moyo, F Mukarati, J Makunike (S Nyahwa 81), E Jalai, E Chakona (D Mukamba 81), S Sadiki(Paga 60), K Madera (A Musiyiwa 60), T Shandirwa.
Simba Bhora:
S Chinani, R Kangadzi, P Jaure, A Manenji, I Nyanhi (H Chikosa), P Chigulupate (V Kawe 45'), T Chipunza, R Chitiyo (T Chawapiwa 73, H Manatsa 81), T Machope (A Mandinyenya 45'), T Balakasi, K Murera
Related Topics