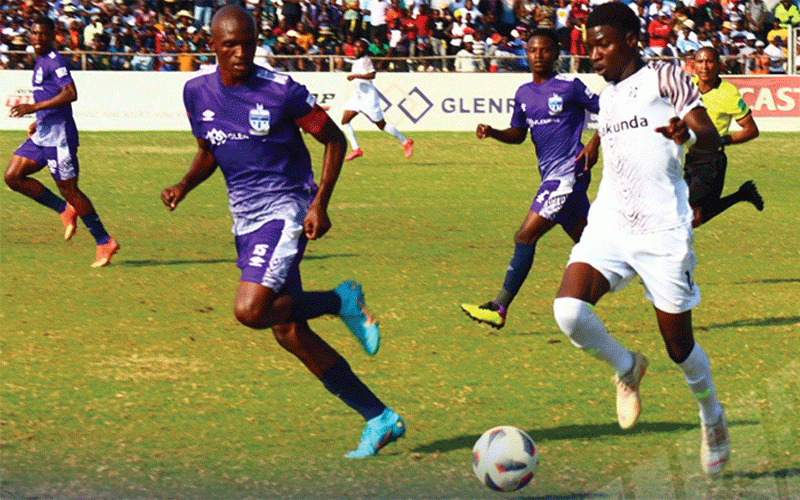 NGEZI STARS . . . . . . . . . . . . . . . . . 0
HIGHLANDERS . . . . . . . . . . . . . (0) 1
HIS top-of-the-clash battle was billed as the biggest game of the weekend.
At the final whistle, in front of a capacity crowd at Baobab Stadium, log leaders Highlanders and hosts Ngezi Platinum Stars had saved up a scintillating perfomance worth of the pre-match hype.
This was a great exhibition of the domestic football.
Lynoth Chikuhwa curled home a beauty on the 69th minute, a wonder goal that summed up the two teams' display as the unbeaten
Bosso continued their impressive run towards a league title they last won in 2006.
The win took Baltemar Brito's men seven points clear at the top of the log table ahead of Ngezi Platinum Stars at the halfway stage of the season.
The hosts finished the match a man down after Leslie Kashitigu was shown a red card for a second bookable offence on the exciting McKinnon Mushore on the 77th minute.
But the red card did little to dampen the spirits of the home side which continued to probe for an equalizer, but was kept at bay by a mean Highlanders side that has conceded just four goals this season.
Brito was full of praise for the two sets of players, and happy that his team had passed one of the biggest hurdles this far.
He, however, challenged his high flying side to continue with its impeccable form, as yesterday's victory was their sixth on the bounce.
"Ngezi's intention was to start the game well and they pressed us high up. We were afraid of doing some mistakes, so we started to play direct balls and it's not the kind of play that helps our short guys. So we sat down and analysed the game and made the necessary changes in the second half and the game changed. We scored and we didn't concede any, so we are happy but we know we have a long way to go," Brito said.
Ngezi Platinum Stars coach Takesure Chiragwi was also complementary of his boys. He blamed the loss to their impotence in front of goal.
"We have lost three crucial points at home because of the mistakes that we made in terms of finishing in front of the goal. We created a lot of opportunities and we should have wrapped up this game in the first half and when you play a team that is tactically disciplined, you have to utilise the chances that come your way. We learn from that and it's part of the game. We have to rise from this situation and concentrate on our next game against Bulawayo Chiefs. Generally we put everything on the field for us to win this game but football is like that, if you don't score you are likely to lose a match. There were a lot of things which we did correctly which is good for the team, so we will take those and make sure we correct the mistakes that we made," Chiragwi said.
Ngezi came off the blocks flying, playing some fast crisp passing football but could not really create any meaningful chances early on.
The first big chance arrived on the half-hour mark and it was Highlanders defender Mbongeni Ndlovu who headed just wide from a freekick.
Three minutes later, Mushore failed to pick his spot in an open net after he had intercepted a clearance from goalkeeper Nelson Chadya.
Ngezi's Marvellous Mukumba then made a good run into the box but tried to find a teammate when going for goal was the best option. Bosso defenders managed to clear their lines.
A minute later, Walter Vuwa's rasping shot was saved well by Bosso goalie Ariel Sibanda as the two teams went to the break deadlocked.
Brito made changes to his squad at the break and it paid huge dividends as new entries Stanley Ngala and Washington Navaya caused all sorts of problems.
But it was Ngezi who almost got their noses in front on 53rd minute, only for substitute Qadr Amini to be denied by the cross bar from a freekick with his first touch of the ball.
On the 68th minute, Tapiwa Mandinyenya failed to beat Sibanda from a one-on-one situation after Peter Muduhwa had uncharacteristically made a mess of a clearance. The punishment for the glaring miss was immediate.
Sibanda dispatched a long pass from the back and a good interchange of passes released the unmarked Chikuhwa who curled home a beauty to send Highlanders fans into delirium.
The home side's job for a comeback was made a lot harder when Kashitigu was given his marching orders.
Yet they continued to attack and almost nicked the equalizer when Gareth Madhake ghosted from the blind side but his shot couldn't go past the stocky frame of Sibanda for the game's last chance.
Teams
Ngezi Platinum Stars: N Chadya, K Chigwida, G Madhake, P Moyo, M Mukumba (M Gaki, 83'), F Madhanaga, L Kashitigu, W Vuwa (Q Amini, 52'), V Kadonzvo (T Mandinyenya, 65'), T Benhura (C Mapoka, 83'), T Musariranwa (D Murimba, 65')
Highlanders: A Sibanda, A Mbeba, P Muduhwa, M Ndlovu, L Chikuhwa (M Mushore, 84'), R Lunga (W Navaya, 46'), M Mushore (A Tandi, 86'), B Manhire, E Farasi (S Ngala, 46'), A Faira, M Ncube
Related Topics