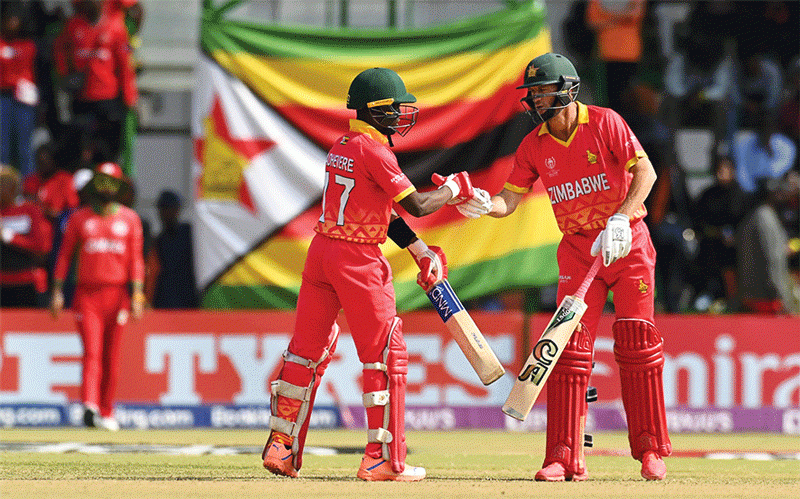 The Zimbabwe national cricket team, Chevrons, are full of confidence ahead of their must-win International Cricket Council World Cup qualifying Super Six encounter against Scotland at Queens Sports Club in Bulawayo today.
It's a do-or-die tie for Zimbabwe because if the win they will book a ticket to the World Cup finals in India, but if they lose that would diminish their chances.
Even after their heavy defeat to Sri Lanka at the weekend, the Chevrons are confident that their brand of cricket will see them through against Scotland.
Zimbabwe lost to Sri Lanka by nine wickets and they admitted that they lost to a much better side and they do not think Scotland can reach the level of play that the Asian side exhibited on Sunday. Inform batsman Sean Williams said that they learnt a few lessons against Sri Lanka which will be useful against Scotland.
He said the Scots pose a different challenge to what they experienced against Sri Lanka.
"I think at the moment it doesn't matter who we play against. The quality of cricket we have seen in this qualifier from every team has been phenomenal. I think these teams have come a long way, they have some seriously good players and Scotland have got good players as well. They have got some individual players that can take the game away from you by themselves. But we have been here before where we were in a must-win encounter and we have played against them quite a lot of late which is probably a good thing for us," he told the media yesterday.
He said there is a positive vibe in their dressing room ahead of the important clash.
"At the moment staying positive and concentrating on our partten of play, how we want to play is our main concern. If we do that well then everything will fall into place."
"Against Sri Lanka, losing those wickets upfront is always difficult to come back when you lose three wickets in the first three overs, I think when you lose three in the first 15, it's different. And also playing those spinners, they have a quality spin attack, they are experienced. They are a league above. I felt that we learnt lessons yesterday rather than walking away with our heads down. Lessons from that game are huge, leading to a game against Scotland."
He said they are not too concerned about the toss saying that even if they are to bat first they know what score they should set.
"This wicket should be flat, you have to work hard to get runs here in the earlier parts. It's about digging in those first few overs and running between wickets. It's just about staying there."
The left hander also said the team has not played enough cricket in Bulawayo, hence they did not fully enjoy home comforts at the weekend.
"I think the national side hasn't played here a lot, I think it's on the negative side of things. In Harare, it was different. I expect a better turnout from the team tomorrow (today). We have to do it for the fans, they have been behind us, they were singing even after we had lost. I was thinking, gee these guys are really behind us."
He hopes that openers Craig Ervine and Joylord Gumbie can lay the platform for the middle order to flourish.
"It's been good throughout this tournament. Joylord and Craig have done well for us, they have set the platform for us to go at the spinners."
Related Topics