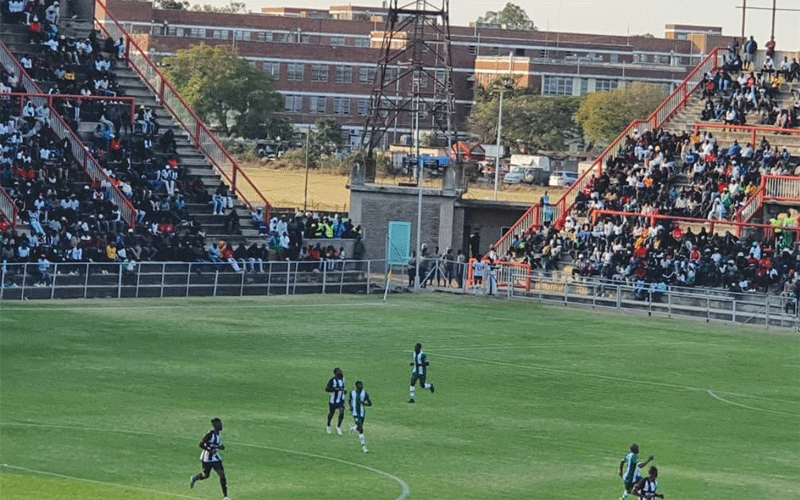 CAPS UNITED. . . . . . . . . . . . . . . . (1)1
HIGHLANDERS FC. . . . . . . . . . . . . (2)2
wo goals scored from set pieces were enough to hand Highlanders the three valuable points against a battling Caps United in a fiercely contested Castle Lager Premier Soccer encounter at Barbourfields Stadium yesterday.
All the three goals were scored in the first half as both teams attacked from the onset, setting the stage for a bruising battle. It was Caps United who raced to an early lead against the run of play. Josiah Daka's inviting cross in the eighth minute was neatly nodded home by Joseph Tulani to beat Ariel Sibanda who watched helplessly as the ball nestled into the bottom corner.
Bosso regrouped and they were duly rewarded in the 24th minute when Lynoth Chikuhwa equalised from an Andrew Mbeba cross. An emotional Chikuhwa could not hold back his tears after scoring. He has endured a barren spell since the start of the season firing blanks in the first 12 matches.
The freekick was awarded by referee Arnold Ncube after Ben Musaka had pulled Elshamar Farasi and the former Bosso midfielder was yellow-carded for the foul.
In the 28th minute, Musaka's header off a Godknows Murirwa corner kick missed the target by a whisker.
Bosso had an opportunity of their own in the 29th minute when McKinnon Mushore fired at the edge of the box after being set up by Ray Lunga and his effort drew a top shelf drawer save from Ashley Reyners.
Bosso were awarded another freekick after Mushore was fouled by Musaka in the 42nd minute and Mbeba laid it for Melikhaya Ncube who released a scorcher that beat a diving Reyners all systems out.
The second half became a much more tactical affair as Bosso introduced Calvin Chigonero for Ray Lunga at halftime and they set back to try and hit Caps on the break.
Chances were few and far in between. In the 64th subtstitute minute, Pheneas Bhamusi skinned his marker and he delivered a cross into the box but Blessing Sarupinda's header lacked precision.
Bosso almost scored the assurance goal in the dying minutes of the game but Washington Navaya shot straight at the keeper after Stanley Ngala had intelligently dummied a Mushore pass.
Bosso coach Jose Baltemar Brito admitted it was a tough encounter and he credited the victory to the fighting spirit of his chargers. He said even if they had drawn the encounter he was going to be satisfied with the team's performance.
Caps United coach Lloyd Chitembwe was magnanimous in defeat saying he was satisfied with the overall performance of his players.
Teams
Highlanders
Ariel Sibanda, Mbongeni Ndlovu, Peter Muduhwa, Andrew Mbeba (Mason Mushore 65 minutes, Godfrey Makaruse, Melikhaya Ncube, Brighton Manhire, Elshamar Farasi (Stanley Ngala 73rd minute), 1Ray Lunga (Calvin Chigonero 45th minute, Andrew Tandi 83 minutes), Lynoth Chikuhwa Washington Navaya 73rd minute), McKinnon Mushore.
Caps United
Ashley Reyners, Kelvin Madzongwe, Godknows Murwira, Ian Nyoni (Rodwell Chinyengetere 78th minute), Innocent Zambezi, Josiah Daka (Pheneas Bhamusi 61st minute)1, Hastings Chapusha, Joseph Tulani, William Manondo (Tafadzwa Rusike 76th minute), Blessing Sarupinda, Ben Musaka (Clive Rupiya 76th minute).
Related Topics