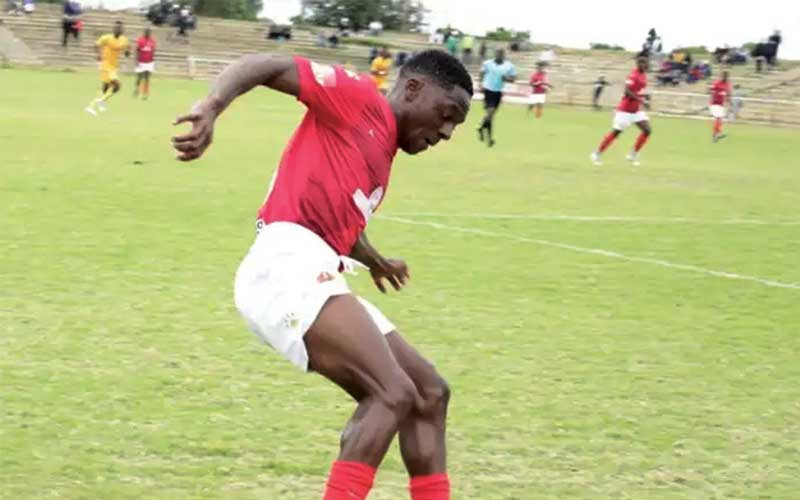 In-form Chicken Inn forward Michael Charamba is hoping that his good run continues ahead of their match against Manica Diamonds at Gibbo Stadium on Saturday, in week nine of the Castle Lager Premier Soccer League.
The GameCocks finally remembered how to win last week, when Charamba fired them to a 2-1 victory over Herentals at Luveve Stadium, where he scored a brilliant goal once again.
Charamba has scored three goals in eight matches this season.
"My target is to score more goals, to score in each and every game. So, I'm just hoping that I will keep working hard to score more goals," he said.
Charamba also struck a beautiful freekick in the two-all draw against Bulawayo Chiefs before scoring against Triangle a fortnight ago. With a bit of luck, he could have scored against Caps United but his effort was ruled out for offside, which left him worried.
"Obviously, I was a bit worried. I think the officials know why it was disallowed, maybe it was an offside but I will just have to keep on pushing to score more goals," added the former Ngezi Platinum Stars winger.
Charamba added that hard work was the secret to his current form.
"All I can say is that my advantage is the grace of God, yes I work hard with the help of the coaches, my teammates and everyone at the stadium. You know football is a team sport. You can't perform alone. So, if my teammates don't click well, I also won't perform," he said.
He heaped praise on his coaches for helping him improve.
"Obviously I'm working hard with the help of the coaches, doing finishing everytime, practising, I think that's all I can say," said the 27-year-old forward.
Charamba's career had been dogged by a knee injury and he hopes to stay fit this season.
"I think from last season, it was a bit hard since I was returning from injury. But now I'm fully fit and with the help of the coaches I have started well and I just hope I will continue doing well. I had a knee injury. So, I was out for almost a year. But now I'm back and okay."
The GameCocks will be missing the services of former Harare City midfielder Richard Hachiro, whom coach Prince Matore said was out for a few weeks. Otherwise it's a clean bill of health for Chicken Inn as they seek to maintain their winning formula and unbeaten run.
Chicken are seventh with the same number of points but they have an inferior goal difference. They will be banking on Charamba, Brian Muza, who scored last week after a barren run and Raphael Kutinyu.
The fifth-placed Manica Diamonds boast the league's top goalscorer Fortune Binzi, who has scored six goals. He will be the player to watch for the Gem Boys who are three points adrift of the log leaders Highlanders with 12 points. The Chicken Inn centreback of Mpumelelo Bhebhe and Dominic Jaricha will have to be watchful of Binzi.
Manica Diamonds held the defending champions FC Platinum to a two-all draw last week at Mandava Stadium in Zvishavane.
Related Topics