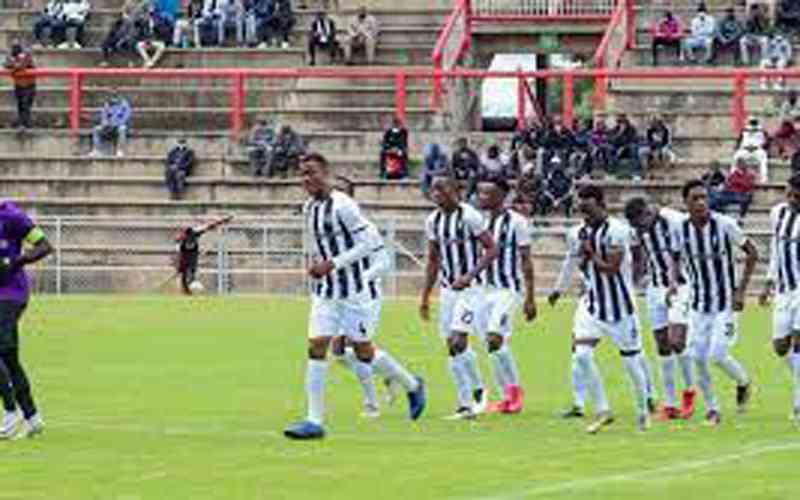 HIGHLANDERS coach Jose Baltemar Britto has amplified calls against time-wasting being employed by some teams in the Castle Lager Premier Soccer League.
Bosso shot to the summit of the log table after dispatching Hwange 1-0 at Barbourfields (BF) Stadium on Sunday, but Britto was not amused by the tactics that Hwange employed.
He said some coaches were more concerned about points only and not the future of the game in the country.
A couple of weeks ago Dynamos coach Herbert Maruwa also moaned about the same issue after his side was frustrated to a nil-all draw by Cranborne Bullets.
But Britto has laid all blame on the referees who are not gutsy enough to add above 10 minutes to compensate for time wasted.
"I wonder what you guys think, we played 60 to 75 minutes one player less in the cup (Independence Cup), but we didn't waste time. What's happening here is that people think about one point, three points, but what about the future of football in Zimbabwe?" Britto queried.
The Bosso gaffer believes that referees have the power to stop time-wasting tactics.
"This is not complaining about the coach or the team, but the system. Because in the end it looks like the referees are afraid to give 10, 11 or 12 minutes (added time). They (opponents) use these tricks, these tricks are part of the game. The first half the guy gave three minutes, what was the reason for giving three minutes? If the guy (referee) is fair to give enough time, maybe the people will come to the match with a different mindset. In the end, the referees have the power to promote football. Instead of giving 10 or 11 minutes they give one or two minutes."
Washington Navaya rose from the bench to head an 87th minute winner, breaking down a resilient Hwange side that had held its forte well.
Navaya headed home a cross from Devine Mhindirira and Brian Mlotshwa's desperate attempt to clear the ball from the line were in vain as the far side assistant flagged for a goal in yet another match watched by a bumper crowd at BF.
Hwange goalkeeper Nedrick Madeya was eventually shown a yellow card for remonstration, together with left-back Gift Gumpo. The goalkeeper made a poor decision when he went out of his line to challenge Mhindirira, who hooked the ball goalwards and Navaya nodded home.
Hwange paid dearly for the time wasted during the match as they conceded with three minutes left.
The match had too many stoppages and if it was not for Madeya's error, another goaless draw was on the cards.
Hwange coach Nation Dube said their strategy was to fight for a point against Highlanders.
"From our game plan we said it's a big game and then we have got these youngsters and the big crowd at BF, we said if we could get a point it will be okay. If we get a goal and win it will be a bonus to us, Dube said.
Ngezi Platinum were the biggest winners of the weekend as Fortune Binzi scored a hattrick in their 5-1 victory over ZPC Kariba. Manica Diamonds moved to fifth with a 4-0 victory over army side Black Rhinos.
Dynamos bounced back to winning ways in style after defeating cross-town rivals Caps United 2-0 in the Harare derby. The victory eased pressure on under-fire coach Maruwa. Dynamos moved up to fourth position while Caps lost top position and they are now third.
Chicken Inn notched up their sixth draw of the season after leading for 82 minutes, courtesy of a Michael Charamba strike. Triangle equalised from a penalty scored by Wilson Mensah, which put more pressure on Prince Matore, the Chicken Inn coach.
Related Topics