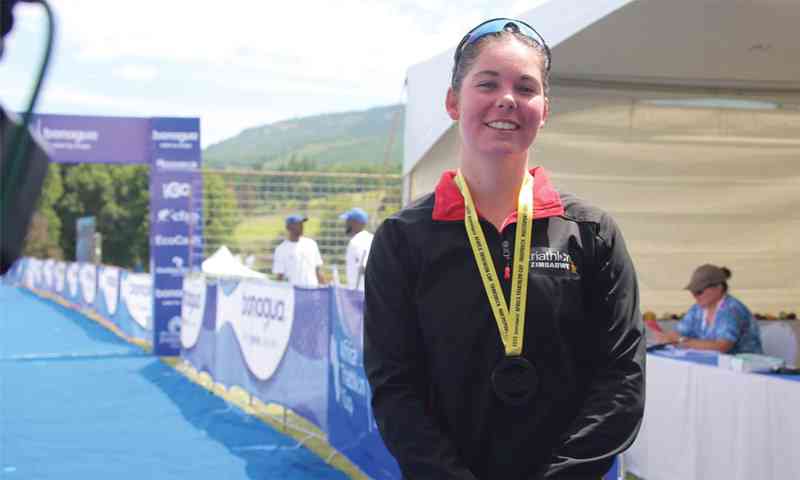 IT was a difficult afternoon for the country's junior triathletes after they all missed the podium in the 15th edition of the Troutbeck Bonaqua Africa Triathlon Cup in Nyanga yesterday.
Young Anje Van As (pictured) was the best performer after she finished fourth in her first appearance in the women's junior elite class at the event.
Van As was the youngest athlete on the start list as South Africa dominated the class by taking all the podium positions.
The gifted athlete, who is a strong swimmer came out of the water second and maintained it on the bike but struggled with the run which cost her two more places.
"I was hoping I would be top five and am happy that I finished. My race wasn't the best that I have had. I was struggling quite a lot on the run but I give I have to move forward and work on improving on everything so that I can have a better race next time," the 16-year-old said after the race.
The country's medal hopeful Makanaka Mawere had a challenge with her bike for the second year running and this time, a tire puncture forced her to pull out of the race.
Kadence Ribbink successfully defended her gold medal in the women junior elite competition while compatriots Lome Gouws and Mia Van der Veen.
Another Zimbabwean Nicole Madya finished fifth while Inkosinomusa Mthethwa failed to finish the race.
In the junior elite men class Duwan Bhotha did not finish the race and Mandlenkosi Mthethwa from Mutare was eighth.
South Africa dominated the event after they scooped gold in the junior elite men category as well as the elite women class.
Shaun Wolfaardt secured back to back junior elite men titles with a dominant performance while Nathan Foster and Kyle Erskine completed a clean sweep for South Africa.
Shanae Williams bettered her second place finish last year and won the women elite class coming home ahead of pre-race favourite from Netherlands Barbara De Koning and Romana Gajdosova from Slovakia was third.
Irishman man James Edgar won the fiercely contested elite men competition with South African Dylan Nortje and Jorge Alarcon Familiar finished second and third respectively.
Two-time champion from Kazakhstan Ayan Beisenbayev settled for fourth place in strong 21-man line up.
The 2023 edition of the event saw record figures taking part with about 51 elite and junior elite athletes participating.
Related Topics