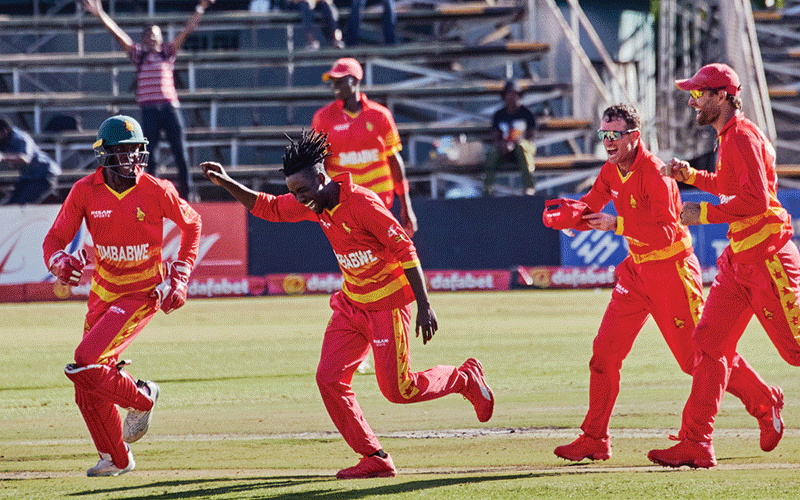 HE might have been going through a difficult spell in international cricket over the last few months, but Zimbabwe cricket all-rounder Wessley Madhevere says he never doubted his ability after his match-winning display against Netherlands on Thursday.
Madhevere bowled himself into the history books after he became the omly third player to claim a One Day International hat-trick for the country when Zimbabwe beat Netherlands by one run last week.
Prior to that feat, it had been a tough couple of years for the country's rising star as he struggled to live up to his early promise in national colours, especially with the bat.
It was never disputed that Madhevere is quite a talent since he broke onto the international cricket scene as a mere teenager three years ago.
After managing to score three half-centuries in his first ODI innings, the 22-year-old star appeared to have lost his Midas Touch.
Madhevere has only one half-ton in his last 20 matches in the format. His last came against Australia in Townsville back in August last year.
One also has to go 13 T20 innings to find his last half-century which he achieved against Bangladesh, late July last year.
However, in spite of the mounting pressure to drop the player from the fans the technical team kept faith in the player.
And he took the best possible moment to redeem himself and repay the trust albeit with the ball, taking three wickets in three balls when the team was facing an embarrassing series defeat to Netherlands with a game to spare in the second of the three matches.
He spoke to journalists about his recent struggles and how he has managed to keep going despite the pressure.
"To be honest I never doubted myself. There have been some tough times for me but what keeps me going is the fact that I have done it before I can still do it again," Madhevere said.
Despite his young age, Madhevere has represented the country in 28 ODIs, 47 T20Is and two Tests.
He has arguably been the best T20 player for Zimbabwe in the past three years and already has seven half-centuries to his credit.
No doubt that he will become one of the best all-rounders to emerge from Zimbabwe.
Thursday's hat-trick saw him join the elite class that includes Eddo Brandes and Prosper Utseya of players to have achieved that feat for Zimbabwe in ODIs.
"I feel good I never imagined myself getting a hat-trick but it happened today and all credit goes to the coaches, the guys that believed in me," he said.
"Honestly, there is no better feeling than this and I hope I will be able to do it again in future," Madhevere said after his historic achievement.
The Chitungwiza-bred star said he had benefited immensely from having two senior all-rounders in the team such as Sean Williams and Sikandar Raza.
"There's no better feeling than being able to interact with the legends of Zimbabwe cricket. We grew up watching those guys Sean Williams and Sikandar Raza. We used to come here and watch cricket and they were our idols and they still are our idols.
"So just having the opportunity to share the same changing room and being able to play in the same team with them there is no better feeling than that. And it's all about learning.
"I am an all-rounder so I keep working on my bowling, I keep working on my batting. I just have to make sure that my skills are up there when I am called upon to either bat or bowl," he said.
Madhevere has 12 wickets in both white ball formats and his contribution with the ball may come in handy when Zimbabwe hosts the ICC World Cup qualifier in June and July.
Related Topics