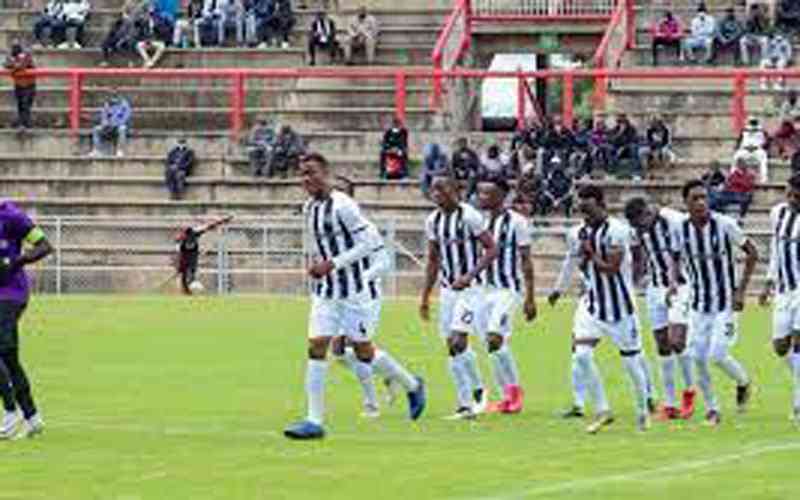 Highlanders 0
ZPC Kariba 0
HIGHLANDERS made a slow start to their 2023 Castle Lager Premier Soccer League campaign after they were held to a drab draw at Barbourfields Stadium yesterday.
The hosts attacked ZPC Kariba from the outset but would not get that goal on a day that assistant coach Madinda Ndlovu was in charge in the absence of Baltemar Brito, who is attending a coaches refresher course back home in Portugal.
Assistant coach Antonio Torres, who did not sit on the bench, took charge of the post-match interview.
"We dropped points but we missed 14 chances of clear goals and they had one chance at goal. We controlled the game, they were making delays. We need to get these points in our next game," Torres said.
ZPC Kariba coach Darlington Dodo was happy with the draw, but said it was not their intention to settle for a draw
"We got a point. I want to appreciate the good work that the boys have done. BF is not easy, but we had the courage and kept on fighting and stood our ground," Dodo said.
A minute before the break, Highlanders should have claimed a goal when a Lynoth Chikuhwa effort from what appeared to be beyond the goal line by ZPC Kariba defender Boid Mutukure, but the match officials would have none of that.
There was not much goal area activity in the first half, with Highlanders having the edge over the visitors and striker Washington Navaya's effort sailing over the bar after he was spotted by Chikuhwa's loose on the right.
Navaya had two opportunities in the eighth minute, set up by Divine Mhindirira but his first effort was blocked by the ZPC Kariba defenders before floundering on the rebound, sending his effort wide.
The second half did not have much of action save for that Highlanders' near goal, which Torres would not comment on.
Teams
Highlanders: A Sibanda, A Mbeba, A Faira (M Mushore 75'), M Ndlovu, P Muduhwa, M Ncube, L Chikuhwa, D Mhindirira, W Navaya (S Ngala 46'), D Mukuli (R Kutsanzira 86'), R Lunga (G Makaruse 66')
ZPC Kariba: T Chilenga, K Madima, M Mukiwa, D Nyenye, B Mutukure, C Muleya, T Chiunye, W Mhango, L Murape, F Dhemere, E Feremba (M Demera 57')
Related Topics