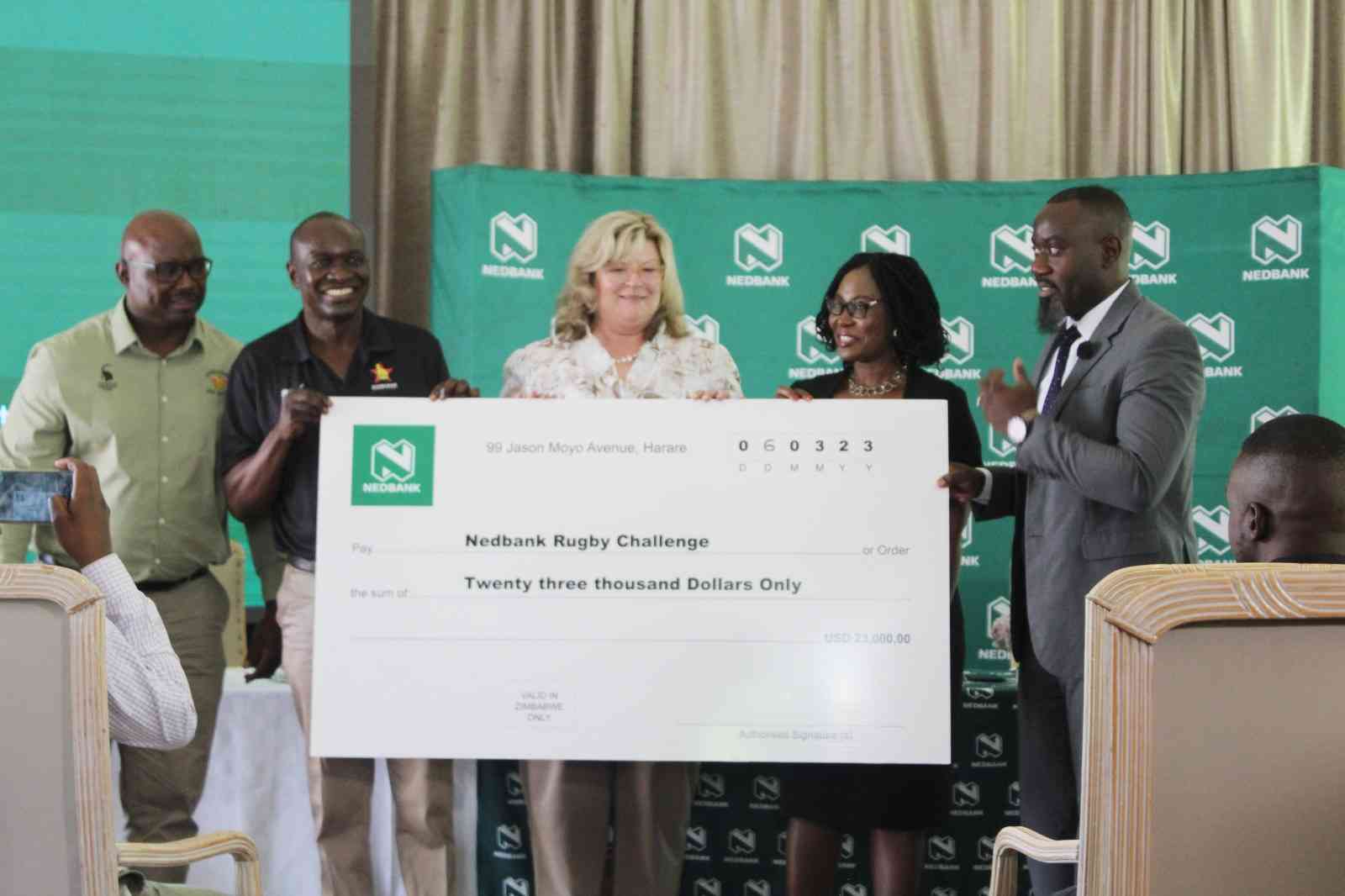 THE second edition of the Nedbank Rugby Challenge Cup promises to be bigger and better after its title sponsors Nedbank Zimbabwe unveiled a US$23 000 package for the competition which will be held from March 17-19 at Harare Sports Club.
Nedbank's sponsorship of the Challenge Cup, which takes their investment in local rugby to almost US$400 000, demonstrates the financial institution's commitment to developing Zimbabwean rugby.
Since the start of their partnership with the Zimbabwe Rugby Union (ZRU) two years ago, Nedbank has also bankrolled the Sables during their participation in the Currie Cup First Division and the Rugby World Cup qualifiers, and also extended their support to the Junior Sables ahead of last year's successful trip to Canada.
Speaking during the sponsorship unveiling ceremony in the capital yesterday, Nedbank executive head of sales and origination, Heresy Herry expressed the financial institution's commitment to sponsoring community programmes.
"Today's sponsorship unveiling brings our total contribution towards Zimbabwe rugby over the last two years to slightly under US$400 000. Many will ask: why is Nedbank doing all this? Surely there are a lot of competing needs and demands…Our response is that while we are financial intermediaries because that is what we are known for as a bank, we are also opportunity intermediaries. Any organisation that is invested in communities, Nedbank will partner as part of our key ethos and values. We are so big in communities because that's where we get our customers," he said.
Eight teams have been confirmed for the three-day rugby extravaganza, which will be used by national representative teams to prepare for international assignments.
Zimbabwe's Under-20 rugby side will have an opportunity to get some valuable game time ahead of their title defence at next month's Rugby Africa Barthes U20 Trophy in Kenya, while Sables head coach Brendan Dawson will be scouting for players ahead of the Currie Cup First Division in South Africa.
ZRU president Aaron Jani said they would make sure the partnership will be fruitful to benefit both ends.
"The Nedbank challenge has become such a critical component of our business as a union this is the competition that is now helping us giving us game time so that our coaches and selectors can get an opportunity to have look at what they have in terms of talent," Jani said.
"In the past, we had struggled in terms of game time and being ready for regional and international competitions, so the presence of Nedbank and the Nedbank Challenge has come in and bridged the gap for us to compete at the regional and international level," he added.
Related Topics