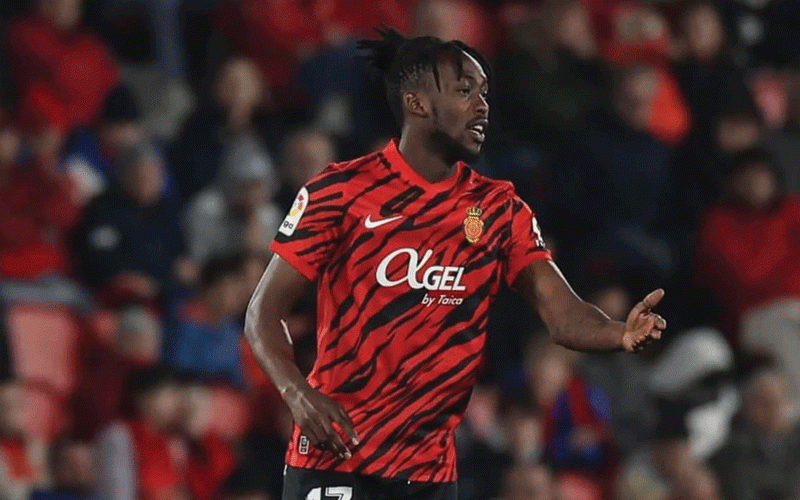 WARRIORS striker Tino Kadewere says he feels at home at his new club Real Mallorca despite his slow start to life in the Spanish LaLiga due to injury.
Kadewere joined Mallorca on loan at the start of the season in search of regular first team football after being frozen out of the team in his second season at French side Olympique Lyon.
The 27-year-old Zimbabwe international is now slowly finding his feet at Mallorca after a devastating long-term injury soon after joining the club delayed his debut in September.
Although he has made just three league appearances, all coming in as a substitute, Kadewere has been making some really good contribution, and puts that down to the positive environment at his new club.
"When I arrived here for the first time, I realised that I had arrived in a different world. I'm not saying that in France it was not the same, of course we were laughing, and we made jokes with each other. But when I came here, it's like I was at home," said Kadewere in an interview in the Spanish media this week.
Kadewere also hinted on the possible lack of team unity at his parent club Lyon by suggesting he has been impressed by the team unity at Mallorca.
"The feelings were different here because the players do not form groups, we are always all together. Everything we do, we all do together and when we are on the pitch, we give everything together," he said.
Kadewere's comments come after he recently received the backing of the Real Mallorca coach Javier Aguirre, who backed him to make an impact at the club.
The Mexican manager said the former Harare City player had impressed him with his positive attitude despite his setback when he suffered a devastating long-term injury soon after joining the club.
"I am very happy with his attitude, which is fundamental. The boy puts a lot of effort into it, he even makes an effort to speak Spanish and he's going to give us joy."
Related Topics