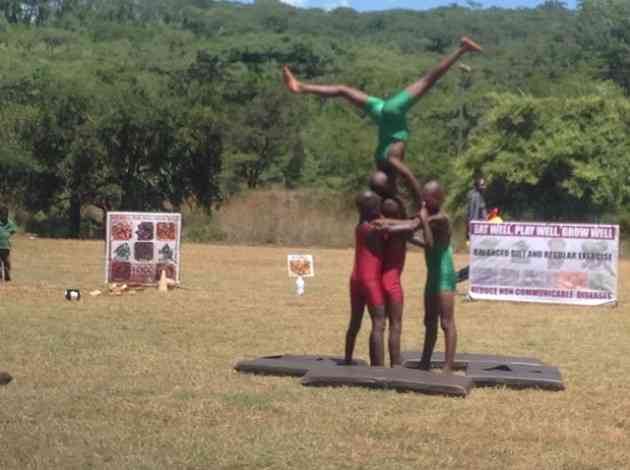 IT may appear to be a silly question but let us consider it for a moment: in any sporting fixture, who is in charge? The obvious answer is that the referee or umpire is, although, at higher levels, there are also assistant referees (as linesmen are nowadays called) and of course a Video Referee; in hockey and indeed cricket, there are two umpires, each making decisions from what they see.
However, that is not the full story, is it? Many spectators seem intent to referee the matches from where they sit, well away from the action, as their noise can influence decisions made on the field. Coaches also seem to believe they can also do the referee's job better than the referee himself, even while undertaking their duties as the coach. And of course, many players also like to tell the referee when he should blow the whistle. As a result, we may well question who is in charge of the game.
The same question may well be asked when it comes to school sport as a whole: who exactly is in charge of school sport? Just as in a sporting fixture, so with school sport we may wonder who is in charge. Who is the ultimate authority? Who blows the whistle on what is acceptable?
The fact is that schools play sport as an integral part of education. The development of the child is at stake, using sport as a means of doing so. In that regard, school sport would seem to fall under the Ministry of Primary and Secondary Education. PE is certainly a subject within the curriculum but we must understand that PE is not a sport, as such. Indeed, when the structure of Ministries was changed, Sport was taken away from the Ministry of Education.
When the above-mentioned change was made, Sport came under the new Ministry of Youth, Sport, Arts and Recreation. By its very title it is linking youth (who are the ones who go to school) and sport so it would seem more logical for them to determine the way sport is done with children, whereby children and sport are developed simultaneously. But do they see sport as part of education?
Then we have all National Sports Associations who declare they are the authority on what happens in that sport, (meaning there is no consistency), without reference to others.
They are concerned for the development of their sport and will do what they can to see it progress, understandably. With a small pool of children playing sport, each national sports body wants every talented youngster to play their sport, so they want them to choose earlier and they want them to play all year round.
Then we have the Sports and Recreation Commission, whose purpose is "to regulate and generally promote the development of sport and recreation in the country".
Sport in the country starts in schools when the children are young and is meant to be for fun and recreation, so the SRC should have some weight. However, they have no concern for the welfare of the whole child.
Alongside the SRC, however, we may find the Zimbabwe Olympic Committee; they impact sport in school as they determine sports that are entered in the Olympics and Junior Olympics, even if the sport is not played at schools, as happened in hockey a few years ago when a five-a-side hockey team was selected to play at the Junior Olympics even though it had never been played at school level (or any other level) before (or since).
Are they the ones to decree what sports are to be played?
Also in the frame, it would appear, are the upcoming private sporting academies who see sport for children as a business opportunity.
coaches there regulated and trained in handling children? Do they fall under anyone's jurisdiction or can they operate as they deem fit?
So, who is in charge of sport in schools? During covid we had one group saying sport can be played and another saying sport could not be played. We have one group saying sports will be played at one time of the year and another saying it will be played at another.
It can be extremely confusing and damaging, with different groups having different agendas and presenting different input, directives and demands, without really considering the impact on children.
As a result, school sport is being kicked around from pillar to post by all these different players who are each looking to act as the referee as well. Sadly, there is only one loser in all of this – the children. We cannot have lots of referees running the game: we need to blow the whistle and put an end to all uncertainty.
Tim Middleton is a former international hockey player and headmaster, currently serving as the Executive Director of the Association of Trust Schools Email: [email protected]
Related Topics