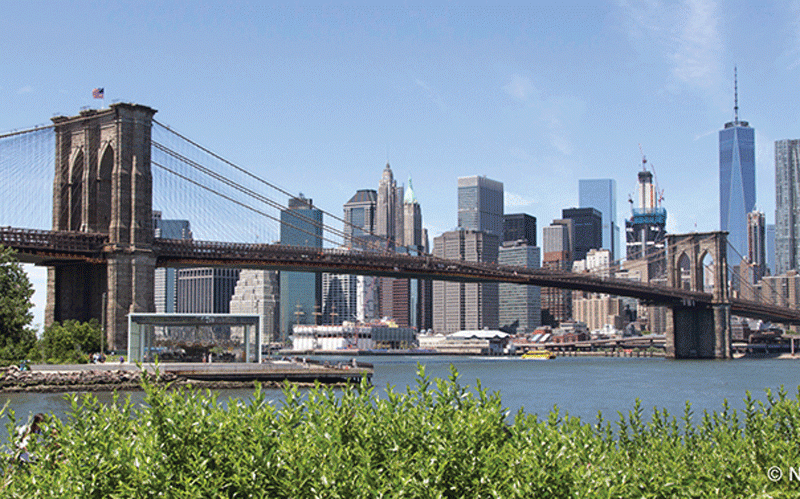 Faith is believing in something in the absence of proof. It is usually a gained trust which equates to a truth attached to an underlining desire.
There is a constant unshakable belief in the result. Any hindrances on the focus of the matter will not reduce the validity of the faith.
The belief must go on until all is accomplished. There should be no room for failure to achieve the wish.
There are numerous examples even outside our normal religious circles of notable people who exhibited traits of faith that led them to accomplish what they set out to do.
Faced with many obstacles on the way, they persevered and then accomplished their dreams. The truth was their faith, and likewise their faith brought out the truth.
In the late 1800s engineer Washington Roeling and his father set out to build a bridge from New York to Long Island. This was highly criticised as "impossible".
Sadly a construction accident paralysed Roebling and killed his father. The project was stopped but Roebling never gave up. He kept the faith. As a result of the accident, Roebling could only then move one finger. He worked out a way to communicate instructions to his wife.
His wife would then translate some of these instructions meant for the engineers who had again started working on the bridge. After 13 years, the Brooklyn Bridge was completed. There is also the story of Henry Ford who along the way went broke five times, but persevered until he founded the Ford Motor Company. Of note is also Thomas Edison, whom class teachers called "too stupid to learn anything", and was fired from his first two jobs. He had a vision of an electric invention of his own. Despite misgivings from all quarters, he kept faith in what he set out to do and he accomplished his dream.
People thereafter labelled him as a "genius". This is the result of keeping one's own faith.
Despite being defeated at the polls in many elections, Winston Churchill finally became British Prime Minister at the ripe age of 62.
He kept faith in himself, that in one election he was going to win, and accomplished it. Likewise, Abraham Lincoln was demoted during his military service and was not very successful at business. He also lost many runs for public office.
Despite his short comings he persevered in faith and went on to become President of America. For both of them, faith propelled them to the top most offices of their nations.
People who have the faith persist in their journeys until they eventually achieve success. It's the accomplishment of their faith. Apostle Paul wrote to the Galatians (6:9) "And let us not grow weary in well-doing, for in due season we shall reap, if we do not lose heart". He also wrote to Timothy (4:7) about himself; "I have fought a good fight, I have finished my course, I have kept the faith".
Things don't always come to fruition at the time you want them to, nor is the start line also the finish line. A lot of people remain grounded on the start line, because they expect some miracles to happen before they even begin anything.
They have no self-drive and they may leave everything to God to do it for them. This is misplaced faith in God. You have to take the driver's seat to manoeuvre the things you want to accomplish. Keep your faith in God to assist in removing the barriers along the path to those dreams. There is also some perseverance along the way, because accomplishment happens at God's given time.
Before you get to Z, you must start counting form A,B,C etc. The process must be complete and each milestone has a meaning in shaping the desired result. Winning may be an accomplishment but is not a finality. You can be the worker of the year, but if you can't take care of your anger issues or other bad habits then your accomplishment may be tainted.
You may have achieved a university degree but if you can't use it to your benefit then it is of little value. Have the faith that you can one way or the other accomplish something in life through it.
Our Bible is littered with so many examples of the power of religious faith and what it can accomplish. The book of Daniel, chapter 3, carries a story about three men loaded with faith and how it saved them. Shadreck, Meshack and Abed'nego worked under King Nebuchadnez'zar but they refused to worship a golden image he had erected. Furious, the King ordered that they be thrown into a burning fiery furnace.
They told Nebuchadnez'zar; "If it be so, our God whom we serve is able to deliver us from the burning fiery furnace; and he will deliver us out of your hand". Indeed these three men were thrown into the burning fiery furnace but survived unscathed.
Their faith in God served them. They were then all promoted into positions of 'provincial governors'.
Again, in Daniel 6 and under a new King, Darious, Daniel again refused to honour a law which forbade people from worshipping any other god except the king, for thirty days. He refused to honour the decree and was sentenced to be thrown into a den of lions.
Again he survived, as no lion touched him. His faith in God was so strong as if it spoke words to the Lord, such that He saved Daniel from the lions.
The New Testament also has many stories of people who put their total faith in Jesus Christ and how it helped them accomplish their wishes. Mathew 8 carries many examples of the marvelous deeds of Jesus Christ for people who had the faith in him. In one instance, a leper came to Christ and knelt before him, saying, "Lord, if you will, you can make me clean". And Jesus stretched out his hand and touched him, saying, "I will; be clean". And immediately his leprosy was cleansed.
In another story (Mathew 8:5-13) it reads: As he entered Caper'na-um, a centurion came forward to him, beseeching him and saying, "Lord my servant is lying paralysed at home, in terrible distress". And he said to him, "I will come and heal him". But the centurion answered, "Lord, I am not worthy to have you come under my roof; but only say the word, and my servant will be healed". When Jesus heard him, he marvelled, and said to those who followed him, "Truly, I say to you, not even in Israel have I found such faith…" And to the centurion Jesus said, "Go; be it done for you as you have believed". And the servant was healed at that very moment.
AMEN.
Prosper Tingini is the Scribe of the Children of God Missionary Assembly - God's messengers. Contact details: Mobile & whatsapp – 0771 260 195. Email address: ptingini@gmail.com
Related Topics