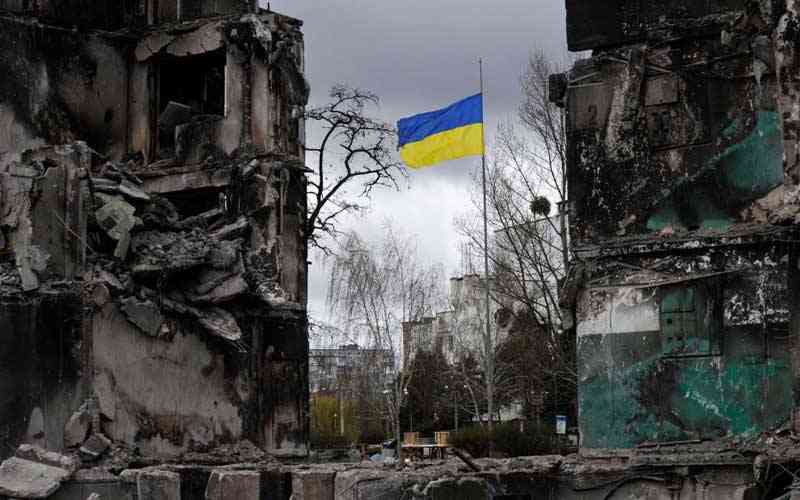 AS I passed by this woman for the third time, I could not help but notice that she kept looking at the prices as if she was comparing. Being the inquisitive human that I am, I stopped.
I told her that I had been down that aisle two times before and now for the third time, I noticed that she was comparing the cooking oil in such a shocked manner. She told me she was shocked at how things have suddenly shifted for her as she realised that her money was not enough for the most basic commodity. I decided she would be my random act of kindness for the day. As we chattered about the birds and the bees, we proceeded to purchase our groceries. This interaction had me reflecting on the realities of women amidst the Russia Ukraine war — oblivious of what politics surrounds us, we demand to live a near normal life as we know it. However, our lives have been changed and so has the way we care for and provide our loved ones.
The global realities
Russia launched a full scale invasion of Ukraine in February 2022. In the minds of ordinary people, this was a power play for reasons best known to those taking part in it, happening nearly 11 000km away from Harare.
What could it possible do to us? As the war unfolded, it became clearer that the concept of the global village is a reality that is here to stay. First it was Europe worrying over fuel and gas supplies from Ukraine and Russia as their winter approached. Then the rest of the world quickly realised that there is no longer such a thing as a war far away.
This war has had an adverse effect on basic commodities in Zimbabwe. A report compiled by World Food Programme (WFP), International Organisation for Migration (IOM), Food and Agriculture Organisation (FAO) entitled, 'Impact of the Ukraine crisis in Zimbabwe', shows that the food basket has gone up 7%. Moreover, the report also notes that the price of maize meal increased by an average of 14%, while the cost of vegetable oil fluctuated the most, initially rising from US$2,07 per litre in January to US$2,28 in April, and then spiking to US$3,23 by July - a 56% increase compared to pre-Ukraine crisis prices in January. This information shows how women of Zimbabwe, who are often burdened with care work in the domestic sphere and are mostly responsible for ensuring the family is fed, are facing a difficult situation fending for their families.
Prices are constantly skyrocketing as a result of the war in Ukraine that has resulted in the decrease of crude oil supply, thus affecting cooking oil manufacturing industries at the expense of women leading households.
Livingstone Marufu of Zimbabwe's Business Times notes that the country requires two million litres of cooking oil per week. In order to produce cooking oil, Zimbabwe heavily relies on soya bean farming to ensure enough raw materials.
Marufu adds that Zimbabwe has only three sources of oilseeds: soya beans, cottonseed, and sunflower seed, while there are 72 commercially viable oilseeds worldwide, including corn, peanuts, rapeseed, canola, sesame, olive, and palm.
Busisa Moyo, CEO of United Refineries Ltd, argues that in order to produce 100 000 hectares of soya beans, Zimbabwe would need US$120 million, which simply is not available as the government is economically isolated with limited to no access to financial resources to fund such critical projects.
Moyo added that the lack of this precious commodity results in prices of cooking oil increasing steeply and "women losing money, failing to spend their financial resources on other things as they have to ensure the family has cooking oil". Although the Zimbabwean government tried to ease the burden of escalating cooking oil prices by removing import duty, the product is still out of reach for many women who still struggle to meet the basic needs of feeding of their families. What is frustrating for most of these women is that they are far removed from the realities of what has actually caused this — the Russia — Ukraine war where the former chose to fully invade a nation that could easily have continued its role of supplying raw materials needed for cooking oil manufacturing. Now their agriculture has been interrupted by an invasion they are forced to defend at the expense of women in a growing country like Zimbabwe.
Women's truths
As I struggled to come to terms with the demise of my sister's purchasing power, I realised that sometimes the geopolitics of the global South and North are not as far removed from our day to day lives as women.
Who would have thought that a Goliath's egomaniac tendencies to attack a small David, Ukraine in this case, would result in women struggling to access a basic commodity, such as cooking oil.
As women in Zimbabwe keep exploring how best to feed their families, the Russo-Ukraine war drags on with little signs of Ukraine able to return to its original role of supporting Zimbabwe's edible oil industry of which it is a huge supplier. Meanwhile, women keep pushing to fend for their families, most oblivious of the notion of what such geopolitics has done to the realities of women of Zimbabwe. However, now is not the time to give up. Women of Zimbabwe keep pushing forward to do the needful to support their families and hope for a better future where there will be peace in Ukraine and a return to near normalcy.
Until then, we live, laugh and love in a bid to show the world that we were here, becoming better, making our mark, and leaving our footprint as we make the world a better place!
Chirenje writes in her personal capacity as a citizen of Zimbabwe. Twitter: @graceruvimbo; Facebook: Grace Chirenje; Instagram: @graceruvimbo
Related Topics